Resource Capital Corp. (NYSE:RSO) is a mortgage REIT that specializes in commercial real estate investments and commercial finance. It has a market capitalization of $528.92 million. It has an investment portfolio of $2.3B as of March 31, 2012. It pays a dividend of $0.80 (12.8%) per share annually. It has an external manager, Resource America (NASDAQ:REXI). With the latest Fed announcement, mortgage interest rates are falling. An announcement of $40B per month of new MBS buying (and the extension of low interest rates until about mid 2015) will tend make rates fall. The 30 year fixed rate mortgage on September 23, 2012 is down to 3.41%. This is already about -0.1% lower than at the time of the Fed's recent announcement. Mortgages rates seem likely to go lower short term. However, the downside is probably very limited as they are already at historic lows.
The net effect of the Fed announcement on mortgage REITs is that the MBS they invest in will become worth more in the near term. This will engender some selling to profit take on the now greater fair market values of the MBS. It will mean that these companies will likely buy more at lower interest rates. It will mean companies that deal only in Agency MBS will see their interest rate spreads cut by a substantial percentage as the mortgage rates fall. Further the lower interest rates will normally cause an increase in the prepayment rates. This is a good reason for companies to take profits on a significant percentage of the old MBS with higher interest rates. In the case of a companies such as American Capital Agency Corp. (NASDAQ:AGNC) and Annaly Capital management Inc. (NYSE:NLY) which deal primarily in Agency MBS, this will present a big problem because they use leverage of say 8x to multiply the relatively small interest rate spread between the cost of funds (repo's and hedging) and the interest rates of the MBS to provide good returns. If the net spread decreases even a small amount, the profits decrease considerably. Further there is then higher risk of big upside movements in interest rates in the future. Such moves would be bad for the book value of AGNC's and NLY's portfolios, although they do hedge against this.
The same thing happens to mortgage REITs such as RSO and New York Mortgage Trust Inc. (NASDAQ:NYMT), but to a much lesser extent. RSO and NYMT invest in CMBS and/or non-Agency MBS with much higher coupon rates. These have much higher interest rate spreads. The smaller percentage decrease in the mortgage rates is also not multiplied by as huge a factor as in the case for the mostly Agency only mortgage REITs, which have say 8x leverage. Instead RSO's average leverage is 3.9x as of March 31, 2012. Plus its variable rate CBMS provide good protection against upward movements in interest rates. RSO's investments in distressed real estate are also good hedges against inflation.
Besides the above two investments, RSO has a diverse group of investments. It directly finances CMBS itself. It even has an internal prop trading desk that produced a 50.7% return in 2011, and the prop trading desk is doing approximately as well in 2012. Its investment asset equity allocation is 62% to commercial real estate, 31% to leveraged loans including corporate bank loans and ABS, and 7% to other credit opportunities such as equity stakes in leasing JV's or proprietary structured products. The following table depicts this more clearly.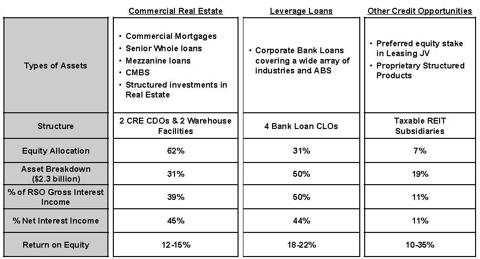 The company believes that the CMBS market has stabilized, and the market may be seeing growth. Further the fundamentals are much more favorable to lenders now than in the recent past with 65% to 75% LTV and in-place debt yields of close to 11%. Such loans require little if any leverage to make large profits. In other words RSO is well positioned for the current Fed strategy. Plus it is better positioned than many other mortgage REITs for the higher interest rates that are sure to eventually come.
With regard to Q2 earnings, RSO's Adjusted Funds From Operations for Q2 were $22.2 million or $0.26 per diluted share. The company paid $0.20 per share as a dividend/distribution or $17.3 million. RSO's book value increase from $5.38 as of December 31,2011 to $5.44 per share as of June 31, 2012. Total operating revenues increased 18% and 20% from the year earlier three and six month periods respectively. That's good growth. From a cash perspective RSO earned 130% of what it distributed as a dividend (K-1).
Overall the performance of RSO was excellent in Q2 2012. If the company doesn't take too many risks it should continue to do well. Much of its CMBS portfolio are AAA securities. Plus with all of the foreclosures of the last few years, there are a greater number of people living in apartments -- commercial buildings. This is leading to much improved fundamentals for these investments. ROS's distressed property assets are rising in value. RSO's PE is a very respectable 10.81. RSO is a buy.
The two year chart of RSO provides some technical direction for this trade.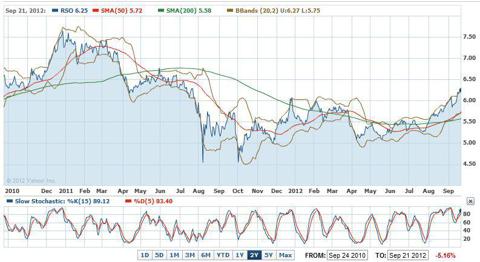 The slow stochastic sub chart shows that RSO is in a slight uptrend. Its 50-day SMA has recently passed through its 200-day SMA moving upward. This is a buy signal. The Fed is backstopping real estate investments with increasing vigor lately with the announcement of $40B per month in MBS purchases. It is also extending low interest rates until mid 2015 now. Plus it is continuing Operation Twist until the end of 2012. Overall these things are good for the mortgage REIT businesses. It should mean they will return good profits for some time into the future. RSO is a buy. However, you probably want to average in around the fiscal cliff. The overall market is overbought. The EPS of the S&P 500 for Q3 are expected to be below those of Q2 2012; and there is no telling what exactly will happen with the fiscal cliff. If all stocks go down soon, RSO seems likely to follow the market, although it should outperform the overall market.
Note: Some of the above fundamental fiscal data is from Yahoo Finance.
Good Luck Trading.
Disclosure: I have no positions in any stocks mentioned, but may initiate a long position in RSO over the next 72 hours. I wrote this article myself, and it expresses my own opinions. I am not receiving compensation for it (other than from Seeking Alpha). I have no business relationship with any company whose stock is mentioned in this article.