Focus Media (NASDAQ:FMCN) is the dominant advertising-display agency in China, operating approximately 170,000 flat-panel displays in about 90,000 buildings all over 90 Chinese cities.
The company recently received a $3.1 billion buyout offer backed by the company chairman and several key investors like Citic Capital Partners (a company associated with CITIC Group, synonymous of the Chinese sovereign wealth fund), FountainVest Partners (lead by Frank Tang, who used to head China investments for Temasek, the Singapore Sovereign Wealth Fund) and private-equity giant Carlyle. The company's largest shareholder, Fosun International, seems supportive of the deal.
In November 2011 Focus Media was subject to investigation by Chinese fraud hunter Muddy Waters, who accused the company of misrepresenting the size of its operations and made allegations about the rationale behind some acquisitions made in the past, that ended up costing the company about $1.1 billion in write-downs.
Given the doubts spread in the market about Focus Media's past financial statements, you would expect the buyers to have already conducted a good deal of due diligence into the company's assets before making their offer - however, readers should notice that there is no assurance that a definitive offer will be made by the potential buyers and that a transaction will be consummated.
To cut a long story short, Focus Media is now trading slightly below the $24 range, while the LBO offer valuates the company at $27. Is the market leaving an easy 15% on the table, or does the company represent a great short opportunity, in case the deal collapses?
Potentially the largest Chinese LBO ever
Here is an interesting chart, taken from the WSJ, showing the level of LBO activity in China since 2005: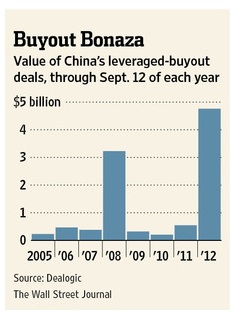 (click to enlarge - source)
The Focus Media LBO would represent not only the largest deal ever of this kind in China, but also the fifth-largest one in 2012 globally.
Carlyle alone announced so far 11 buyouts, worth $22.3 billion, making it the most active private equity buyer this year.
Duncan Mavin's article on the WSJ is also very interesting for a few spot on comments on the deal:
Assuming smart buyers-and lenders-will have tested the allegations to make sure they're not spending money on a dud, it's tempting to view the presence of the likes of Carlyle on the going-private bid as a stamp of approval for Focus Media. That would probably be going too far.

For starters, Carlyle's track record at avoiding duds in China isn't exemplary: China Forestry, in which Carlyle took a 10% stake, imploded in 2011 after allegations of accounting irregularities.

Also, the buyout group is more interested in future cash flow than irregularities in backward-looking financial statements. The fact they're putting money on Focus Media isn't a ringing endorsement of the company's public filings.
Bronte Capital blog investigating the deal
John Hempton from Bronte Capital, an expert on analyzing Chinese companies and finding potential frauds, has a very interesting series of articles about Focus Media and why the potential buyers should carefully investigate the company before committing to the deal (Part 1, 2, 3, 4, 5, 6, 7, 8, 9, 10, 11, 12, 13, 14).
As it is almost impossible to summarize in a few words the many different red flags Bronte Capital highlights as far as Focus Media's past acquisitions, its almost "too good to be true" numbers and interesting accounts, and its business model sustainability for the future, we suggest you have a look at least at a few selected posts (see links highlighted in this sentence).
John's articles are definitely a must-read as they also represent a great lesson on balance sheet analysis and a great reminder to why investors should always use a grain of salt when looking at some outstanding numbers from relatively unknown companies. In the past, John highlighted, in the same sector, another company, China MediaExpress (OTCPK:CCME), which was a scam.
Focus Media LBO offer seen as a head-scratcher
Seeking Alpha author Peter Fuhrman, from China First Capital, an investment bank and advisory firm serving China's private companies, added a few interesting thoughts on the proposed deal. His post first appeared on his blog, and more recently on the CAIJING web site (CAIJING Magazine is one of China's most widely read business and finance magazine):
Any profit from this "take private" deal, as far as I can tell, hinges on later flipping Focus Media to a larger company. That's because the chances seem slight a privatized Focus Media will be later approved for domestic Chinese IPO. But, what if Focus turns out to be flip-proof?

With so much money - as so many big name PE firms' reputations - on the line, you'd think there would a clear, persuasive investment case for this Focus Media deal. As far as I can tell, there isn't.

If the goal is to try to arbitrage valuation differences between the US and Chinese stock markets, this deal isn't likely to pan out. It's not only that Focus Media will have a tough time convincing China's securities regulator, the CSRC, to allow it to relist in China. Focus Media is now trading on the NASDAQ at a trailing p/e multiple of 18. That is on the high side for companies quoted in China.

Next problem, of course, is the impact on the P&L from all the borrowing needed to complete the deal. There's been no clear statement yet about how much equity the PE firms will commit, and how much they intend to borrow. To complete the buyout, the investor group, including the PE firms along will need to buy about 65% of the Focus equity. The other 35% is owned by Focus Media's chairman and China's large private conglomerate Fosun Group. They both back the LBO deal.

So, the total check size to buy out all other public shareholders will be around $2.4 billion, assuming the investor group doesn't need to up its offer. If half is borrowed money, the interest expense would swallow up around 50% Focus Media's likely 2012 net income. In other words, the LBO itself is going to take a huge chunk out of Focus Media's net income. In other words, the PE group is actually paying about twice the current p/e to take Focus Media private, since its purchase mechanism will likely halve profits.

I'm fully expecting to be proven wrong eventually by this powerhouse group of PEs, and that they will end up dividing a huge profit pile from this Focus Media LBO. If so, the last laugh is on me. But, as of now, the Focus deal's investment logic seems cockeyed.
Timing of the deal: is an outcome possible in less than 4 weeks?
The proposed buyout of Focus Media was announced on August 13th.
According to Reuters, banks in Asia are being approached for an up to $1.7 billion financing to back the deal (emphasis added):
Citigroup , Credit Suisse and DBS Bank are leading the three-part buyout financing, which consists of a $950 million to $1 billion term loan, a $200 million to $300 million bridge-to-bond facility and a $450 million cash bridge, Basis Point reported.

The term loan is expected to have a five-year tenor, while the bridge financings will have six- to nine-month maturities, the report added.

The company is looking to put together an underwriter group of six or seven banks and terms of the financing are likely to be finalized in about two to three weeks, Basis Point said.
As the article was written on September 11, it seems that a positive (or negative) development for the financing could arrive at the beginning of October.
International Financing Review (IFR) added a few interesting comments about the challenges that financing will need to overcome:
The lack of name recognition among foreign lenders - Focus Media is making its loan market debut - is another challenge, as is the lack of hard assets in the underlying business. And, as with any cross-border financing from China, the offshore holdco structure is always among the first hurdles for potential lenders as dividend repatriation from the onshore operating company is the only form of debt servicing.

"Who are Focus Media's clients? Are there any long-term contracts? These are issues to look at. In Europe, clients are contracted for an ad campaign that runs for half a year and typically there is repeat business. In China it may be very different," said one leveraged finance banker in Hong Kong.

Another leveraged finance banker added: "Such a business cannot be highly levered, especially as the industry is susceptible to economic downturns. A gearing multiple of high-twos to low-threes will work for the financing. Anything above that could be a stretch."

Analysts' estimates of the company's prospects vary, with forecast Ebitda for 2012 ranging from US$371m to US$462m. Most are bullish, nonetheless. Whether lenders also share the same view will be known in the coming months when the financing hits the market.
Playing the deal with options
Investors have several ways to play the Focus Media proposed LBO. If you believe the acquisition is a done deal, there is an easy 15% profit to be made going long the stock. If you believe that the acquisition is at risk of collapsing, going short may have a limited downside (the acquisition price is likely to be fixed in the $27 range previously announced), and offer a very good reward (historically, these Chinese stock tend to collapse when their accounting/business model is seriously put into doubt).
A different way to approach the situation is through options, betting on a relatively quick outcome (the real question mark in this proposed investment thesis), and expecting a stock price reaction caused by either the consummation or the collapse of the deal.
If you believe that there will be a large price movement in the near future, but are unsure (or do not want to guess) which way that price movement will be, a strangle strategy could allow a decent return in a few weeks.
Right now, for example, you can buy October 19th $26 calls for $0.15/0.20, and $23 puts at $0.95/1.00.
This way, you are basically buying something like insurance on the cost of the operation if the deal goes through at $27 (and you may almost recuperate in full the cost of the strangle), and leave the option of making a very good profit if the stock loses more than 5% from its current price (very likely if the deal is cancelled).
There are obviously several other options, at different price levels, that may allow you to build your own personalized strangle strategy, depending on your opinion about the probability that the deal goes through, and your expectations on the market reaction. January puts and calls are also available, but they are obviously much more expensive.
In the example made, if the price of Focus Media remains between $23 and $26 over the next month, you will lose the whole cost of the two option contracts - as anticipated, the bet is mainly on a relatively quick outcome of the deal, which may not be guaranteed at all, given the complexity of the deal.
If the deal collapses, the put option at $23 will likely put you in a very good position to profit from what seems a very possible outcome of the offer, given all the doubts surrounding the company and the complexity of the financing.
Disclosure: I have no positions in any stocks mentioned, and no plans to initiate any positions within the next 72 hours. I wrote this article myself, and it expresses my own opinions. I am not receiving compensation for it (other than from Seeking Alpha). I have no business relationship with any company whose stock is mentioned in this article.