I set up my laid-back portfolio (LBP) on February 23, 2012. Here's Laid-Back Portfolio on Seeking Alpha. I subsequently added a share to the portfolio. Here I outline how I chose Triangle Capital Corporation (NYSE:TCAP), which I fictitiously purchased on 04/09/2012 @ 19.37, including transaction fees.
Today, I review the portfolio performance and I also add a share.
Portfolio Performance Review
The table below shows portfolio performance since inception and comparison with major indices.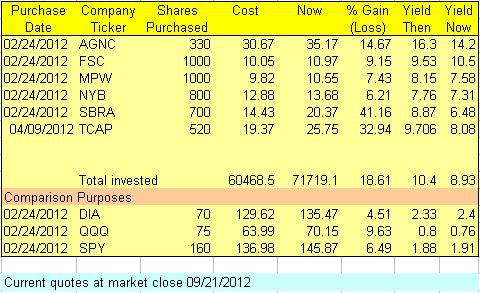 Cost is comprehensive of $20 commissions.
We can see that the portfolio is doing well. Both weighted-average yield of investment securities held and capital appreciation are outperforming the market.
The best performer is Sabra Healthcare (NASDAQ:SBRA). It had quite a run lately. It enjoyed a 40+ percent appreciation, while paying a good dividend.
Quest for yield
While running a screener looking for high dividend yield stocks, I came across all of the companies I already have in the portfolio, except the aforementioned Sabra Healthcare , which - since it has appreciated in value but did not increase proportionately the dividend - currently yields 6.48%.
Laid-back dividend investing means that I don't want to spend too much time researching dividend-paying companies. I look for sustainability of dividends. But I also want to have some sector diversification.
To date, the LBP includes one mREIT (American Capital Agency Corp. (NASDAQ:AGNC)), two BDCs (Fifth Street Finance Corporation (FSC) and Triangle Capital Corporation (TCAP)), two REITs (Medical Properties Trust (NYSE:MPW) and Sabra Healthcare) and a bank, New York Community Bancorp (NYB).
When I found this oil and gas MLP (which already was on my watchlist), I had no longer any doubt.
Enter BreitBurn Energy Partners
BreitBurn Energy Partners (BBEP) is an MLP.
An MLP, or Master Limited Partnership, is a limited partnership that is publicly traded on a securities exchange. It combines the tax benefits of a limited partnership with the liquidity of publicly traded securities (Source: Wikipedia). It pays distributions instead of dividends and shares of ownership are referred to as units.
In particular, BreitBurn engages in the acquisition, exploitation, and development of oil and gas properties in the United States. The company''s properties include natural gas, oil, and midstream assets (source: Yahoo! Finance).
As a percentage of BBEP's recent stock price of $19.56 (9/21/2012 market close), the current estimated yield on annualized basis is 9.6%.
BBEP continues to grow its distributions. As an example, on May 6, 2010, it paid $0.375 per unit. The most recent distribution was on Aug. 8, 2012, when BBEP paid $0.46 per unit. It is roughly a 20% improvement over two years.
While conducting company research, I ran across the presentation it gave at the Imperial Capital Global Opportunities Conference.
In order to mitigate risk, and minimize commodity pricing volatility, BBEP engaged in oil and gas hedging activities (pages 16-20).
BBEP has an attractive distribution yield versus its peer group (page 21). The following is an excerpt from Barclays CEO Energy-Power Conference Transcript on Seeking Alpha:
This is a slide I don't particularly like [page 21]. It shows our yield compared to our peers. We are currently yielding about 9.5%, actually at the end of August. I'd like to see us down well below that. I don't see any reason why we're not trading much closer to [inaudible] than to the rest of the guys in this group. We need to keep our nose down, stay focused and we believe that delivering the results that we have delivered, consistency, consistent distribution growth, should yield, should lead to yield compression, and we're focused on that quite a bit.
In a nutshell, management said it wants to bring down the yield. Rising distributions and yield compression mean that the unit price is going to rise as well. In other words, with BBEP I will possibly have steady income and capital appreciation.
Sum Up
BBEP is thus my next selection for my Laid-Back Portfolio. I'll (fictitiously) buy $10,000 worth of BBEP units one day after publication on Seeking Alpha, at mid-day prices, so I don't have an unfair advantage over you, the reader (not that I think I will be able to move a stock).
Disclosure: I have no positions in any stocks mentioned, and no plans to initiate any positions within the next 72 hours. I wrote this article myself, and it expresses my own opinions. I am not receiving compensation for it (other than from Seeking Alpha). I have no business relationship with any company whose stock is mentioned in this article.
Additional disclosure: Material presented here is for teaching and entertaining purposes only. It is not intended to be taken as financial advice, a recommendation to buy or sell the stocks mentioned above. Investing includes risks, including loss of principal.