For a basket of strong energy companies with the potential to beat the market over the long-term, consider the Energy Select Sector SPDR ETF (NYSEARCA:XLE). This fund has outperformed the market over the past decade and it provides some protection against the volatility of individual energy stock ownership as in the case of major negative news such as an oil spill or other disaster. The fund owns a great combination of leading energy companies. The fund looks poised to continue to perform well as it is comprised of many large-cap dividend paying energy companies.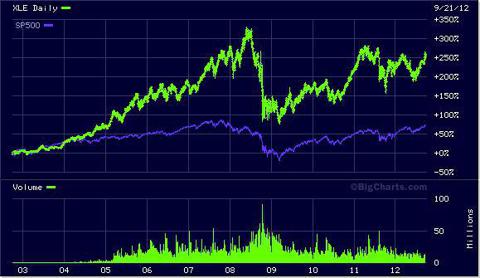 The XLE fund has achieved an annualized return of 10.14% since inception in December of 1998. Its pays a dividend yield of 1.52%. The average trailing PE ratio is 12.61 and the average price to book ratio is 1.86. This provides a valuation that is lower than the market's average PE ratio of 14 and price to book ratio of 2.21%. The fund has a relatively low expense ratio of 0.18%.
| | | |
| --- | --- | --- |
| XLE Top Ten Holdings | % of Fund | Dividend |
| Exxon Mobil (NYSE:XOM) | 18.87% | 2.5% |
| Chevron Corp (NYSE:CVX) | 15.52% | 3.1% |
| Schlumberger (NYSE:SLB) | 6.84% | 1.5% |
| Occidental Petroleum (NYSE:OXY) | 4.05% | 2.5% |
| ConocoPhillips (NYSE:COP) | 3.52% | 5.1% |
| National Oilwell Varco (NYSE:NOV) | 2.85% | 0.60% |
| Anadarko Petroleum (NYSE:APC) | 2.74% | 0.50% |
| Apache Corp. (NYSE:APA) | 2.63% | 0.80% |
| Halliburton (NYSE:HAL) | 2.61% | 1.00% |
| EOG Resources (NYSE:EOG) | 2.44% | 0.60% |
The XLE fund is comprised of 79.29% oil, gas, and consumable fuels companies and 20.69% energy equipment/services companies.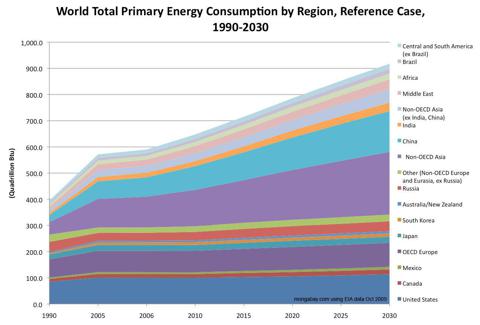 The growing worldwide demand for energy being driven by emerging markets should continue to allow the XLE to thrive for the long-term. China, India, Brazil, etc. are projected to have increased energy demand well into the future. The companies comprising the XLE will continue selling their products and services to these growing nations.
China is the world's largest energy consumer as reported by eia.gov. Although the growth in China has slowed a bit as compared to recent years, the country is still growing robustly and is still significantly outpacing the growth of mature economies such as the U.S. and Japan.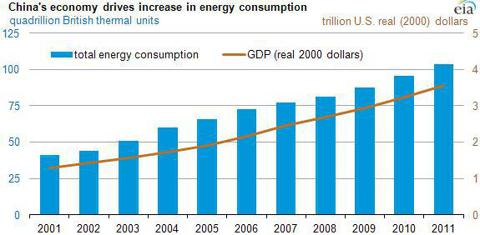 According to ExxonMobil's latest 10-Q filing, the company derived 67% of its revenue from outside the United States. Chevron, the XLE's second largest holding derived 60% of its revenue from outside the U.S. These percentages will most likely increase as the companies' products and services will go to where the demand is. This shows that worldwide energy demand will lead to a higher price for the XLE fund over the long haul.
Overall, the XLE fund looks promising for the long-term. It's a great way to own a basket of energy companies and simultaneously collect dividends while worldwide energy demand grows.
Disclosure: I have no positions in any stocks mentioned, and no plans to initiate any positions within the next 72 hours. I wrote this article myself, and it expresses my own opinions. I am not receiving compensation for it (other than from Seeking Alpha). I have no business relationship with any company whose stock is mentioned in this article.