On June 5th, I urged readers to purchase shares of Gold Miners ETF (NYSEARCA:GDX). I specifically wrote back then that everyone "should pile into this sector immediately".
Below is the performance of GDX since our initial trade entry. We first entered at $44. The current price of GDX is brushing the $55 level as of this writing, a 25% jump in just 3 months.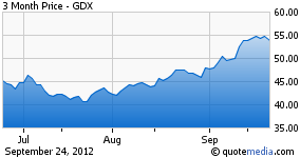 The trading rationale behind this trade
I provided 2 main reasons for my long GDX recommendation:
1. Gold stocks were completely abandoned by the mainstream media. No one wanted anything to do with gold stocks, which is always a good sign for a potential rebound. This is what I wrote 3 months ago:
Nowadays, the sector of gold companies is bitten, battered and thrown to the sidelines, up to a point of complete devastation. Current valuations reflect an utter disaster.
2. There was a great discrepancy between the performance of gold the metal, and the performance of shares of gold companies. While the metal has been either flat or slight rising, GDX has totally collapsed. This is what I wrote back then:
Naturally, this situation is unsustainable. There is no reason why gold stocks should be hit that hard, that fast. This scenario will correct itself.
And it most certainly has corrected itself, at least partially. Take a look at the graph below. It shows how GDX (blue line) has vastly outperformed both the S&P (red line) as well as the SPDR gold shares (NYSEARCA:GLD), shown in green, in the course of the past 3 months.
Where do we go from here
It is always confusing where, exactly, one trend ends and another begins. We successfully managed to catch the aggressive trend in GDX over the past couple of months. But a question arises whether it is a good time to sell and take profits. I believe that this trend is far from over, it is simply starting. It will really be 'on fire' once the mainstream media starts spending more and more time covering stocks of gold companies and urging investors to but into this sector. I am also of the opinion that GDX can continue rising even without a correlated rise in the price of gold.
In the meantime though - I am never against taking partial profits off the table. What we will do is sell half of our original position and let the other 50% continue with the trend.
Alternatively, you can keep riding the trend by investing directly in any one of the major players in the gold miners sector:
| | | | | |
| --- | --- | --- | --- | --- |
| Companies/Metrics | forw. P/E | Price/Book | 52 week High to Low | Current Price |
| Barrick Gold (NYSE:ABX) | 8.75 | 1.74 | $34.8 - $56 | $42.86 |
| GoldCorp In. (NYSE:GG) | 16.7 | 7.2 | $32 - $56 | $46.9 |
| Kinross Gold (NYSE:KGC) | 10.2 | 0.93 | $7- $18.25 | $10.3 |
| New Gold Inc. (NYSEMKT:NGD) | 18.4 | 2.5 | $7.13- $14.15 | $12.72 |
Trading instructions
If you bought October call options on GDX, you are now sitting on gains of well over 300%. Sell all of your options.
If, instead, you chose to buy shares of GDX - I recommend you sell 50% of your original position in order to protect profits. We will set our stop loss at $48, and let the remaining 50% of the trade ride with the trend.
Disclosure: I am long GDX. I wrote this article myself, and it expresses my own opinions. I am not receiving compensation for it (other than from Seeking Alpha). I have no business relationship with any company whose stock is mentioned in this article.