Shares of USA Today parent Gannett Co Inc (NYSE:GCI) are up more than 100% over the past year and are trading at a three year high. However, there are three reasons why GCI can continue to rally.
Valuation
Currently, GCI is trading at 11 times earnings. As shown by the chart below, on a historical basis, the current valuation is far from expensive. In the past, GCI had traded at a P/E Ratio of nearly 25. While the stock may never trade at that high a valuation again due to changes in the growth outlook for the business, multiple expansion is certainly possible as the company continues to monetize its online service.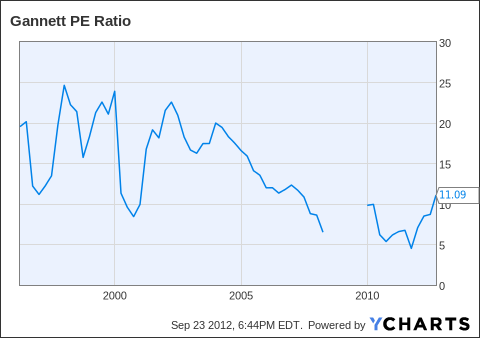 GCI PE Ratio data by YChart
Dividend Yield
In my previous article, Gannett's Dividend Hike Puts It In A Class Of Its Own, I discussed how GCI's dividend yield was far superior to other media stocks. At the time, GCI was yielding upwards of 5%. Now, because of the move higher in the stock, GCI yields 4.27%. Still, GCI's dividend remains very attractive on both a relative and absolute basis. Notable comparisons to GCI include the New York Times (NYSE:NYT), which does not pay a dividend, and the Washington Post (WPO), which yields 2.65%. In short, GCI remains attractive on a yield basis.
Short Interest
Currently, short interest in GCI stands at 24.85 million shares or 10.6% of the float. The high short interest indicates that many market participants remain skeptical of GCI. The high short interest means that despite the stock trading at three year highs, many GCI bears remain.
Conclusion
Despite trading at a three year high and being up more than 100% over the past year, I believe GCI can continue to rally. The cheap historical valuation, high dividend yield, and high short interest are all reasons why GCI can continue to rally.
Disclosure: I have no positions in any stocks mentioned, and no plans to initiate any positions within the next 72 hours. I wrote this article myself, and it expresses my own opinions. I am not receiving compensation for it (other than from Seeking Alpha). I have no business relationship with any company whose stock is mentioned in this article.