ABB (NYSE:ABB) is a global leader in power and automation. The company also provides innovative products in energy efficiency and robotics. For example, it recently launched Terra 51, which is a bestseller in Europe and an intelligent fast charger for electric vehicles, in the United States. Its growth in emerging markets is highlighted by the recent announcement of a $30 million investment to build a new factory in Poland and wins of multi-million contracts in Turkey (gas compression system), Namibia (copper smelting plant), and Oman (gas condensate plant) among others. Its new products are expanding into building automation and control (the library at Jonkbping University in Sweden), new communications systems for a variety of customers (via an acquisition of Tropos Networks) and setting new records (highest DC voltage level for a converter transformer).
ABB has a long history in Europe but the company derives only about 38% of its revenues from the old continent. The remaining part is split between Americas (23% of 2011 revenues), Asia (30%), and Middle East & Africa (9%) and the mix is becoming even more diversified. The company has strong fundamentals and margins compared to its major competitors, Siemens (SI), General Electric (NYSE:GE), Emerson Electric (NYSE:EMR), and Eaton (NYSE:ETN). In addition, the company is growing steadily and is on track to meet its 2011-2015 long-term plan by offering innovative and best of class products and services. All this makes ABB a compelling investment opportunity despite economic headwinds in Europe as well as globally.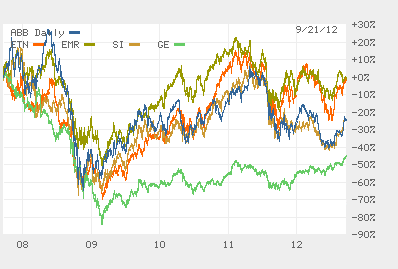 5-Year Performance of ABB, GE, SI, EMR, and ETN
Fundamentals
ABB has about 2.3 billion shares outstanding for a market capitalization of $45.4 billion and an enterprise value of $49 billion (including long-term debt of about $7.7 billion and $4.8 billion in cash). In terms of size, ABB is clearly smaller than General Electric and Siemens, who have enterprise values of $590 billion and $100 billion, respectively, similar in size to Emerson ($40 billion), and larger than Eaton ($19.5 billion).
The company pays a dividend once a year, after it announces its annual results and this year it paid a dividend of about $0.70 per share, an 8% rise from 2011. This dividend yield is worse than that of Siemens (3.8%), but better than General Electric (3%), Emerson (3.2%), and Eaton (3.2%). In addition, the company's long-term debt to equity ratio of 0.45 is similar to that of Siemens (0.48), Emerson (0.36), and Eaton (0.46). It is difficult to compare ABB capital structure to that of General Electric, which has a disproportionate amount of debt due to its financial division, GE Capital.
In terms of profitability, ABB has an earnings before interest, tax, depreciation, and amortization (EBITDA) and gross margins of 14.1% and 29.6%. This is slightly worse than General Electric's (18.6% and 40.9%) and Emerson (19.2% and 39.6%) and similar to that of Siemens (14.5% and 28.5%) and Eaton (14.1% and 30.3%).
One area where ABB is clearly better than its competitors is growth. During the past five years ABB grew its sales by 10.3% per year on average compared to -0.6%, 2.1%, 4.2%, and 5.6% growth rates for General Electric, Siemens, Emerson, and Eaton. One of the reasons for this strong growth rate is that ABB has made a number of significant acquisition relative to its size in the past few years including Thomas & Betts for $3.9 billion, Baldor Electric for $4.2 billion, and Ventyx for over $1 billion among other smaller acquisitions.
Geographic Diversification And Company's Goals
During its most current quarter (Q2 '12), ABB reported unchanged revenue while the orders had a growth of 2% compared to the same quarter last year. Without the currency impact revenues and new orders grew 9% and 6% respectively. The order growth in local currency by region during the second quarter was +20% for Americas (10% due to the Thomas & Betts acquisition), +34% for the Middle East & Africa, +2% for Europe, and -1% for Asia. These results compare well to most of its competitors. For example, General Electric reported order decrease of 1% during Q2 '12, Siemens saw its new orders decline by 27% for the quarter ending June 30, 2012, Emerson orders fell by 3% during the same period, and Eaton's sales declined by 1% quarter over quarter (orders are not available for Eaton). In addition, ABB results in Asia, Europe, and Middle East & Africa were less affected by economic headwinds in these regions.
In addition, ABB reported that it is on target to meet three of five financial goals for the period 2011-2015 including 7-10% organic revenue growth (OTCPK:CAGR), EBITDA margin corridor of 13-19%, and organic earnings per share growth (OTCPK:CAGR) of 10-15%. On the negative side, the company is still trying to meet its goal of over 90% of annual cash flow conversion, which is currently at 60-70% due to growth investments and lower cash flow from hedging. Also, it is still not on target to have a cash return on capital of greater than 20% by 2015, which is currently between 10-14% due to capital build-up from acquisition activity. One of the biggest advantages is that ABB plans to grow its services to 20-25% of revenues by 2015 (currently 18% of revenues) with EBITDA margins above the company's average. It hopes to achieve this goal by expanding its service portfolio, increasing penetration of installed base, broadening geographic coverage, investing in services R&D, and strengthening local capabilities.
Conclusion
From a financial and operational point, ABB is a large-cap company with strong growth capabilities. Its large footprint and focus on executing its strategy effectively should reward ABB shareholders in the longer-term. While ABB is based in Europe, it is well diversified geographically and offers products and services that help conserve energy and make processes more efficient. All this makes ABB worth considering.
Disclosure: I have no positions in any stocks mentioned, and no plans to initiate any positions within the next 72 hours. I wrote this article myself, and it expresses my own opinions. I am not receiving compensation for it (other than from Seeking Alpha). I have no business relationship with any company whose stock is mentioned in this article.