On September 5th, Nokia (NOK) announced its two newest Lumia smartphone devices that will be running on Microsoft's (NASDAQ:MSFT) Windows Phone 8 operating system at Nokia World 2012. We were disappointed in how Nokia handled the Lumia WP8 launch because in its rush to upstage Apple's new iPhone 5, Nokia was unable to announce when it would be released or who would be carrying it. We were impressed with how Apple handled the launch of the iPhone 5 and we believe that Nokia could take a few cues from Apple in how it handles a new product event. The one piece of information we received from Nokia World 2012 is that Microsoft is scheduled to officially launch the Windows Phone 8 software on October 29th. We believe that this is probably the reason why Nokia's Lumia 920 and 820 won't be available for sale until November. Because Apple executes better than Nokia and Microsoft, it completed the iOS 6 software for the iPhone 5 and will begin delivering the iPhone 5 on Friday September 21st. If Microsoft wants to take back mobile phone operating system market share, it better shape up and show us it can complete the Windows Phone 9 operating system in 2013 at the same time Apple completes its iOS 7 operating system.
As far back as 2007, Microsoft's Windows Mobile operating system had 42% market share in the smartphone operating system market. We are still stunned as to how Microsoft's market share in smartphone operating systems has crumbled from 42% to 4% in a span of 5 years. Part of the reason why its market share eroded was because it charged handset vendor up to $25 for each copy of Windows Mobile while Google (GOOG) gave away the Android operating system for free. Another reason was that Microsoft Windows Mobile primarily focused on the business enterprise market rather than the individual consumers. Apple's iPhone ended up effectively creating the consumer market for smartphones and while Apple may be in second place behind Samsung in terms of worldwide smartphone unit sales volumes, it dominates the US smartphone market.
Apple introduced the iPhone in January 2007 and the iPhone served to permanently alter the mobile communications industry's competitive landscape. These changes impacted device makers like Nokia, operating systems providers like Microsoft and mobile carriers like AT&T (T), Verizon (VZ) and Sprint (S). The carriers incur a higher subsidy expense per unit for the smartphones versus the standard mobile phones to the handset vendor, but make up the expenses by requiring a two-year contract to get the subsidy and qualifying data plan whether or not you are a contract customer. AT&T and Verizon allow customers to buy iPhones and other high-end smartphones without a contract but considering that non-contract customers still have to pay the same monthly service price that contract customers pay, AT&T and Verizon aren't really doing anyone any special favors. The Big Three mobile carriers like the iPhone because it has served to reduce carrier customer churn and the revenue from data growth has served to offset flat revenue growth from voice services. AT&T Mobility's churn has declined from 1.5% in 2006 before it landed the iPhone to less than 1% in H1 2012, even though Verizon and Sprint have also been selling the iPhone since 2011.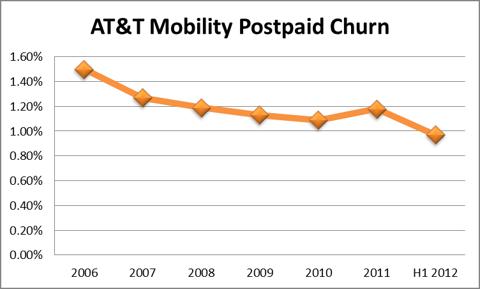 Sources: AT&T Annual Reports 2006-2011 and Q2 2012 Earnings Release
Microsoft did not make mobile devices like Apple and Nokia. Microsoft was content to license its software to smartphone device vendors and the vendors would use Windows Mobile as the operating system for the phones that were made. Because Windows Mobile's operating system market share melted from 2007 to 2010, Microsoft replaced Windows Mobile with the new Windows Phone system and imposed new hardware requirements on its smartphone device partners.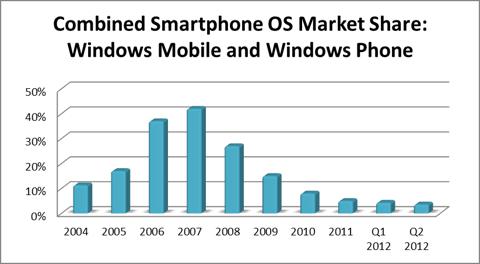 Sources: ComScore Market Share Report and ZDNet Market Share Report
The most notable device maker to sign up for Microsoft's new Windows Phone operating system was Nokia in February 2011. At the time of the agreement, Nokia was still the mobile device industry's unit sales volume leader. While it seemed like a coup for Microsoft to get its Windows Phone operating system onto Nokia's devices, it has to be taken with a grain of salt considering the following observations:
At the time of the agreement, Nokia had recently changed its CEO and the new CEO was Stephen Elop, who was the former head of Microsoft Business.
Despite the unremarkable record of results achieved by Microsoft Business under Stephen Elop, Nokia hired him as CEO.
Source: Microsoft's 2010 Annual Report
Despite the fact that Nokia was the world's leader in mobile device unit sales volumes, smartphones played second fiddle at Nokia. Smartphones only accounted for 23% of Nokia's device volumes in 2010, the year Elop was hired.
Despite the fact that Nokia's Smartphone sales volumes set a company record in 2010 with 103.6M sold, Nokia was losing market share.
Nokia's smartphone market share declined from 40% in 2009 to 31% in 2010 and thanks to Stephen Elop's memorable memo, Nokia's market share sank like a stone.
Sources: Nokia's 2010 Annual Report, Tomi Ahonen and IDC
It is obvious that while critics seem to like the Windows Phones better than the iPhone, this critical acclaim is not translating into better sales for the Windows Phone. Apple's iPhone outsells Windows Phone because Apple is better at marketing, operational execution and giving people what they want. With the exception of a couple of inadvertent leaks Apple's new iPhone product launch was much smoother than Nokia's thanks to the fact that Apple's operational execution is much better than Nokia's and Microsoft's put together. Apple's operational execution is miles ahead of the Nokia-Microsoft Windows Phone partnership because Apple's website, Apple's retail stores and Apple's carrier partners all had the iPhone 5 available for pre-order while Microsoft is still working on the Windows Phone 8 software. We were originally shocked that MSFT is still working on WP8 but considering the performance of Vista, we're actually not that surprised.
WP8 stakeholders may make the case that MSFT's WP8 schedule is aligned with the Windows 8 launch and we say that maybe MSFT needs to find a way to accelerate the delivery timetable next year so Apple doesn't have a 45 day head start on Windows Phone and Windows Phone's biggest partner Nokia. We can see that the iPhone is successful because it gives people what they want and we see that what people want is a phone that they don't have to wait 45 days for. Despite AT&T's $150M promotion of Nokia's Lumia 900 flagship Windows Phone, Apple's North American iPhone sales were higher than Lumia's worldwide sales in the most recent quarter.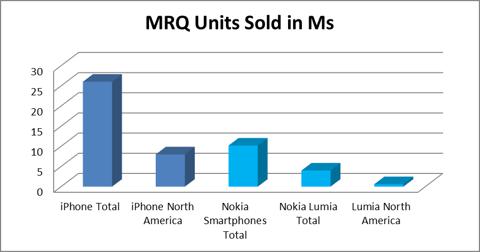 Source: MRQ Reports for Apple and Nokia
In conclusion, Apple has shown that it is the game-changer in the mobile communications industry. Based on the difference between Apple's Keynote product launch and Nokia's we can see how Microsoft's market share in the smartphone operating segment has crumbled from 42% in 2007 to ~4% in H1 2012. One reason why Apple is able to sell more phones than Nokia and Windows Phone is because Apple is better at integrating its systems into the product and can get its products to market quicker. When Microsoft is having its Windows Phone product launch on October 29th, Apple's iPhone will have been available for consumers to order for 45 days. Considering that smartphone product lifecycles have been effectively reduced to three years with one year sub-cycles thanks to the iPhone, Microsoft and its Windows Phone partners will be facing a 45 day delay with regards to getting the new Windows Phones to market. Another reason is that Apple has an integrated process with regards to its iPhone devices whereas Microsoft relies on other companies to make phones with the Windows Phone platform. Because Microsoft's CEO Steve Ballmer did not have an answer for Google's Android or Apple's iPhone, it is not really a surprise that Apple generates more revenue from the sale of iPhones than Microsoft generates as a company during the last 12 months.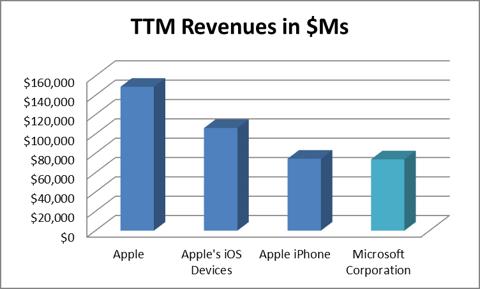 Source: Most Recent Financial Reports for Apple and Microsoft
Disclosure: I am long S, AAPL. I wrote this article myself, and it expresses my own opinions. I am not receiving compensation for it (other than from Seeking Alpha). I have no business relationship with any company whose stock is mentioned in this article.
Additional disclosure: This article was written by an analyst at Saibus Research. Saibus Research has not received compensation directly or indirectly for expressing the recommendation in this article. We have no business relationship with any company whose stock is mentioned in this article. Under no circumstances must this report be considered an offer to buy, sell, subscribe for or trade securities or other instruments.