When a tourist enters a big city they marvel upward at the height of the buildings. With their heads in the sky, they can miss the opportunities which lay in wait at their feet. Such a situation has happened with Apple (NASDAQ:AAPL) and the PC industry. The large shadow Apple casts puts nearly the whole PC value-network at low valuations: specifically, and in our case, Microsoft (NASDAQ:MSFT). And Apple itself, despite the shadow it casts, looks undervalued as well.
If we take a look at the largest free-cash-flow [1] generating corporations in the U.S., and exclude the financial companies, we find two familiar technology companies at the top: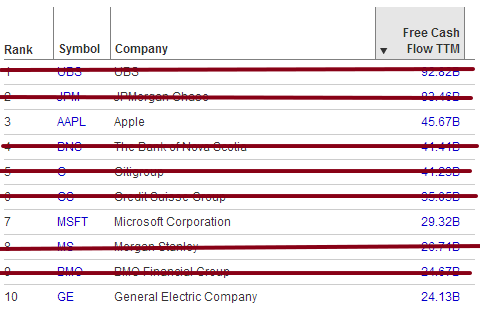 (Source: YCharts TTM FCF Rankings)
Indeed, a similar story appears when we look at the top U.S. companies by market capitalization:

(Source: YCharts Market Cap Rankings)
Doing a simple price-to-free-cash-flow calculation, we see that Apple and Microsoft are valued at the following P/FCF ratios:
Apple: $656.33B [2] / $45.67B = 14.37

Microsoft: $261.90B / $29.32B = 8.9
And if we were to define "fair-valued" as the average P/FCF of the DJIA (presently standing at 14.11), then Apple would be basically fair-valued in comparison, if it doesn't grow; Microsoft is undervalued too, if it doesn't grow. More on valuations later.
So, Microsoft is valued at a lower multiple than Apple. This is fair, since Apple is growing faster than Microsoft: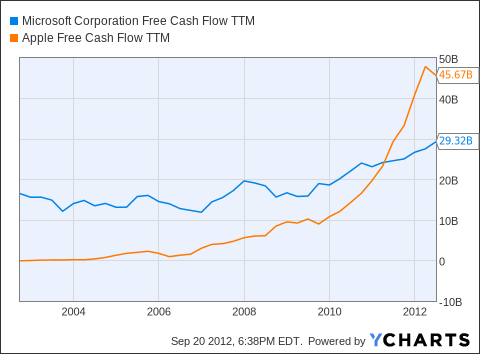 MSFT Free Cash Flow TTM data by YCharts
But we must realize that for Microsoft's size, its growth rates are still pretty good. Not as parabolic as Apple's, of course -- but stable, rolling, and wedged between all the necessary institutions of the world. Look at the two companies' FCF yields -- a higher yield means more undervalued if no growth is to occur in the future: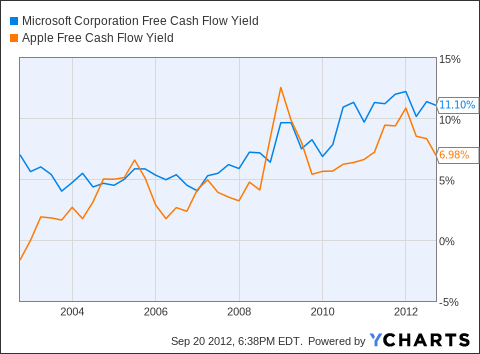 MSFT Free Cash Flow Yield data by YCharts
But growth probably will occur -- as it has in the past. You can see the FCF growth rates by percentage change below: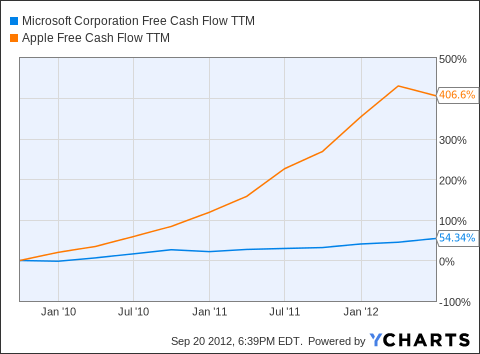 MSFT Free Cash Flow TTM data by YCharts
Apple has more than quadrupled its FCF in three years -- and Microsoft itself has increased its FCF by some 54% over the same 36 month period. Year-over-year, Apple's FCF grew at a rate of 58% and Microsoft's FCF grew at a (not too shabby) rate of 15.4%.
Mobile And Present Beliefs
Mobile and tablets are obviously changing the way we compute -- and Apple and Google are currently the winners. But as Steve Jobs tried to convince those audiences in 1997, Microsoft and Apple are not playing a zero sum game -- there exists bounty enough for both companies. The belief that Microsoft's absence from mobile and tablets, combined with Apple's extreme success, does not imply that Microsoft should sell at 40% the price of Apple, when its FCF is 65% of Apple's. Most important for us, however, is that the growth rates of both companies indicate that the two could both sell at significantly higher multiples.
Public Perception
Apple lost its underdog status with the success of the iPhone, but it has only recently become apparent to the public how dominant it is. When Apple registered a victory over Samsung, banning the sale of Samsung devices, Apple displayed that it is like most other contemporary institutions - Machiavellian when resource dependency necessitates protecting its market. Indeed, recent reports suggest that Apple didn't ditch Google (NASDAQ:GOOG) Maps on the new iPhone 5 because of product superiority -- but rather, because it did not want to depend on Google, its main rival. Whether public perception will see Apple in the future as the burning bush or the serpent is yet to be decided. Sam Walton, whose institution (i.e., Wal-Mart (NYSE:WMT)) was itself characterized as an anaconda asphyxiating small business, said this about public opinion and the national media:
"...the more successful you become, the more suspicious they become of you. And if you ever become a large-scale success, it's Katie bar and the door. Suddenly, you make a very convenient villain because everybody seems to love shooting at who's on top." [3]
As the masterful proxy war between Apple and Google continues, it will be Apple whose castle is being defended, because it is more vulnerable. Google's moat has yet to even be breached -- even though Microsoft is rich enough to continue sacrificing billions ($2.5 billion in 2011) to lob Bing water balloons at the mighty stones of the verb "google."
Products
So much has been said on this matter; I won't be tiresome. Window's 8 looks like a positive catalyst for Microsoft. The iPhone 5, released Friday, looks like a positive catalyst for Apple.
Valuation
When we analyze value, we look backwards first, because we have to understand the initial conditions from which we must project. The initial conditions, in our case, would be FCF and the companies recent growth rates.
In the discounted cash flows equation (below), you are supposed to subtract the growth rate from the discount rate; e.g., if you wanted to discount the future cash flows at 10%, and the company was sure to grow 4% a year, the most accurate estimate would be to discount the most recent cash flow numbers at 6%. The formula for discounted cash flows of a going concern would be something like:
Value = Net Recurring Cash Flow / (Discount Rate - Growth Rate)
In the case of both companies, but Apple specifically, its growth rate makes using a discounted present value of future cash flows impossible -- because the growth rate would take the discount rate to zero or near zero. Even Microsoft's discount rate would basically be eliminated if we projected past growth forward. In other words, the estimate is "not meaningful" because the growth rates nullify the discount rate.
The point is: both companies are undervalued within the context of the current market share and growth prospects. Apple's case is a special one because you need to account for the $125 per share of investments, inventory, and cash. With earnings currently at $42.55 a share, and if you subtract the $125 from the price, its P/E is only 12.5. Pretty low for a company growing as parabolically as Apple.
Conclusion
Both Apple and Microsoft are undervalued -- and further, both are growth stocks. One signal in the noise is that the two companies can continue to succeed in parallel.
Microsoft, as a stock, has the slightly added advantage of a lower FCF multiple making it more undervalued if it doesn't grow in the future. Further, it has the added advantage of a more diversified income stream. Apple will need to grow a bit maintain its valuation -- but the level of growth it would need is tiny when compared with the recent historic growth rate of either two companies.
Speaking generally, Microsoft will probably continue to have wins in the enterprise market and Apple will probably continue to have wins in the consumer market. It is an error to think that the success of one will ruin the other. Apple's current share price of $700 dollars appears only as a psychological barrier, in light of its cash flow generating abilities.
These two giants will be conservative and put out products which are thoroughly tested with consumers and users (Apple's recent map problem aside). Barring major errors by either player, status quo bias suggests that both companies will do well in the near term.
Notes:
Free-Cash-Flow = FCF = Operating Cash Flow - Capital Expenditures
Technically, since Apple has $125 per share in liquid assets (I include its inventory) its market capitalization would be less that amount, or $541 billion. Such a figure would put Apple's P/FCF at 11.85 and its FCF Yield at 8.4%.
Walton, Sam, and John Huey. "Making The Customer Number One." In Sam Walton, made in America: my story. New York: Bantam Books, 19931992. 227. I've also written about Wal-Mart here.
Disclosure: I have no positions in any stocks mentioned, and no plans to initiate any positions within the next 72 hours. I wrote this article myself, and it expresses my own opinions. I am not receiving compensation for it (other than from Seeking Alpha). I have no business relationship with any company whose stock is mentioned in this article.