The iPhone 5 release has the entire world buzzing, once again, about Apple (NASDAQ:AAPL). It's hard to find someone who's not a bull for Apple, which seems to be stealing the spotlight away from Google (NASDAQ:GOOG) these days. Apple's fundamentals are solid and their hoards of cash are great for investor security. Google, though, also has tons of cash laying around with the same great fundamentals. So, as an investor, if you could only invest in one of the two, which would you choose?
Fundamentals
First of all, the fundamentals are great for both companies. Google's earnings per share are lower than Apple's, but solid nonetheless. Apple investors pay $16.46 for every $1 of earnings while Google investors pay $21.77 for every $1 of earnings. This premium makes sense when you look at the PEG ratio, which takes into account the growth of a company (the lower the PEG, the better). Google's PEG is significantly lower than Apple's, which means Google stands to grow more than Apple (based on analyst expectations). The profit margins for both companies are virtually the same. Apple pays a 1.51% dividend while Google has no dividend (yet).
| | | |
| --- | --- | --- |
| | Google | Apple |
| EPS | 33.73 | 42.54 |
| P/E | 21.77 | 16.46 |
| PEG | 1.126 | 1.588 |
| Sales (Billions) | 43.16 | 148.81 |
| Income (Billions) | 11.11 | 40.13 |
| Profit Margin | 25.74% | 26.97% |
| Div Yield | 0.00% | 1.51% |
Fundamentals: tie
Based on fundamentals alone, it's not easy to pick one company to invest in. Dividend investors may lean towards Apple, while growth investors may favor Google.
Business Viability and Market Sentiment
If investing in stocks were as easy as comparing fundamentals, we'd all be millionaires. Shareholders must also take into account how solid a company's business model is and whether its product line is sustainable or not. Also important is how the market feels a company will perform, and whether it can live up to expectations.
Apple is rated a "strong buy" by 35 analysts, while 4 rate it as a "moderate buy" and 1 rates it as a "hold." Google's sentiment is similarly bullish with 27 "strong buy" ratings, 3 "moderate buy" ratings, and 3 "hold" ratings. Bulls for both companies are a dime a dozen and rightfully so based on fundamentals. However, analysts can be (and often are) wrong. So how do you know whether each company has a viable product line for the long term?
Based on Q1 and Q2 of 2012, Google is set to bring in about $40 billion in revenue through advertising alone. This is Google's single most profitable business and will continue to be for years to come. However, Google is known to be aggressively diversifying with one of the most robust R&D programs (think Google Glass) and one of the largest acquisition appetites (think Motorola Mobility) out there today.
A lot (most) of Google's projects don't bring in any additional income directly but tend to work out for higher revenues in the long run. Take for example, the Google Fiber project. It is meant to eventually provide free gigabit internet to consumers in different cities throughout the United States. How does this increase Google's bottom line?
With free internet, more people will be online than ever before and that means more people will be using the gateway to the internet - Google's search engine. This translates directly into ad revenue. That's not all, though. Users who were hesitant to go mobile because they didn't want to pay for data plans will now be able to hop on to Google's free WiFi network anywhere in their hometown. This translates into more tablet and smartphone sales, boosting Android and iOS usage. Again, Google wins with more ad revenue. That's just ONE of Google's developing projects. They're even working on clean energy.
Apple, on the other hand, is focused on a very specific market. This by itself isn't a bad thing. This gives them the ability to put all their financial muscle behind a very clear and specific line of products to properly develop and market it. This is one of the reasons iPhone, iPads, and Macs have done as well as they have. The problem is that improvements in the iPhone line have been lagging improvements in Android phones. They did well until recently because of their novelty and ease of use, but the market has changed and Apple hasn't kept up.
Google is leveraging the power of multiple hardware developers (HTC, Motorola, Samsung) to improve the Android platform by allowing them to produce their own variations of the OS. Apple seems to be doing the opposite by getting even more exclusive than they already are. This is more clear than ever with the recent move to an in-house maps app, which replaced Google Maps, which had no real flaws, with a mapping application that has underperformed to say the least.
It's not too late for Apple to change their strategy and regain control of the market, but it seems unlikely that they will do so. This is why Google seems to be the better business model in the long run.
Market Sentiment: Apple (by a small margin)
Business Viability: Google
Technical Analysis
For long-term investors, technical analysis seems to be an afterthought. While it's not a great tool to find what companies you should invest in, it IS a great tool to find a good entry point or exit point for an investment. I've already established that Apple and Google are both great companies based on their fundamentals, but which company has better technicals?
For technicals, I looked at 1 and 2 standard deviation Bollinger bands to find a buy/sell zone. For Apple, the price seems to be teetering between buy zone and neutral zone, so there's no clear signal. The MACD has crossed over the signal to the upside but is converging back. The RSI and Ultimate oscillator are both fluctuating between upward trend and overbought zones.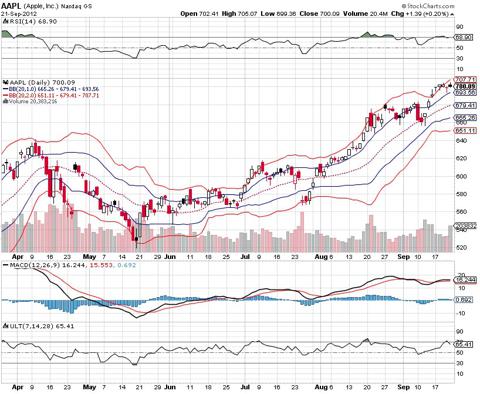 The Fibonacci lines show the next resistance level at $807 and the closest support level at $638. Overall, technicals for Apple are mixed, but this simply means an entry point is difficult to find. If you're a long term investor and like Apple, now's as good a time as any.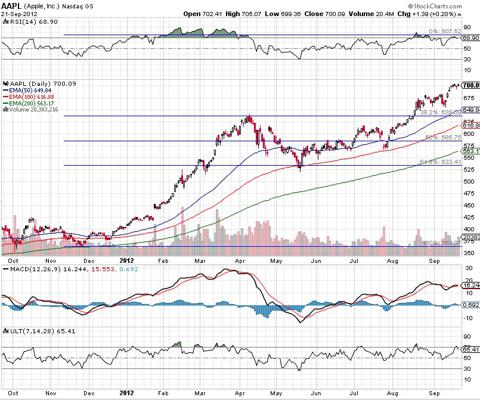 Google's signals are also mixed. The price is firmly in the Bollinger buy zone and the MACD has crossed over and is diverging to the upside. In contrast, the RSI and Ultimate oscillator both show overbought.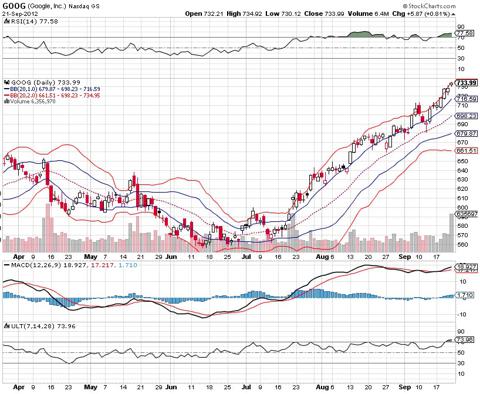 The closest resistance for Google based on Fibonacci levels is at $755, while the closest support level seems to be at $682. A long term investor should look for Google to drop back to the $682 support or breakthrough the $755 resistance levels to open a position.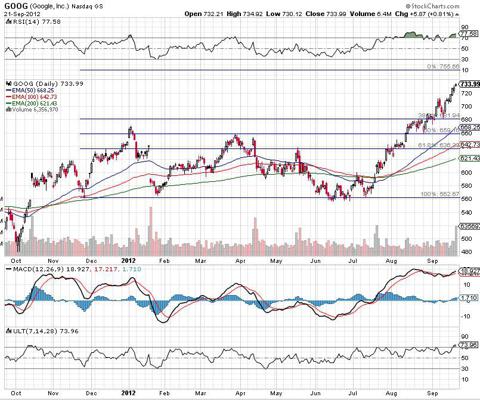 Technicals: tie (both sending mixed signals)
Which one is better?
Everything considered, both companies seem to be a good investment for the long term. Jowever, I would choose Google if I could select only one. Apple's dividend is appealing but would not provide the same return as the appreciation in share price of either company based on forecasts. In fact, as a dividend stock, I would stay away from Apple completely.
Google seems to have the more sustainable business model with more room for growth, while Apple seems to be running on the fumes of the novelty of their products (in my opinion). The iPhone 5 seems to have lived up to expectations initially, but technical issues seem to be a bigger issue than previous models which leads me to believe quality control is wavering (maybe due to pressure to put out a product quickly that can compete).
It's important to note that I am bearish on Apple only in relation to Google. I do believe that Apple will see its share price appreciate nonetheless. As always, I've provided my personal opinion along with support based on my research but it's up to each investor to carry out their due diligence. Stocks, especially big ticket ones such as Apple and Google, can tie up a lot of your finances and you should make sure you can afford it. I have NOT provided an analysis of the macro environment because it's beyond the scope of this article, but it's important to consider, though the longer you plan to hold the position, the less it matters.
Disclosure: I have no positions in any stocks mentioned, and no plans to initiate any positions within the next 72 hours. I wrote this article myself, and it expresses my own opinions. I am not receiving compensation for it (other than from Seeking Alpha). I have no business relationship with any company whose stock is mentioned in this article.
Additional disclosure: I may initiate a bullish options spread on Google in the next 72 hours.