By Jason Napodano, CFA
In March 2012, Pozen (NASDAQ:POZN) announced positive results from the company's two pivotal phase III clinical trials studying PA32540, a novel, coordinated-delivery tablet of immediate-release omeprazole (40mg) and delayed release aspirin (325mg). In total, both phase III trials enrolled a total of 1,049 subjects at risk for developing aspirin-associated ulcers.
Patients in the study were already taking 325mg of aspirin daily for at least three months for secondary prevention of cardiovascular events. The study randomized patients into either PA32540 or 325mg enteric-coated aspirin once daily. Patients were followed for a total of six months. Back in March, Pozen did not release any of the data from the trials, only noting that the results of the primary endpoint, a significant reduction in the cumulative incidence of gastric ulcers following administration of PA32540 vs. 325mg enteric-coated aspirin over six months, was met. Secondary endpoints, including a reduction in gastroduodenal ulceration as well as a reduction in discontinuation due to upper gastrointestinal adverse events in subjects taking PA32540 compared to 325mg enteric-coated aspirin, were also met.
Full data from the two phase III trials is coming at the American College of Gastroenterology (ACG) meeting this October in Las Vegas, NV. Specifically, Pozen is scheduled to present the data in poster form (Poster P608) on Monday, October 22 between 10:30AM and 4:00PM; and we think it is going to be very impressive data.
Why do we expect the data to be so impressive? Well, according to the ACG 2012 Preliminary Program, Pozen has received two awards for its poster entitled, "PA32540 (Enteric-coated Aspirin 325 mg + Immediate-release Omeprazole 40 mg) Is Associated with Significantly Fewer Gastric Ulcers and Significantly Less Endoscopic Erosive Esophagitis than Entericcoated Aspirin (EC-ASA) Alone: Results of Two Phase III Studies."
The first award is the ACG Auxiliary Award for $1,000 to the primary authors of the two best papers presented at ACG2012. The $1,000 is hardly anything to get excited about, but we expect over 1,600 posters to be presented at ACG this year. The fact that Pozen's poster was considered among the best two certainly says something about the quality of the presentation.
The second award is the prestigious Presidential Poster Award. According to the ACG's website, ACG Educational Affairs Committee will identify the most highly ranked abstracts selected for the poster sessions in each category and acknowledge their achievement with the ACG Presidential Poster Award. These recipients will receive a special commendation on their poster in the Poster Hall, a certificate of achievement, and recognition in the meeting program book. All posters are eligible for this award.
Similar to the Auxiliary Award, the fact that Pozen's poster of the phase III data was selected to win the Presidential Poster Award certainly has us confident in the quality of the data. We would not be surprised to see the gastric ulcer rate in the control group (325mg ECA) at around 10%, while Pozen's PA32540 down in the low single digits. This type of data and recognition by the ACG could help drive meaningful market share for PA32540 post approval.
If that's not enough, Pozen plans to be back with additional data from the two phase III trials at the American Heart Association (AHA) meeting in November 2012. Pozen's abstract, "Treatment Continuation and Cardiovascular Safety of Antiplatelet Therapy with PA32540, a Tablet With Enteric-coated Aspirin and Immediate-release Omeprazole: Results of Two 6-month, Phase III Studies" will be released on Tuesday, November 6, 2012.
A Little Background on PA32540
PA32540 is a "safer aspirin" product that combines 325mg of enteric coated aspirin with the PPI 40mg omeprazole (sold as branded Prilosec). We expect that once approved Pozen's "safer aspirin" will find its way into daily aspirin therapy for cardiovascular disease. The potential label will be for secondary prevention of cardiovascular or cerebrovascular events in patients at risk for gastric or esophageal ulcers. This is an enormous market. Cardiovascular disease is the leading cause of death in the U.S., with over 50% mortality. An American has a heart attack roughly every 26 seconds!
Aspirin has been used to prevent recurrent myocardial infarction (MI) since the 1940s when the drugs anti-platelet activation properties were first discovered. In 1988, the U.S. FDA approved the use of aspirin for the prevention of recurrent MI. Since that time, data reported in The Lancet from the ISIS-2 (2nd International Study of Infract Survival of MI) demonstrates that daily use of 162.5mg aspirin reduces the potential for vascular mortality by 23% (p<0.00001) vs. placebo in the first five weeks following a myocardial infarction. Long-term follow-up data suggest the benefit of daily aspirin use persists in the prevention of recurrent MI as long as 10 years post-event.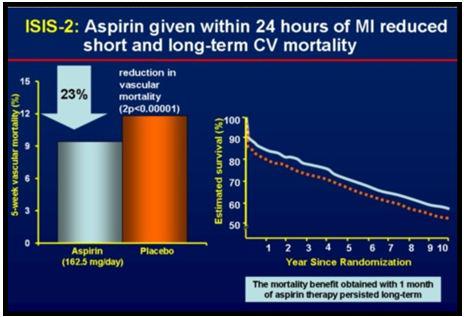 Over 50 million Americans use daily aspirin therapy. Unfortunately, of the 50+ million Americans that take daily aspirin therapy, as many as 50% are at risk for major complications due to gastric bleeding. Roughly 25% of the people that start a daily aspirin therapy will discontinue or reduce frequency or dose due to serious gastrointestinal side-effects. The same less-than-optimal use is found in stroke patients. Market research shows a significant opportunity for Pozen's product. Data published from the CAPRIE (Clopidogrel versus Aspirin in Patients at Risk of Ischemic Events) study in 1996 shows that Plavix (clopidogrel) offers only a modest 8.7% efficacy improvement over aspirin, and Plavix posted sales over $7 billion worldwide at its peak. Aspirin use is limited by gastrointestinal intolerance and bleeding.


The AHA and ACC recommend daily aspirin use at 75mg to 162mg per day. The European Society of Cardiology recommends 75mg to 150mg per day. These guidelines were put into place to reduce the potential for GI-related bleeding events. Data published in the American Journal of Cardiology shows a twofold reduction in major bleeding events and a threefold reduction in total bleeding events on daily aspirin use <100mg when compared to use >200mg. Pozen's "safer aspirin" product, a drug that is designed to provide a full 325 mg dose of aspirin while greatly reducing the risk for GI-bleeding and ulcers, could find significant use among the 50+ million American's at risk for recurrent MI and GI-related side-effects.
PA is such a simple product concept. Fifty million Americans use daily aspirin therapy, with 50% of those patients at risk of developing major complications due to gastric bleeding. Roughly 25% of the people that start a daily aspirin therapy will discontinue or reduce frequency or dose due to serious gastrointestinal side-effects. Management has conducted market research yielding encouraging statistics. At about $1/day, roughly 30% of physicians would prescribe PA-325/40 to their patients in need of secondary prevention aspirin therapy. We believe that PA, at $1/day, is about a $250 million product, and that's with only 5% penetration. We think this is easily achievable.
50 Million Americans on Aspirin x 25% At risk for GI bleeds x 5% Convert to PA x $1 per day x 365 days => ~$250 Million.
Conclusion
In August 2012, we wrote that Visibility is Improving For Pozen. We think the presentations at the ACG and AHA above have the potential to move the shares meaningfully higher. Pozen should be in position to file the new drug application (NDA) on PA32540 around May 2013. A filing in Europe is expected a few months later. In 2014, we expect Pozen to receive approval for PA32540 in both the U.S. and Europe. However, besides the expected impressive data at ACG in October and AHA in November, perhaps the biggest potential catalysts on the horizon is a partnership
We believe that Pozen will be able to secure a U.S. commercialization partner for PA prior to the NDA filing. We believe an upfront payment on PA could be in the area of $20 million, along with over $150 million in back-end milestones and royalties on sales. A deal that includes countries outside the U.S. presents upside (perhaps a doubling) to these figures. We remind investors that in October 2011, Pozen retained Keelin Reeds LLC to assist in the strategic partner search for PA. Keelin Reeds is a global expert in helping life science companies value assets, develop business development strategies and execute partnership transactions.
As a point of reference, the Vimovo transaction with AstraZeneca (NYSE:AZN) provided $40 million upfront, $45 million in approval milestones, and $290 million in sales milestones plus roughly 10% royalties on sales. Pulling in a deal of this magnitude has the potential to double the stock.
Disclosure: I have no positions in any stocks mentioned, and no plans to initiate any positions within the next 72 hours. I wrote this article myself, and it expresses my own opinions. I am not receiving compensation for it (other than from Seeking Alpha). I have no business relationship with any company whose stock is mentioned in this article.
Additional disclosure: I am an employee of Zacks Investment Research. For additional information on Pozen and/or Zacks Investment Research, please visit our website at scr.zacks.com.