Oftentimes I am asked by colleagues, work associates, and friends about investing. They always wonder if I have any new income ideas up my sleeves. My response to them is always the same. My income investment ideas do not just magically appear out of thin air. Instead they are usually derived by simple observation and a little bit of research. That being the case, by simply watching the world's headlines, one can usually find some potential ideas for income opportunities. Lately, it has been rather hard to miss those headlines and the theme that run behind them.
Turn on the television or open a newspaper and you will see the latest round of unrest plastered for all to see. Anti-American protests from Northern Africa all the way to Indonesia fill up the screen to highlight the recent escalation of tension in the region. Israel and Iran are still saber rattling over the nuclear issue, which only adds further fuel to the fire. Throw on the world's upward spiraling demand for energy, plus a pinch of the "Peak Oil" theory and you got yourself an income opportunity. The question is how does an income investor act on this opportunity? Which companies are best suited for the potential move in energy prices? Let's discuss three dynamic names and see how they could be income producing holdings.
Linn Energy (LINE)
Anyone who reads my articles, or knows my investment strategy, is well aware of my fondness for LINE. This is one great company and a must for an income investor looking for exposure to energy. For those of you not familiar with this company, LINE is an independent company that engages in the acquisition and development of oil and gas properties. The company's properties are primarily located in the Mid-Continent, the Permian Basin, Michigan, California, and the Williston Basin in the U.S. Linn is a top-10 U.S. independent oil and natural gas company. The company focuses on the development and acquisition of long-life properties that complement its asset profile.
As of Dec. 31, 2011 (pro forma for recently closed 2012 acquisitions and joint venture), Linn owns approximately 5.1 Tcfe of proved reserves. This calculates to a reserve-life index of approximately 18 years. Since its IPO in 2006, the company has grown its cash distributions more than 80%. At the time of this writing, LINE is paying a quarterly dividend rate of 7.1%.
These are some impressive facts about LINE, but the question is what makes it a must-own company? With so many choices out there, why should LINE hold a special place in one's portfolio? The answer to this is rather simple. Much like any income investor, LINE is very reluctant to take on much risk. For LINE hedging is the name of the game. This way it can mitigate the risks and hopefully smooth out the marketplace volatility to a much more manageable level.
A prime example comes from the company's second quarter results. In those financial statements, the company stated that it is approximately 100% hedged on expected natural gas production for six years through 2017. The expected oil production is 100% hedged for five years through 2016. For 2012, the company is hedged at a weighted average oil price of $97.26 per Bbl and a weighted average natural gas price of $5.28 per Mcf. Needless to say, that is some serious coverage LINE will leave very little to chance.
While hedging is one positive aspect for LINE, the company's desire for growth is another trait that makes this company a success. While other energy companies are selling off their assets to survive, LINE is acquiring properties. During the second-quarter 2012, LINE announced two transactions totaling approximately $1.4 billion. The transaction that was most interesting was a deal where LINE agreed to acquire properties in the Jonah Field, located in southwest Wyoming. In the deal, LINE acquired the asset from BP America Production Company (NYSE:BP) for a contract price of $1.025 billion. The current proved reserves totaled approximately 730 Bcfe, but LINE has estimated that the identified total resource potential could be approximately 1.2 Tcfe. If so, this would be a great deal for LINE.
Looking at the complete first half of 2012, the company announced or closed a total of approximately $2.8 billion in acquisition and joint-venture agreements. The best thing about these assets was that they were immediately accretive to distributable cash, and as one would expect, LINE has hedged approximately 100 percent of expected production for at least five years.
As good as things are for LINE, there are always risks to contend with. Historically low NGL prices have not been good for any energy company operating in that sector. For LINE, its second quarter distribution coverage ratio was negatively impacted, leading to a distribution coverage ratio of 0.97x. LINE's management was quick to point out that with a full-year impact from 2012 acquisitions, robust organic growth, and oil/natural gas hedge positions, it expects the distribution coverage ratio to be approximately 1.2x in 2013. On top of that the company feels that if the current weakness continues in commodity prices, it should be able to continue with additional acquisition opportunities.
LINE just has too much synergy going for it. Any income investor looking for an energy play should definitely look further into LINE.
Vanguard Natural Resources, LLC (NYSE:VNR)
If LINE whets your appetite, then VNR will definitely be another company that should interest you. VNR, based in Houston, Texas, is an upstream limited liability company (LLC) with a geographically diverse portfolio of long-lived oil and natural gas properties. It owns properties with oil and natural gas reserves primarily located in six operating areas: the Permian Basin in west Texas and New Mexico; the Big Horn Basin in Wyoming and Montana; south Texas; the Williston Basin in North Dakota and Montana; Mississippi; and the Arkoma Basin in Arkansas and Oklahoma. As of March 31, 2012, the company had total proved reserves of 71.9 million barrels of oil equivalent, as well as owned working interests in 1,459 net productive wells.
A brief history of VNR paints a pretty solid picture for income investors. Since its initial public offering in October of 2007, VNR has increased quarterly distributions by over 39%. The company's reserves have increased by over 554%, and increased daily production from 1,935 (Boe/d) to 13,405 (Boe/d). In more recent news, VNR announced that its board of directors approved a change in its quarterly distribution policy to where it will now be completed on a monthly distribution cycle beginning with the July 2012 distribution to be paid in September. Today's current distribution to unit holders is yielding 8.6%.
Much like LINE, VNR has also been on an acquisition spree over the last two years. On March 9, 2012, VNR entered into an agreement with a private seller for the acquisition of certain oil and natural gas properties located in Wyoming. This acquisition was completed on March 30, 2012 with a purchase price of $13.5 million. In June of 2012, VNR once again entered into a purchase and sale agreement, and this time it was with Antero Resources LLC. Under the agreement, VNR agreed to a purchase price of $428.9 million in exchange for the acquisition of natural gas and liquids properties in the Woodford Shale and Fayetteville Shale of the Arkoma Basin. Looking further back in time, we see VNR has seven other acquisitions in 2011 as shown in the chart below from its latest SEC filing.

Much like LINE, VNR is also in the hedging business. VNR's goal with respect to the hedging program will be to reduce cash flow volatility and protect distribution levels. Currently, VNR has hedged more than 80% of its expected crude oil proved production through 2014 at a weighted average floor price of $91.18 per barrel. Approximately 85% of expected natural gas proved production is hedged through the first half of 2017 at a weighted average floor price of $5.11 per MMBtu.
There is risk with everything in life, and VNR is no exception. Buried in the second quarter financials one will come across the distribution coverage ratio analysis for the company. We briefly touched on this in LINE, but let's go a bit further into it with VNR. The coverage ratio is used to determine the amount of actual cash distributions that the company makes relative to the amount it could potentially pay out. The amount of distribution which could be paid out is referred to as Distributable Cash Flow. The coverage ratio is then calculated by dividing Distributable Cash Flow by the actual cash distribution. For the period ending March of 2012, VNR's ratio was 1.44x. Then in June 2012, that ratio fell to 0.61x, which was concerning. Average the two together and you get a six-month average of 1.02x.
Besides the hedging, one possible way that VNR could address this is by its recent public offering of 6,900,000 common units. This offering was completed at a price of $27.51 per unit. VNR intends to use the net proceeds from the offering of approximately $182.3 million to repay a portion of its indebtedness outstanding under its senior secured revolving credit facility.
Like LINE, VNR could make a very interesting play for an income investor looking for that energy exposure.
BreitBurn Energy (BBEP)
For our last name, let's look at BBEP. BreitBurn Energy is an oil and gas partnership who is focused on the acquisition, exploitation and development of oil and gas properties in the United States. BBEP is one of those names that you don't hear much about, but that soon could change. Its assets consist primarily of producing and non-producing crude oil and natural gas reserves located throughout the U.S. Its primary locations are in the Los Angeles Basin in California, the Wind River and Big Horn Basins in central Wyoming, the Powder River Basin in eastern Wyoming, the Evanston and Green River Basins in southwestern Wyoming, the Sunniland Trend in Florida, the Permian Basin in Texas, the Antrim Shale in Michigan, and the New Albany Shale in Indiana and Kentucky. Needless to say, that is quite an inventory of assets that the company has on the books. Looking a bit deeper, one can see that most of the properties that BBEP has are characterized by having stable, long-lived production and reserve life indexes averaging greater than 18 years.
BBEP's success, in these troubling economic times, stems from management's vision for the partnership. Growth is the name of the game for BBEP, and in this arena it has had plenty of success. For example, BBEP has completed five acquisitions in the last 14 months which have totaled $651 million. If that was not enough, BBEP also has a mission to increase production growth organically. The partnership recently increased the 2012 capital spending to approximately $137 million. Typical for this industry, the major focus of the spending is on oil projects. With all this growth, BBEP has a goal of a 21% year-over-year production growth in 2012. Currently as it stands, BBEP's production runs at about 50% oil to 50% natural gas.
With growth as one piece of the puzzle, we will also find a well-balanced hedging program in place. Much like our other two names above, BBEP does not like to take much risk and will try to limit its exposure to the volatility in commodity pricing. For example, BBEP in June of 2012 added significantly to its 2014 - 2016 gas commodity price protection via natural gas swaps and puts. In July 2012, BBEP exercised oil swap options to hedge a portion of the expected production associated with several of its larger assets through the year 2017. In a recent presentation, the company presented the following chart that details the results of the company's hedging practices.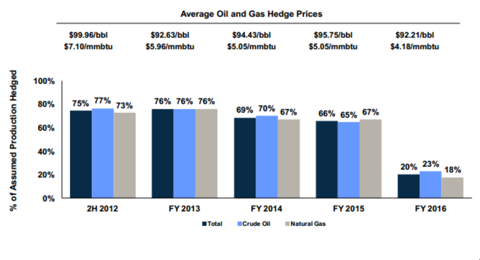 For income investors, this partnership could make for a great holding. There have been nine quarters of consecutive distribution increases since Q1 2010. The partnership has made cumulative distributions of $8.39 per unit since the IPO. BBEP is targeting approximately a 5% increase in its annual distribution growth which should be supported by its ongoing acquisition activity. Also the company is targeting the second half of 2012 distribution coverage ratio to be 1.2x to 1.3x.
BBEP has lots going for it. This is yet another name that income investors should keep their eye on if they do not already own it.
In conclusion, what do these three entities have in common that makes them great buys? All of them realize the risk and exposure they have in relation to commodity prices. All try to mitigate that risk by the use of comprehensive hedging practices. Sometimes this works in their favor, and sometimes it might not. The key here is that large swings in oil and gas prices will not nearly have the same detrimental effect that one would find on unhedged positions. For example, consider popular energy names like Enerplus Corporation (NYSE:ERF) or Pengrowth Energy Corporation (NYSE:PGH). These are great companies, but they did not have the proper hedging in place in the latest downturn. As a result, investors took the hit as they saw their share price slashed in half, coupled with cuts in the dividends. These companies will eventually dig themselves out and should make great turnaround plays in the end.
The issue is that income investors tend to be a conservative bunch and not into market volatility. Cuts in cash distributions and watching stock prices fall by 50% is not the investment style of the income investor. That being the case, our three entities detailed above should definitely be considered as for your income portfolio. Production is hedged potentially making for a smoother ride in these troubling times.
Disclosure: I am long BBEP, LINE, PGH, ERF. I wrote this article myself, and it expresses my own opinions. I am not receiving compensation for it (other than from Seeking Alpha). I have no business relationship with any company whose stock is mentioned in this article.