After months of going nowhere, the price of gold is heading higher and so are the shares of SPDR Gold Shares (NYSEARCA:GLD). Expectations of $2,000 gold abound once again. Analysts are upping their target prices. The message this week from many market pundits is to get into gold before it's too late. Or is it?
As somewhat of a proxy for gold, shares of GLD may be getting a bit extended here and might be in need of a rest. GLD has gone up hard in the last 30 days or so and may well start running into some resistance around the $174 level. In fact, it could pull back toward support all the way down near $167.50 Take a look at the following chart:
Click to enlarge image.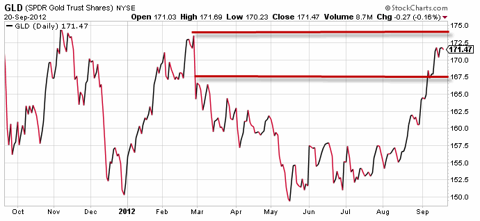 If you are a trader, I would be cautious about going all in with GLD right now. When things run up this quickly, there is also an associated risk for a pullback. If you feel you must buy GLD now, step in cautiously here. Save some cash for a potential pullback to near $170 or even $167.50.
Nothing goes up in a straight line except things in a bubble, and precious metals are nowhere close to a bubble. If there is no correction and GLD screams higher, you'll make money. If it does go lower and you are not all in, you make even more buying the dip.
If you are an investor and plan to be in GLD for the long term, a few dollars either way won't make a big difference two or three years from now. If you hold GLD or gold in any other form, this is not the time to sell because gold's long-term story is still very much intact. Governments across the globe from Europe to Japan are printing money in increasing amounts -- all good for gold.
When a central bank prints money, it devalues that country's currency. This makes its exports cheaper and easier to pay its debts -- and it makes gold and the GLD eventually go higher.
Disclosure: I am long GLD. I wrote this article myself, and it expresses my own opinions. I am not receiving compensation for it (other than from Seeking Alpha). I have no business relationship with any company whose stock is mentioned in this article.