In Part I of my article last week, which you can read here, I tried to put in perspective the distribution cuts that many option-income high yielding equity based Closed-End funds (CEFs) have gone through over the past few years, with the recent cuts by BlackRock (NYSE:BLK) and ING (NYSE:ING) bringing these funds back into the spotlight once again. I've argued that all of these fund sponsors are in the process of getting their option-income fund NAV yields down to a more manageable 7% - 9% level which is more reflective of the current interest rate and market environment we are in and have been in for some time. It wasn't that long ago that many option-income funds were showing 12%+ NAV yields which I argued was unsustainable and was only resulting in NAV erosion and poor NAV total return performance.
Why 12% NAV Yields Are Unsustainable But 7% - 9% Are
Option-income funds tend to have the highest average yields of all the income strategies used by high yielding equity CEFs. If you have ever sold a call option against a stock or ETF you own (commonly called a buy/write or covered call strategy) you are probably aware that if you could do that every month and the options expired worthless every month, you could realize an additional 15% to 18% or more return on that position, dependent on the premium value and moneyness of the option. This is not unlike what these funds are doing except on a much larger scale. They use large financial service firms as counterparties to place their short (sell or write) individual stock options or index options against their stock portfolios and then pass on the millions of dollars they generate (but necessarily keep) in option premium to investors in the form of high distributions and yields.
Of course, most funds aren't selling 100% option coverage on their portfolios and most funds aren't keeping all the premium income generated either. A good year, like 2011, would be when the markets are relatively flat and the option premium is largely earned, but even then the funds will lose on their options in certain months in which their benchmark indexes rise more than say 1.5%. That is why 12% to 18% NAV yields would be unrealistic for these funds though many actually fell into that range a few years ago after the financial crisis in which NAV's dropped 40% or more while distributions remained unchanged. Even though option-income funds are the most defensive of all the income strategies, they are not immune to a bear market. So while the ramp-up market from the bear market lows in 2009 through 2010 allowed the leveraged equity CEFs to recover a good portion of their diminished NAVs, this did not help the option-income funds nearly as much, particularly when they had such high NAV yields to support. Thus began distribution cuts in 2010 to get the fund's NAV yields down to a more manageable 7% - 9%, and the fund families that began the earliest, like Eaton Vance and Nuveen, have been the first to realize the benefits in the form of better NAV performances.
The good news is that most option-income funds now reflect the more sustainable 7% - 9% NAV yields which should allow the funds to comfortably pay their distributions while allowing their NAVs an opportunity to grow. Of course, another financial crisis could change all that and investors need to watch the NAV yields of these funds to be sure they don't breach the 12% "red zone" that could put their distributions back in jeopardy.
Which Option-Income Fund To Buy
Earlier this year, I recommended to investors to focus on the leveraged equity CEFs to take advantage of a stronger market environment in 2012. This has been the right call so far with the US markets continuing their uptrend and hitting multi-year highs virtually every day it seems, but this run is also getting long in the tooth and my personal feeling is that option-income funds are starting to make more sense now. Remember, the option-income strategy is most effective when the benchmarks that the funds sell options against don't rise more than say 1.5% in a month (higher percentage for more volatile individual stocks) and with the S&P 500 up about 17.9% and the NASDAQ up 22% on the year through September 21st, one could argue that we could see more modest gains for the rest of the year. But if the markets stay strong heading into the 4th quarter of 2012, which is often a good quarter for markets, then I feel the overseas markets may have more to gain at this point than the US markets. With that in mind, my pick has a large global stock exposure, low option coverage and has had excellent NAV performance over the short and long terms.
A Global Fund At A wide Discount With Solid NAV Performance
My top pick for an option-income fund is the Eaton Vance Tax-Managed Global Diversified Equity Income fund (NYSE:EXG). Now EXG is not without controversy nor is it without risk as it is probably the most aggressive of the Eaton Vance option-income funds even though the fund only owns well known, large cap global stocks. The risk comes not from its holdings, but from its high overseas exposure (mostly Europe) and its low option coverage. Option-income funds are inherently defensive and will hold up much better than leveraged funds and even international ETFs in a weak market, but on a relative basis, EXG could be considered aggressive with its large European holdings and low option coverage.
This did not help the fund historically after it went public in February 2007 before the financial crisis hit. Like a lot of global equity CEFs during this period, the fund lost a lot of its Net Asset Value (NAV) and, saddled with its ultra high payouts, was forced to cut distributions. EXG, however, seemed to suffer more investor wrath than others judging by its uber wide discount compared to other funds in its class. I get more negative comments on this fund than just about any other. In fact, I just read one recent comment which went something like "Glad to get out of this POS!"
I personally cannot think of a more bullish indicator for EXG, particularly when its NAV is recovering nicely. I know EXG has not performed well historically on its market price and it still trades at a -15.1% discount, not much better than at the end of 2011 when most CEFs were washed out from tax-loss selling, but the plusses on this fund so outnumber the negatives that I have taken a position in EXG for the first time since early 2011.
First, EXG is a very large fund at $3.1 billion in assets so

it's

very liquid. If institutional investors looking for underpriced assets start seeing that the fund is turning the corner, then this is a fund they can take a relatively large position in and hold onto.
Second, the distribution cuts are largely over for EXG in my opinion. After three distribution cuts since early 2010, taking down the distribution a total of 48% from $0.475/share per quarter to $0.244/share, EXG has a much more manageable 9.4% NAV yield, even lower than its 10% inception NAV yield back in early 2007.
Third, EXG trades at one of the widest discounts of all equity CEFs at -15.1%. One of the advantages of buying CEFs at a wide discount is that you can pick up assets below market value. But the biggest reason to buy funds at a discount is that you can receive a windfall market yield higher than what the fund is paying. In EXG's case, investors pick up one of the largest windfall yields available at 11.0% even though the fund has only to support a 9.4% NAV yield. BIG plus.
Fourth, Eaton Vance's 10% stock re-purchase program announced on August 8th for all of its option-income funds could provide a backstop on any global market weakness.
Fifth, EXG's NAV total return performance has been much better than investors realize, especially recently. As Eaton Vance's most aggressive option-income fund, EXG can capture a large portion of any international or European stock market growth but also offers some protection with its covered-call option strategy. If the international markets start to outperform the US markets, EXG could be a major beneficiary.
I've written several times on EXG over the past 18 months, not because I thought it was a great fund, but because it was a lot better than what most investors thought. In an article I wrote on December 15th, 2011, which you can read here, I argued that EXG's NAV had actually performed very well against two of its benchmarks, the S&P 500, as represented by the SPDR S&P 500 Trust (NYSEARCA:SPY) and the MSCI EAFE index, as represented by the iShares MSCI EAFE index (NYSEARCA:EFA), a widely followed international market index comprised of the 22 developed international markets in Europe, Asiaustralia and the Far East (hence EAFE). Though EXG's NAV yield was still relatively high at 11.9% at the time and Eaton Vance would go on to lower its distribution one more time in March, 2012, EXG's total market price return since I wrote the article in mid December last year is 21.4% through September 21th compared to 22.2% for the S&P 500 and 16.5% for the MSCI EAFE, all dividends included.
Even with that market price performance, I still believe EXG has significant upside from here and I want to show you why EXG is very undervalued compared to other funds in its class. Here is a comparison of 5 similar global option-income funds from different fund families that all have relatively low option coverages, i.e. < 50%; all have the majority of their stock portfolios overseas, i.e. > 50% and all have 100% non-leveraged stock portfolios except for (NYSE:EOD), which has about 19% of its portfolio in preferred stocks. Now there are some other individual nuances to these funds, like (NYSE:IGD) also buys put options, but by and large, these global funds are all in the same class. The first table shows the basics of the funds and sorts them by their Premium/Discounts, shown in green/red.

As you can see, EXG has the lowest and most easily attainable NAV yield at 9.4% but because of its wide -15.1% discount, its market price yield is 11.0%, still very competitive with the other funds. This low NAV yield has also allowed EXG to be in a better position of building back it's NAV from single digits and at a $10.41 current NAV, EXG is in a much stronger position now than many comparable global funds. Funds like EOD with a 13.4% NAV yield will have a much more difficult time maintaining their NAVs without a strong global market.
But let's take a look at what should matter most to investors...total return performance. Let's first start with total return NAV performances over 1). a short term Year-To-Date period, 2). a roughly 3-year period from the market lows around the end of the 1st qtr. 2009 and 3). a longer 5-year period back to close to the market highs around the end of the 3rd qtr. 2007. I like to use these roughly 3-year+ and 5-year periods from the market highs and lows because they include both bull and bear markets and it makes the comparisons more meaningful. I've also included total return performances for these fund's primary benchmark ETFs, SPY and EFA. All information is through September 21, 2012.

Here, EXG has the best YTD NAV total return performance of all the funds and compares particularly well on a longer 5-year period against its peers as well as the international index fund EFA, which is still down -22.4% from around the market highs. So why does EXG trade at one of the widest discounts of all equity CEFs? A lot of it is a persistent negative reputation, but that could be changing. Investors seem to be catching on to the fact that EXG's NAV has been outperforming and just in the past year, EXG's total return market price has started to outperform as well. Here is EXG's market price total return performance compared to the other funds.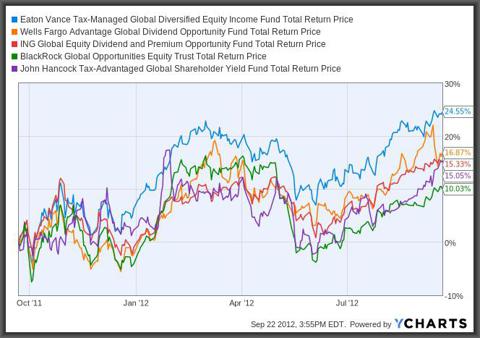 That's right...EXG has been outperforming these other funds on a market price basis too, up 24.55% just over the past year. I've been saying for over a year that EXG's NAV was performing much better than investor's realized and that EXG was undervalued. Though EXG's discount has not been reduced materially as of yet, that could be next.
Analyst Ratings on EXG
But don't just take my word on it. Here is an excerpt from the Morgan Stanley Smith Barney Equity Closed-End funds: Semi Annual Review dated August 9, 2012 which includes its rating on EXG.
We rate Eaton Vance Tax-Managed Global Equity Income
Fund Overweight based on its attractive valuation,
above-average yield, and global large-cap portfolio.

EXG's primary objective is to provide current income with a
secondary objective of capital appreciation while seeking to
minimize shareholder federal income taxes. In an effort to
enhance earned income and increase tax efficiency, the fund
will execute timely trades to "capture" additional QDI.

EXG seeks to earn income while maintaining upside
potential by writing options on broad US equity indices on
approximately 50% of its portfolio. Index options act as the
beta component of the portfolio while the managers seek to
generate alpha via stock selection. As of 6/30/12, EXG had
written calls on 47.0% of its portfolio.

In general, we favor higher-yielding funds that fully cover
their portfolio and funds with lower absolute yields that
cover at least 50% of their portfolio. Moreover, we focus on
funds that offer value and distribution stability. Last, we
prefer diversified, global equity funds with a defensive skew.

The fund's current yield of 11.4% is 83 bps above its peer
group average. Based on our estimates, we believe that, all
else equal, EXG's current distribution rate is stable.

EXG's 15.0% discount to NAV is 450 bps wider than its peers.
The fund has been negatively impacted by several
distribution reductions over the past few years and the
relative weakness of its international equity exposure. The
valuation should narrow materially longer term, in our view.
Even Morningstar...whose analysts have generally been very negative on the Eaton Vance option-income funds...has EXG as a 4-star rated fund based on its strong NAV performance against its benchmarks.
Let's Run Some Numbers
OK...so let's assume investors still aren't convinced. After all, the fund has been losing NAV historically and has cut its distribution three times. Then consider the fund's negative UNII and a high Return of Capital (ROC) in its distributions and I can see how investors might be skeptical. Of course, why investors wouldn't be even more skeptical of funds that trade at much higher valuations than EXG and yet have had far worse NAV performances and have suffered far worse NAV erosion is a good question, but let's just stick with EXG. If I could show you that EXG does not have to dip into its NAV to pay any of its distributions and in the process, explain how UNII and Return of Capital should not be considered a negative for this fund, would that help?
Here are the facts. EXG pays $298 million in distributions each year based on a $0.244/share quarterly distribution X 305.4 million shares. That's a HUGE obligation and even if 30 million of those shares could be bought back with the re-purchase program, you're still looking at hundreds of millions of dollars coming out of the fund each year based on the current quarterly distribution, most of which is classified as Return of Capital. Can EXG cover that so that no part of its distribution would be considered destructive ROC? Let's go to EXG's latest report which is its Semi-Annual report dated April 30, 2012. You can see it here, and then link to the Fund Literature tab.
Let's first go to page 10 of the Semi-Annual report and there you will see EXG's investment income (portfolio dividends and interest) for the 6 months equals $46.7 million. Subtract total expenses (management fees, etc.) of $16.3 million and you have net investment income of $30.46 million for 6 months.
Explaining EXG's Undistributed Net Investment Income (UNII)
Before we go any further, I want to make a point here. You'll notice that the $30.46 million is called net investment income. Where have you heard that term before? Right... in Undistributed Net Investment Income or UNII. If you now go to page 11, you'll see the $30.46 million in Net Investment Income at the top of the page and a little lower you'll see that EXG paid out $173.67 million in distributions for the 6 months ended April 30, 2012. If you subtract what EXG paid out vs. its net income and divide by the 305.4 million shares outstanding, you come up with a -$0.468 loss per share which is exactly what EXG's UNII is. But wait a minute, you haven't included any option premium which is EXG's primary source of income. Do you see why UNII is not an appropriate metric to apply to the option-income strategy? It doesn't include option premium.
OK...so annualized, EXG can generate about $60.9 million in net investment income ($30.46 million X 2) and that income will be pretty constant with a constant NAV. Obviously, that is far short of the $298 million needed so the fund will need to average about another $19.75 million per month ($298 million - $60.9 million/12 months) to cover the rest. So what can EXG generate each month in option premium?
EXG's Option Premium Potential Can Vary
If you go to page 8 of the Semi-Annual report, you'll see the list of outstanding options written on various indexes (Dow Jones Euro Stoxx 500, the FTSE 100 and the S&P 500 mostly) representing $18.2 million for the May expiration month (with a current value as of the report date of $15.6 million meaning the fund was up on its positions overall though the contracts wouldn't expire until the end of the 3rd week in May). And if you go to page 9 of EXG's Annual Report dated October 31, 2011, EXG had $42.8 million in option-premium outstanding for the November expiration (worth $52.7 million as of the report date).
That gives you an idea of the range of option premium that EXG can generate each month depending on the "moneyness" of the options, i.e how far out-of-the-money (OTM) the options are written. What's interesting is that the most important aspect of managing a fund the size of EXG is not so much choosing which stocks to own but rather placing the option overlay so it is positioned optimally to maximize income AND appreciation based on market conditions and income needs. So it's not a question of whether EXG can generate the $19.75 million per month in option premium it needs to cover the rest of its distribution obligation, it can easily. The question is how much can it keep each month and this is where it gets complicated because EXG either relies mostly on its option premium or it relies mostly on its portfolio appreciation to make up the difference.
Whether it relies mostly on its option premium or mostly on its portfolio appreciation depends on how the indexes EXG writes options against perform each month. If the indexes are flat to down, the fund may be able to keep all of the option premium for the month. If the indexes are up, typically more than 1.5% in any given month, then they may have to buy back the options at a loss. Over time however, the fund should win more often than it loses and the reason is because options are a time depreciating asset and time works in your favor if you are short options.
Explaining EXG's Return of Capital In Its Distributions
Here is where Return of Capital comes into play because if the indexes EXG writes options against are in an uptrend, EXG may be forced to buy back those outstanding options and take realized losses and instead, rely on the unrealized portfolio appreciation to help pay for its distributions. In that scenario, the distributions would be considered mostly ROC because it is coming from either unrealized gains in its stock positions or realized losses in its options.
If the indexes EXG writes options against are flat or in a downtrend, then the fund is realizing gains in its options since they would be losing value and may expire worthless, which is good for the fund, but the fund may also have losses in its stock positions in a weak market environment. This gives an opportunity to offset the realized gains in options with realized losses in stock positions which combined with any loss carryover the fund may have accumulated, may result in part or most of EXG's distribution also designated as ROC.
So this is how EXG, and indeed many option-income funds, generate Return of Capital in their distributions. In fact, many fund managers try to maximize ROC because of the tax benefits. ROC is considered a return of your investment and thus is non-taxable in the period received though you would need to lower your cost basis by the ROC amount. Please consult a tax professional for more information.
Conclusion
I would encourage investors to take a hard look at EXG. Though not much has helped investor confidence in this fund over the past few years and its poor historic market price performance has been frustrating, I do believe the fund is turning things around and this time will be different. In fact, we're already seeing renewed interest in the Eaton Vance option-income funds with some trading at much better market price valuations, something that I said would eventually happen with their NAV outperformances and wide discounts.
With a stronger global market, I believe it is just a matter of time before EXG narrows its discount as well. Certainly, the fundamentals support it. For investors who are interested in owning EXG at an 11% yield and a -15.1% discount but still want some added downside protection, an option would be to short one of EXG's benchmark indexes such as EFA or IEV, though I would not recommend shorting more than 1/3 the value of your position in EXG.
Disclosure: I am long EXG. I wrote this article myself, and it expresses my own opinions. I am not receiving compensation for it (other than from Seeking Alpha). I have no business relationship with any company whose stock is mentioned in this article.