Texas Roadhouse (NASDAQ:TXRH) has delivered positive earnings surprises for four straight quarters with an average beat of 11.4%. Moreover, earnings estimates have been increasing since this casual dining chain posted strong second quarter results.
Along with these positives, a fairly impressive dividend yield of 2.1% and double-digit earnings growth expectations make Texas Roadhouse a good pick for investors looking for both growth and income.
Strong Q2 Results
On July 30, Texas Roadhouse reported second quarter earnings of 28 cents per share, outpacing the Zacks Consensus Estimate by 4 cents or 16.7% and last year's earnings by 6 cents or 28.0%.
Total revenue climbed 15.0% from the prior-year quarter to $320.3 million. The upside was attributable to higher comparable sales growth. Company-owned restaurant sales increased 14.6% to $317.5 million, whereas franchise royalties and fees grew 15.9% to $2.9 million. Comparable restaurant sales grew 4.5% at company-owned restaurants and 4.8% at franchised restaurants.
During the quarter, restaurant operating margin expanded 91 basis points (bps) to 19.1% based on dips of 50 bps in labor cost, 70 bps in other operating costs and 10 bps in rent.
Outlook Increased
For 2012, Texas Roadhouse raised its earnings per share guidance to between 94 cents and 96 cents from the previous outlook of 91 cents to 93 cents. The earnings guidance includes legal settlement charges of 4 cents.
Earnings Estimates Inching Higher
Over the past 60 days, the Zacks Consensus Estimate for 2012 increased 5.2% to $1.01, implying year-over-year growth of 14.2%. For 2013, the Zacks Consensus Estimate is $1.12, representing year-over-year growth of 11.7%.
Strong Dividend
In February 2012, Texas Roadhouse hiked its quarterly dividend by 12.5% to 9 cents per share, representing a solid yield of 2.1% and a payout ratio of 35.0%. In contrast, the average dividend yield of the industry is only 1.26%. This casual dining chain has been consistently paying dividends to its shareholders since the company initiated a dividend of 8 cents per share in February 2011.
Attractive Valuation
Texas Roadhouse's valuation looks attractive on a P/E basis. Its trailing twelve months P/E of 17.48x is at a discount to the peer group average of 18.33x. Moreover, the stock is currently trading at a forward P/E of 17.04x, a 4.9% discount to the peer group average of 17.92x. Furthermore, the company has a long-term estimated earnings per share growth rate of 14.5%, which is above the peer group average of 12.7%.
Chart Reveals Strength
Since Jan 10, 2012, Texas Roadhouse shares have consistently fared better than the simple moving average for 200 days or SMA (200). Volume is fairly strong, averaging 729.4K daily.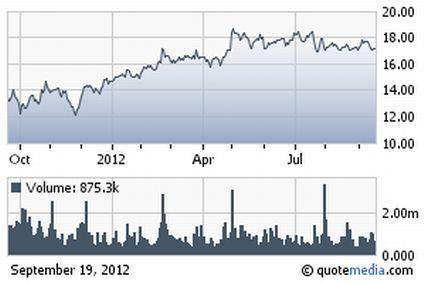 With rising earnings estimates, strong growth projections, a healthy dividend yield and an attractive valuation, Texas Roadhouse offers an enticing upside potential going forward.
Based in Louisville, Kentucky, Texas Roadhouse specializes in steaks and promotes a western theme at its chains. It operates restaurants under the names of Texas Roadhouse and Aspen Creek. As of June 26, 2012, Texas Roadhouse operated 309 company-owned and 72 franchised restaurants. With a market capitalization of $1.21 billion, Texas Roadhouse primarily competes with Brinker International (NYSE:EAT) and Darden Restaurants (NYSE:DRI).