We used to admire Sanford I. Weill for his career in the financial services industry and for his role in creating Citigroup (NYSE:C). We were most impressed with the fact that Citigroup was able to grow its EPS in 2001 and 2002 during the implosion of the dot-com bubble. We were impressed with the fact that Sandy Weill brought together leading financial services firms like Citibank (the world's most recognized name in consumer banking), Smith Barney (a premier wealth manager), Salomon Brothers (a leading bond trading and investment banking organization) and Travelers Insurance (a leading diversified insurance institution). Because of the blowback from the dot-com crisis and corporate scandals, Sandy Weill decided to step aside as CEO of Citigroup in 2003 and retired from Citigroup as Chairman in 2006.
Sandy Weill named Charles O. Prince, who had little hands-on operational experience except for an 18 month stint as Citigroup Corporate and Investment Bank to succeed him as CEO. While we believe that Citigroup now offers better return prospects to investors than J.P. Morgan Chase (NYSE:JPM), we think that Sandy should have swallowed his pride and asked James Dimon of Bank One to have succeeded him as Citigroup's CEO in 2003 instead of Charlie Prince. We believe it was a mistake for Sandy Weill to fire Jamie in 1998 because Dimon wouldn't promote Weill's daughter Jessica and because Weill thought Dimon was too ambitious. Jamie was Sandy's protégé, Jamie's father Theodore was a colleague of Sandy's and Sandy convinced Jamie to come work for him at American Express because he would have fun. Until Weill fired him, Jamie was Sandy's most loyal lieutenant. We believe that if Jamie Dimon had succeeded Sandy as Citigroup's CEO in 2003, Citigroup would have remained profitable during the crisis, would not have relinquished its leadership of the banking sector in terms of market cap and assets and would have been able to pick up distressed banks like Bear Stearns and WAMU.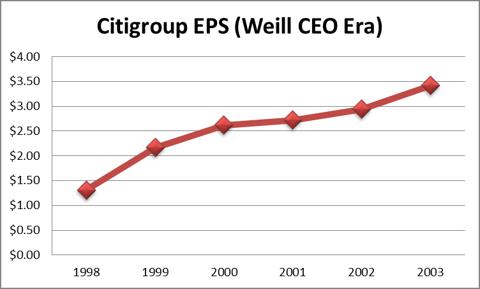 Source: FactSet Marquee
However, we believe that Citigroup currently offers a better risk-reward opportunity based on the stumbles that JPM has faced recently with the London Whale episode and because we are seeing improvements in Citigroup's banking operations. Vikram Pandit should be thankful that although his hedge fund firm Old Lane was a mediocre performer, Citigroup paid $800M and quickly moved him up the corporate ladder to replace Charlie Prince as CEO. We believe that he should consider himself the luckiest man on the face of the earth that he was given the opportunity to turnaround a company with one of the greatest brand names in the financial business but had suffered from severe execution issues, particularly with regards to credit risk management. While we think that Jamie Dimon could have handled the restructuring of Citigroup better than Pandit, we believe that Pandit was given an opportunity of a lifetime and we believed that all he had to do was not really screw things up. We can see that Pandit has been able to avoid screw-ups and because Citigroup has gotten back to basics, we have seen Citigroup gain ground on JPM and Wells Fargo (NYSE:WFC). Examples of how Citigroup is gaining ground on its peerless peers JPM and WFC include the following:
Citigroup's 2012 YTD cumulative deposit growth was 5.65% versus -1.06% for JPM and 0.96% for WFC
Citigroup's 2012YTD cumulative net loan growth was 1.66%, versus 1.1% for JPM and 0.88% for WFC
While Citigroup's Tangible common equity ratio of 7.93% is less than WFC's 9.18%, at least it is better than JPM's 5.8%
Citigroup is trading at a 44.44% discount to book value while JPM is at a 14% discount to book and WFC is at a 27% premium to book
Citigroup's recent multibillion dollar asset impairment came from writing down the value of its Morgan Stanley Smith Barney stake that it will be exiting in 2015
JPM's recent multibillion dollar asset loss came from the London Whale episode
The dispute between Jamie and Sandy is of interest to us because of Sandy's July comments in which he advocated breaking up the banks. After Sandy made those comments, we were wondering if the "S" in Sandy stood for "scalawag". He was for Gramm-Leach-Bliley before he was against it. We didn't begrudge Scalawag Sandy for his flip-flopping on this subject because we believe that he was jealous of the fact that his erstwhile protégé Jamie Dimon was more successful at operating the financial supermarket conglomerate better at J.P. Morgan Chase than his successor Charlie Prince and is more respected than Sandy Weill ever was. While J.P. Morgan Chase did not have the rapid EPS growth under Jamie that Citigroup has under Sandy, it remained profitable unlike Citigroup and while Citigroup was shedding assets, JPM was bailing out Bear Stearns and WAMU in order to keep the crisis from getting worse.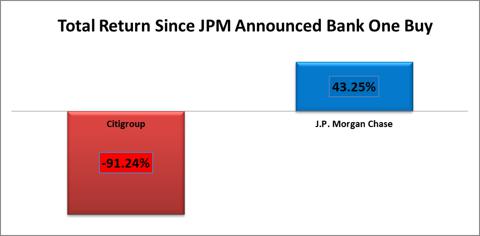 Source: FactSet Marquee (December 31, 2003 to present)
We also believe that regardless of what the law allows a bank to do, we believe that Citigroup is taking its medicine and narrowing its focus on areas in which it offers a strong competitive advantage due to its globally recognized brand name and its operational scale. We agree with Pandit when he rejected calls to break up the banks because he is right, the shrinkage has already occurred. We are aware that he later said that supermarket banking is not right for the times nor is it right for Citi. We believe that CEOs should have the freedom to make that decision, rather than politicians who don't even have the interest in reading the bills that they pass into laws.
While we believe that Jamie Dimon is a better manager than Charlie Prince, Vikram Pandit and Sandy Weill, we believe that Citigroup currently offers a better risk-reward opportunity based on the stumbles that JPM has faced with the London Whale episode and Citigroup's ability to gain ground on JPM and WFC with regards to deposits and loans. Because Citigroup's Tangible Common Equity Ratio is higher than JPM's we expect Citigroup to be allowed to increase dividends and buy back stock. We have noted that Citigroup has been catching up to JPM and Wells Fargo with regards to deposits, which is the heart of any banking enterprise. Both Citi and JPM are trading at significant discounts to book value. JPM is trading at a discount to book value of over 14% and Citigroup is at 44.44% discount to book. The fact that Citigroup is at such a shockingly reduced price to book versus JPM is the key reason why if we were to pick between Citigroup and JPM, we would pick Citigroup. We also noted that Citigroup recently retook the Federal Reserve Stress Tests and passed it the second time out. We are long Citigroup versus JPM because Citigroup exceeds JPM in the following metrics:
Tangible Common Equity Ratio: 7.93% for Citi versus 5.8% JPM
Loan Loss Reserve: Citi's Loan Loss Reserve is 16% higher than JPM's
YTD Cumulative Loan Growth: Citigroup's YTD Cumulative Loan growth was $10.2B (1.6%) versus JPM's $7.6B (1.1%)
YTD Cumulative Deposit Growth: Citigroup's YTD Cumulative Deposit growth was $48.4B (5.65%) versus JPM's $12B decline (-1.06%)
Citigroup's Retail Banking business and Securities and (Wholesale) Banking business outperformed JPM's comparable business units.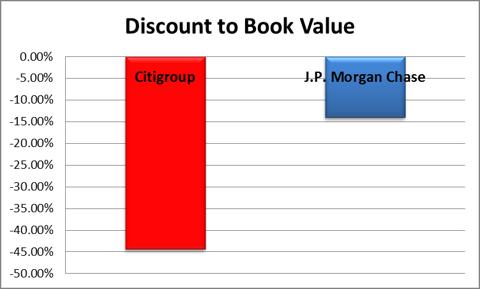 Source: FactSet Marquee
Disclosure: I am long C. I wrote this article myself, and it expresses my own opinions. I am not receiving compensation for it (other than from Seeking Alpha). I have no business relationship with any company whose stock is mentioned in this article.
Additional disclosure: This article was written by an analyst at Saibus Research. Saibus Research has not received compensation directly or indirectly for expressing the recommendation in this article. We have no business relationship with any company whose stock is mentioned in this article. Under no circumstances must this report be considered an offer to buy, sell, subscribe for or trade securities or other instruments.