The strategy of selling a put to purchase calls provides you with the opportunity to leverage your position in Exelon Corporation (NYSE:EXC), and the chance to get into the stock at a much lower price. Let's look at a few reasons to consider this company before we get into the details of this strategy.
Its total operating revenue for second-quarter of 2012 was $6.4 billion, a year-over-year growth of 42%, but it missed Zack's estimate of $6.9 billion. The rise in operating expenses affected margins despite the growth in total revenue. Total operating expenses increased dramatically by 61% year over year to $5.3 billion. Operating income for the second quarter came in at $1.03 billion, a decline of 13% year over year, but it sports a pretty healthy quarterly revenue growth rate of 32.4%. It also has a healthy operating cash flow of $6.57 billion.
It ended the 2nd quarter with cash and cash equivalents of $1.34 billion versus $1.05 billion at the end of 2011. Cash from operating activities in the first 6 months came in at $2.72 billion versus $1.01 billion compared to the same period last year. Management reaffirmed its earnings guidance for the year and stated that they would fall in the $2.55 to $2.85 ranges per share and operating earnings in the $0.65 -$0.75 ranges per share for the 3rd quarter.
Exelon Corporation is trading significantly off its one-year highs of 45.45 and just put in a new 52 week low when it traded down to the $34.54 on the 12th of this month. In this low rate environment, it offers a great yield of 5.9%. The strategy of selling puts to purchase calls is best employed on extremely oversold stocks as the chance of the stock dropping significantly lower is limited.
Technical outlook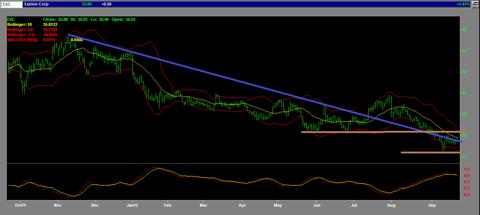 Compared to Southern Company (NYSE:SO), Duke Energy (NYSE:DUK) and NextEra Energy (NYSE:NEE), Exelon has performed terribly over the past 2 years. From a contrarian perspective, it could make for a good investment because it's disliked and one of the last utility plays most investors will think about. From a technical perspective the stock is extremely oversold, it has generated several positive divergence signals and has given the first signs that a bottom could take hold soon. A positive divergence signal is generated when a technical indicator does not validate the drop to new lows. When a stock drops to a new 52 week low but ends the week on a positive note, it's usually a sign that a turnaround is in the works. The stock dropped down to $34.54 on the 12th of the month but ended the week on a positive note by closing at $35.94. The volume did not spike upwards when it traded down to $34.54 suggesting that the dumb money was selling out at the bottom. As long as it does not close below $34.54 on a weekly basis the outlook will remain neutral. A weekly close above $36.50 will turn the outlook to bullish.
Performance
The chart below illustrates Exelon's performance relative to its competitors such as Duke Energy, Southern Company and Pepco Holdings (NYSE:POM).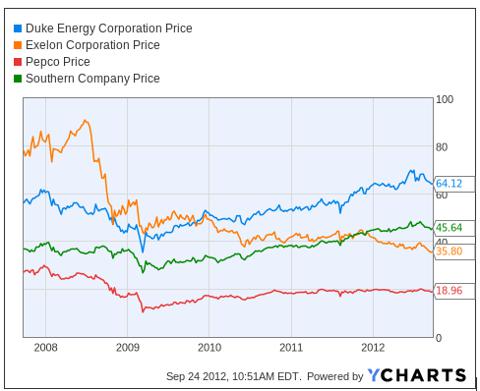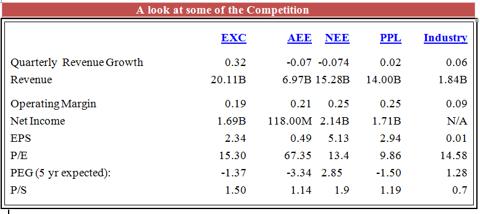 Charts and tables of Interest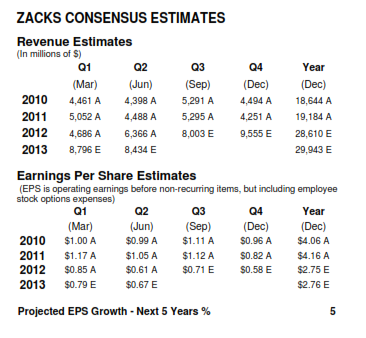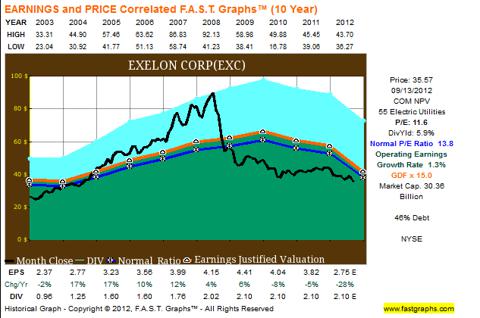 Suggested strategy for Exelon Corporation
This play has two parts to it. The first part entails selling a put and in the second part calls are purchased with the proceeds from part 1.
Part 1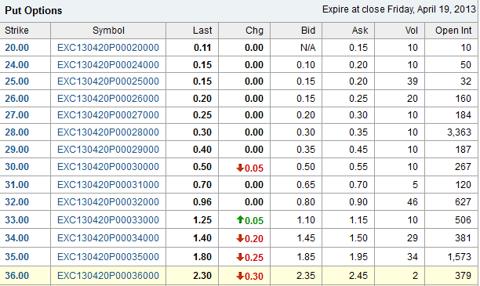 The April 2013, 34.00 puts are trading in the $1.45-$1.50 ranges. We will assume that the puts can be sold for $1.45 or higher. The proceeds from the sales of the puts will be used to complete the second part of the trade.
Part 2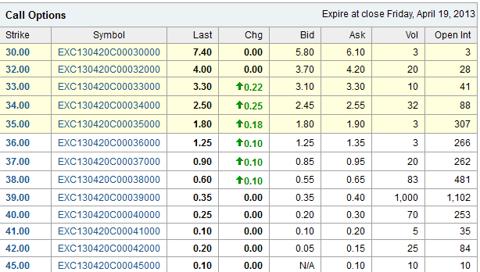 The April 2013, 38 calls are trading in the $0.55-$0.65 ranges. We will use the last trade of $0.60 as the entry point. For each put sold you will be in a position to purchase up to 2 calls and have an extra $25 to spare.
Investors looking for even more leverage could aim for the April 2013, 40 calls which are currently trading in the $0.10-$0.20 ranges. You take on more risk when you purchase calls that are significantly out of the money. If you are going to pursue this strategy it would be best to purchase calls that have more time on them.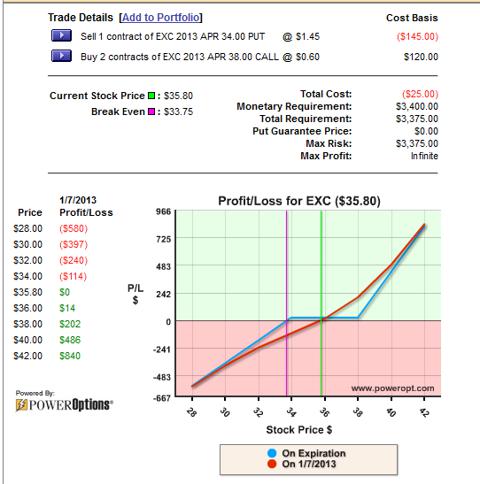 Benefits and Risks associated with this strategy
You have an opportunity to significantly leverage your position in this stock for a relatively low fee. You would only need to put up $3400 to secure the put, but you would be in a position to control up to 200 shares.
You have the opportunity to get into this stock at a lower price. If the stock trades below the strike price you sold the puts at, the shares could be assigned to your account (assignment usually occurs on the last trading day of the option). Depending on the number of calls you purchased your cost per share could range from $33.15 (if you purchased one call only) to $33.75 (if you purchased two calls).
As long as you are bullish on the stock, having the shares assigned to your account should not be an issue. The only real risk is that you have a change of heart and are no longer bullish on the prospects of the stock. In this case, you can roll the put. Buy back the old puts and sell new out of the money puts.
Conclusion
The markets are now in a volatile phase and have trended upwards for a significant period of time without experiencing a major correction. It would be prudent to take some profits of the table if the options are showing gains in the 60%-100% ranges.
Options tables sourced from yahoofinance.com. Option Profit loss graph sourced from poweropt.com. Data on competitors sourced from yahoofinance.com. Zacks consensus estimates sourced from zacks.com. Some of the research and historical data used in this article was obtained from zacks.com.
Disclaimer
It is imperative that you do your due diligence and then determine if the above strategy meets with your risk tolerance levels. The Latin maxim caveat emptor applies - let the buyer beware.
Disclosure: I have no positions in any stocks mentioned, and no plans to initiate any positions within the next 72 hours.
Business relationship disclosure: This article was prepared for Tactical Investor by one of our analysts. We have not received any compensation for expressing the recommendations in this article. We have no business relationships with any of the companies mentioned in this article.