I'm attracted to companies that are:
T

rading below book value

H

ave management with significant insider ownership and a long term track record

L

ittle or manageable debt
I think Leucadia (NYSE:LUK) is an interesting company to research considering that both value investors Chuck Akre, founder of Akre Capital Management and one of the top mutual fund managers, and Mason Hawkins, another prominent value investor, recently initiated a position in the stock.
Leucadia is managed by gifted investors Ian Cumming and Joseph Steinberg. Leucadia National is a diversified holding company that was founded over 150 years ago. Its investment portfolio includes wineries, copper mines and boutique investment banks. Leucadia expertise is deep value investing. To quote the duo in a shareholder's letter:
"We tend to be buyers of assets and companies that are troubled or out of favor and as a result are selling substantially below the values which we believe are there. From time to time, we sell parts of these operations when prices available in the market reach what we believe to be advantageous levels."
Leucadia operates like a mutual fund, looking for companies that have executed their vision with great success and operate in industries that make things people frequently use. After they find an investment candidate, the duo takes a stake in those companies at a compelling price. The company also aligns its interests with shareholders by tying its own compensation to performance. Shareholders' equity has grown from a negative $.04 at December 31, 1978 (when Ian Cumming started managing the company) to $25.24 at December 31, 2011.
Both Ian Cumming and Joseph Steinberg, are the main point of strength of the company, similar to what Warren Buffett is to Berkshire Hathaway (NYSE:BRK.A). They are responsible for the stellar long-term investment returns but they are 72 and 68 years old, respectively. However, their new employment contract signed in 2005 does not expire until June 2015. Both Cumming and Steinberg are in good health and according to what can be understood from their comments in the last shareholders' letter and last shareholders' meeting they seem as enthusiastic as ever, even as Cumming recently announced that he will retire in 2015. Cumming and Steinberg own about 24% of the company, which is a good guarantee that they will move inline with long term shareholders' interest. I think that any value investor should be attracted to analyze this company. Leucadia's duo have bought and sold a variety of different businesses in different industries and during the process have accumulated one of the best track records in the business. Between 1979-2011 they have compounded book value by 19.1%.
The important things to look at with Leucadia are the overall cash position, cash flow over a long-term basis, the performance of operating companies and the stock performance of stakes held in public companies. The key valuation metric to analyze this stock is the growth in book value and the price to book value (P/BV) per share because its revenues and income are erratic in nature. This is the same metric that Warren Buffett uses to analyze his own performance.
It is essential to analyze each LUK' s holdings fundamentals and compare them to the current stock valuation. If there is a disconnect, there might be a potential investment opportunity. In the case of Leucadia, this could happen if its main holdings are strong but its valuation does not fully reflects that. Leucadia' s stock price and book value have recovered from the trough of the Great Recession, but the stock price has a way to go to get back to the frothiness before the deluge. I am looking for three key variables to buy a stock:
Improving fundamentals
Valuation is reasonable
The stock is not in the start or middle of a clear downtrend (see further analysis of this factor at Warren Trades

).
Dissecting Leucadia's holdings
National Beef
On December 30, 2011, LUK bought 79% of National Beef. The investment was made because the investment duo is convinced that as citizens of historically poor countries get richer, they will demand higher quality items - and more of them. National Beef is a play on the growth of global protein consumption. While protein production and consumption in the U.S. is a mature market and is not growing, global protein consumption is growing at an astounding rate. U.S. beef exports were up over 22% in 2011 vs. 2010. This is an impressive number, made even more so by the fact that the U.S. is not allowed to export beef directly to China - not yet, anyway. While National Beef operates in a highly competitive and commoditized industry, I believe that fundamentals of this industry will keep improving as global demand keep growing.
Berkadia Commercial Mortgage LLC
Berkadia was originally capitalized in December 2009 with $434.3 million of partners' equity, $217.2 million of which was from Leucadia. Through December 2011, the company received average dividends of 11% every year. Even better, both cash flow and dividends grew in 2011 over 2010. Leucadia managers recently restructured the company in hopes of becoming the lowest-cost servicing provider in the industry. Finally, Berkadia's national network of originators are beginning to refuel the servicing engine, albeit slowly.
The more loans Berkadia can originate, the faster it will stabilize the servicing portfolio and the better the return on LUK' s investment. As the entire US housing sector recovers, Berkadia should grow its servicing and dividends.
Inmet Mining Corporation
Cumming and Steinberg are long-term bullish on cooper. They project limited long-term copper supply and increased demand from emerging economies. Inmet is financially robust with just over C$1.7 billion of cash and investments, virtually no debt, and very strong cash flow.
Fortescue Metals Group
Fortescue was one of Leucadia's best investments and a clear example of how Leucadia invests in favourable macro trends. In August 2006, the partnership invested $400 million in Fortescue Metals Group (ASX: FMG). Leucadia received 264 million shares of Fortescue common stock and a $100 million 13-year unsecured note that receives 4% of the revenue from certain mine sites, net of government royalties. A year later the duo invested another $44.2 million for approximately 14 million additional shares. Total investment: $444.2 million.
In 2011, Leucadia sold 117.4 million shares of FMG for $732.2 million and also earned $193 million (net of Australian withholding taxes) in royalty payments under the note. In the first quarter of 2012, LUK sold an additional 100 million shares for $506.5 million. Adding up dividends and stock sales and royalty payments, the partnership have harvested to date $1.796 billion. In August 2010, Fortescue believed it had the right to issue additional royalty notes, thereby diluting Leucadia' s interest. After that, the partnership started a litigation process that resulted in a $715 million deal to repay Leucadia's loan.
Jefferies Group, Inc. (JEF)
In the aftermath of the MF Global bankruptcy, Jefferies, another of Leucadia's investments, was falsely accused of having a similarly illiquid and risky balance sheet. This coincided with a panic in the European Sovereign Debt markets. Rich Handler, Brian Friedman, and management responded swiftly with honesty and transparency to the issue.
The market was concerned that Jefferies's last SEC filing showed that the company had $2.7 billion dollars of European debt on the asset side of the balance sheet. On the surface this represented an enormous amount when compared $3.17 billion in shareholder's equity and thus a number of traders concluded that Jefferies is the next MF Global. But the market couldn't understand that JEF also had $2.6 billion of highly liquid sovereign debt liabilities, which, combined with the asset, "nets" out to $100 million of conceptual exposure to European. Those European assets were also categorized as Level I and Level II assets, a fact that suggests they were garden-variety European bonds, not complicated and illiquid securities. The categorization also implied that it was very unlikely that Jefferies had gotten itself into a situation in which one side of the book was highly liquid and the other side was illiquid or involved insurmountable counterpart questions. Accordingly, the firm dutifully moved out $1 billion of the gross $2.7 billion exposure in two days, just to "show" the market how rapidly a de-risking can be achieved.
Jefferies has cut leverage considerably to 9.3 times. Jefferies is one of my favorite names in the space considering its relative balance sheet transparency, where only $436MM of assets are defined as Level 3. Jefferies believes that it has a liquidity buffer of $4.2 billion, with $2.8 billion consisting of cash, and $1.4 billion in unencumbered liquid securities. I think that Jefferies fundamentals will keep improving. The company should be able to eventually earn +12% on equity once the macro environment improves.
Jefferies's CEO Richard Handler has built top ten business franchises across a variety of investment banking and advisory, equity and fixed income sectors, both here and abroad. This strategy has been backed by Leucadia, which has laid out approximately $825mm for what is approximately a 30% equity interest at an average cost of approximately $16 per share. The company also has several hundred million dollars invested in various high-yield Jefferies investment funds
Premier Entertainment - Hard Rock Casino
Despite a small drop in gaming in Biloxi in 2011, Hard Rock's gaming revenues grew by 3% - representing an increase in market share from 12.1% to 12.5%. The revenue growth kept operating cash flows above $26 million for the second year in a row. The partnership may see continued incremental growth from here, but any major performance improvements will come from either market growth or an expansion in the number of our hotel rooms, an evaluation of which is currently underway.
Idaho Timber
Unlike many of its less fortunate peers, Idaho Timber has weathered the storm caused by the housing market. Leucadia have often been successful with investments in out-of-favor businesses and industries which I think will continue with Idaho Timber considering that the US housing market is slowly recovering.
Conwed Plastics
In the last year, pre-tax earnings declined by 33% as the price of polypropylene resin, the primary component of Conwed' s products, rose dramatically and remained elevated throughout the year. This is not a permanent issue related to Conwed operations as prices of raw materials are volatile and what was unfavourable for Conwed (expressed in that 33% decline) could become positive in 2013.
Leucadia has owned Conwed for 27 years and through several economic cycles. The Company has a well-earned reputation for producing high quality products in a niche market and it is a successful, durable investment. Over the years Leucadia has received a compounded return on invested capital of over 20%.
Garcadia
Leucadia provides the majority of the capital and some investing acumen and Garff Corporation manages the operations. Where possible, Leucadia purchases 100% of the underlying real estate and leases it back to the operation at a 10% net return.
The U.S. car business stayed on an upward trend in 2011 and 2012. New auto sales were roughly 12.7 million units in 2011 - up 10% from 11.6 million in 2010. Garcadia exceeded the national numbers by 21% to 14,000 units. This volume growth, combined with operational improvements, yielded cash flow to Leucadia of $11.4 million in 2011, inclusive of roughly $4.6 million spent on capital improvements to the real estate and excluding acquisitions. Even during the worst part of the recession, Garcadia returned cash to its partners
Mueller Industries (MLI)
During 2011, the company acquired 10,422,859 common shares of Mueller, representing approximately 27.3% of the outstanding common shares of Mueller, for aggregate cash consideration of $408,558,000. Mueller management sees increased demand on the horizon, expressed in the fact that raw materials inventory was the fastest-growing segment, up 18.9%. A company ramping up for increased demand may increase raw materials and work-in-progress inventory at a faster rate when it expects robust future growth. As such, I might consider oversized growth in those categories to offer a clue to a brighter future, and a clue that most other investors will miss. Mueller is showing this "positive inventory divergence," which is indirectly positive for Leucadia.
Valuation: Shares are attractively valued
As of the close of trading on September 21, its market cap was $5.76 billion. With the exception of 2008, it hasn't been this low in more than six years. Its stock is up just 3.90 % year-to-date, 22% below its 52-week high and 57% below its five-year high. It's definitely undervalued if you go by its history. Leucadia's stock trades at 0.9 times book value compared to 1.8 times for the S&P 500. Further, its average P/B over the past five years is 1.5. By price-to-book, anyway, its stock seems very cheap.
As we can see in the chart, the stock is trading in the low range of its historical P/BV showing a disconnect to LUK's holdings improving fundamentals. There is nothing fundamentally wrong in this company to justify this level of undervaluation. I do not know exactly which catalyst could drive the stock higher but I find a compelling reason to invest the fact that LUK fundamentals are right but its valuation does not represent that.
I think that the market is awaiting for some clarification into succession plans considering that both Cummings and Steinberg are old. I am sure that this won't be an issue for long term Leucadia's success because I trust both Cumming and Steinberg are smart enough to handle that issue appropriately.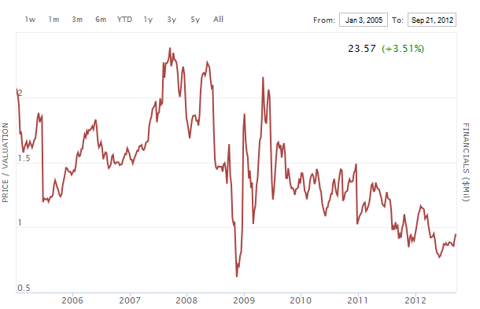 Leucadia has also reduced its leverage by calling $511.3 million of long-term debt in 2012 and retiring other debt during the last three years in market transactions. With those steps, management have cut Leucadia's leverage by over 40%.
Disclosure: I have no positions in any stocks mentioned, but may initiate a long position in LUK over the next 72 hours. I wrote this article myself, and it expresses my own opinions. I am not receiving compensation for it (other than from Seeking Alpha). I have no business relationship with any company whose stock is mentioned in this article.