This Monday morning, Acadia (NASDAQ:ACAD) is trading higher ($2.79 high at the time of writing) and I think I know why. Most likely in late November, Acadia will report on the results of Pimavanserin's -020 phase III clinical trial. The primary risk is that Pimavanserin could fail in its clinical trial; if that happens, the share price will tank. I cannot stress more clearly to SA readers that Acadia is a high-risk investment, so be warned.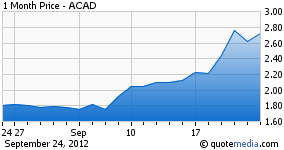 While I rarely venture to predict the outcome of a drug in development, I correctly predicted the outcome of Vivus' (NASDAQ:VVUS) two drug candidates using a structured analysis:
I apply that same tri-fold analysis here including why Pimavanserin is a major stock price moving catalyst.
Efficacy = better than probable
Safety = highly probable
Trial design = excellent
As I stated above, should Pimavanserin fail, Acadia's share price will tank. Investors are warned to do their own due-diligence. However, I now present a reasoned case for Pimavanserin's success.
I. Efficacy
Acadia has studied Pimavanserin in multiple studies employing a variable range of dosages: 10, 20, 40, and 60 mg. To move Pimavanserin forward, the company must prove that Pimavanserin is efficacious versus placebo. It must meet its clinical phase III primary end-point: 40 mg. Pimavanserin versus placebo in a double-blinded study.
Surveying all the clinical studies published to date, the trend suggests that a dose at 20 mg. or lower may not meet that primary end-point. However, the formative phase II study that was the basis for moving to phase III started patients on 20 mg. and could be ramped up to 40 and 60 mg. at two scheduled intervals. Acadia stated:
Fewer patients on ACP-103 were escalated to higher doses as compared to placebo-treated patients, and the mean total dose of ACP-103 was significantly less than the mean total dose of placebo (p=0.05).
Elsewhere, Acadia reported:
The primary endpoint of the study was met as pimavanserin did not worsen parkinsonism symptoms that affect activities of daily living and motor function, as measured by the Unified Parkinson's Disease Rating Scale (UPDRS).
For some reason, Acadia must have had confidence in a lower dose range (10 and 20 mg.) as it began the -014 phase III clinical study, but they ended that study early to review the data after the -012 phase III clinical study (20 and 40 mg.) failed to meet its primary end-point because:
In September 2009, we announced top-line results from an initial Phase III PDP trial (-012 Study). While the -012 Study was impacted by a larger than expected placebo response and did not meet its primary endpoint, signals of antipsychotic efficacy were consistently observed in the 40 mg pimavanserin arm. These signals were most prominent in the United States portion of the study, which comprised nearly one-half of the patients in the study. The -012 Study met the key secondary endpoint of motoric tolerability and pimavanserin was generally safe and well tolerated in the study.
It's apparent that the failure of the -012 study was a significant surprise to Acadia's management team. Therefore, the current -020 phase III clinical study is intended to prove that a 40 mg. dose of Pimavanserin versus placebo is efficacious and will meet the study's primary end-point. With the range of data in Acadia's possession, the odds of success are significantly improved. However, the uncertainty of not seeing the results leaves the door wide open to speculation. From my reading, I conclude that market sentiment is favorable to positive results which is another reason to buy before the news.
My reason for thinking positive results are "better than probable" is based on the cumulative data in Acadia's possession from every other clinical study to date. It may still turn out that the 20 mg. versus placebo is effective, should the placebo effect be tightly controlled; however, Acadia isn't gambling on that. Acadia is going with the higher 40 mg. dose to prove with absolute certainty that Pimavanserin is efficacious versus placebo. Therefore, I think the -020 study will be a success. In my opinion, if the market agrees with me going into news, this share price is going much higher.
II. Safety
To comprehend why I think good safety results are highly probable, you have to look backwards at Pimavanserin's history in clinical development. This is because there is a virtual library of clinical data that addresses Primavanserin's safety history. Investors who are new to Acadia will benefit from learning what is known.
Observe that:
1. In a clinical phase II study (20 mg., 40 mg., and 60 mg. Pimavanserin), Acadia reported in 2006:
Pimavanserin was safe and well tolerated in the study. In connection with this Phase II trial, we are continuing to conduct and open-label extension study, pursuant to which 24 patients with Parkinson's disease psychosis were treated with pimavanserin for at least one year, 12 of whom were treated for at least two years, and one of whom has now been treated for over five years.
Elsewhere, it was reported:
...The most common adverse events were somnolence, edema, and increased blood urea.

In a second poster, pimavanserin was well tolerated and did not worsen Parkinsonism symptoms in 39 patients (mean age 72) with PD and psychosis at doses up to 60 mg/day for up to 42 months (mean 14 months). Somnolence, fatigue, or dizziness were uncommon, said Dr. Roger Mills, also of Acadia, who led the industry-sponsored, open-label extension safety study. A case of rhabdomyolysis was the only serious adverse event.
2. In the -012 clinical phase III study (placebo, 10 mg. and 40 mg. dose of Pimavanserin randomized among 298 patients) Acadia reported in September 2009:
Pimavanserin was safe and well tolerated in the study, with the frequency of adverse events generally similar in the pimavanserin and placebo arms (Ibid).
3. In the -014 clinical phase III study (placebo, 10 mg. and 20 mg. dose of Pimvanserin randomized among 120 patients). The trial was ended early so Acadia could use the data to design the current -020 clinical phase III study.
4. Acadia also reports that there is also an -015 extended safety study on-going:
An open-label safety extension trial of Pimavanserin for Parkinson's disease psychosis, dubbed 015 Study, is also underway. This study consists of patients who have completed earlier phase III Parkinson's disease psychosis studies as well as patients who complete the 020 Study.
Observe that over multiple studies at various dosages Pimavanserin is repeatedly reported as "safe and well tolerated." Except for one case of rhabdomyolysis, I was unable find any other adverse effects and that may or may not be drug related. While the longer term study could always turn up a new safety issue, it is probable that the current study will return similar results. However, the higher 40 mg. dose could present more safety risk than the 20 mg. dose. That is yet to be known. However, consider the breath of historical data, I think it is highly probable that Pimavanserin's -020 phase III clinical will be reported as safe and well-tolerated.
III. Clinical Trial Design
Here again, based on Acadia's clinical experience bringing Pimavanserin forward, what they have learned through success and failure has guided them in the design of the current clinical trial. I think the clinical trial design is excellent mainly because: where its being conducted, its head-to-head match up between a 40 mg. dose of Pimavanserin versus placebo, and that Acadia has chosen to use a higher dose (40 mg.) that has been safe in previous trials. To further explain, the reason I give the clinical trial design such high marks is because:
The clinical trial 100% North American based (United States and Canada) assuring superior selection of patient candidates including less variability between the Pimavanserin and placebo arms.
The head-to-head contest between placebo versus 40 mg. Pimavanserin (versus 10 or 20 mg.) is the company's best chance to prove the drug is efficacious.
With approximately 200 patients being enrolled from over 20 testing centers, the statistical data should resoundingly reveal whether 40 mg Pimavanserin is a flop or success.
In the trial design, Acadia states:
Patients will be evaluated at screening to ensure that all criteria for study participation are met. These evaluations will include specific measures of psychosis severity, delirium, dementia, cardiovascular condition, and pregnancy status. Patients may be excluded from the study based on these assessments (and specifically if it is determined that their baseline health and psychiatric condition do not meet all protocol-specified entry criteria).
The test will use the Scale For the Assessment of Positive Symptoms (SAPS). Hallucinations, delusions, bizarre behavior, positive formal thought disorder are categorical examples of psychosis. According to the clinical design, the patient must have been diagnosed with Parkinson's disease for a minimum of one year and must have psychotic symptoms at least four weeks prior to study screening. Importantly the psychotic symptoms must have developed after the diagnosis of Parkinson's disease. These are a few criteria in the study's design, so it's clear that the trial is designed to determine if 40 mg. Pimavanserin is effective in patients who developed psychotic symptoms after being diagnosed with Parkinson's disease.
Assuming all goes as planned, Acadia's trial design is rather clear cut. If a 40 mg. dose of Pimavanserin is not statistically significant versus placebo, then it will most certainly fail. However, the very opposite is also true and for good reasons I think the clinical trial's design is a positive. Therefore, I give the clinical design high marks.
IV. Stock Moving Catalyst
The global market for Pimavanserin would be staggering once you read the following market analysis.
Pimavanserin has the possibility of being a multi-targeting drug for:
Psychosis in Parkinson's disease (-020 current phase III study)
Schizophrenia
Psychosis in Alzheimer's disease.
1. Regarding psychosis in Parkinson's disease, the Parkinson's Disease Foundation highlights:
As many as one million Americans live with Parkinson's disease, which is more than the combined number of people diagnosed with multiple sclerosis, muscular dystrophy and Lou Gehrig's disease.
Approximately 60,000 Americans are diagnosed with Parkinson's disease each year, and this number does not reflect the thousands of cases that go undetected.
An estimated seven to 10 million people worldwide are living with Parkinson's disease.
Incidence of Parkinson's increases with age, but an estimated four percent of people with PD are diagnosed before the age of 50.
Men are one and a half times more likely to have Parkinson's than women.
Acadia states that 60% with Parkinson's disease developed psychosis. For Parkinson disease patient with psychosis that equates to 6 million people worldwide who may benefit from Pimavanserin.
2. As reported by schizophrenia.com, the global impact of schizophrenia is as many as 51 million people worldwide.
The Prevalance Rate for schizophrenia is approximately 1.1% of the population over the age of 18 (source: NIMH) or, in other words, at any one time as many as 51 million people worldwide suffer from schizophrenia, including;

6 to 12 million people in China (a rough estimate based on the population)
4.3 to 8.7 million people in India (a rough estimate based on the population)
2.2 million people in USA
285,000 people in Australia
Over 280,000 people in Canada
Over 250,000 diagnosed cases in Britain
If the following scenario held true that Pimavanserin was prescribed as an adjunctive to 10% of those 51 million people worldwide, that would equate to 5.1 million (this is purely an estimate).
3. Regarding psychosis in Alzheimer's disease, the company reported:
In 2007, we reported positive results from a Phase II clinical trial that demonstrated several advantages of co-therapy with pimavanserin and a low dose of risperidone. These advantages included enhanced efficacy comparable to that of a higher, standard dose of risperidone, a faster onset of antipsychotic action, and an improved side effect profile, including significantly less weight gain compared to the standard dose of risperidone.
Elsewhere, Acadia "estimated that 25% to 50% of the 5.4 million Alzheimer's disease patients have Alzheimer's disease psychosis. There are no FDA-approved drugs to treat this condition." That means 1.35 to 2.7 million patients (United States alone) may benefit from Pimavanserin. It is elsewhere reported that: "Alzheimer's Disease International, in their World Alzheimer Report 2010, determined that there are 35.6 million cases of dementia worldwide." Alzheimer's disease is the most prevalent diagnosis. The original report states:
Alzheimer's Disease International's first World Alzheimer Report, released on 21 September 2009, provided up-to-date information on the prevalence and impact of dementia from a global perspective(1). We estimated 35.6 million people living with Alzheimer's disease and other dementias worldwide in 2010, increasing to 65.7 million by 2030 and 115.4 million by 2050.
Using the 35.6 million figure, 25-50% of those with Alzheimer's disease and other dementias (if that includes psychosis) is 8.9 to 17.8 million worldwide.
Now combined the market for Parkinson's disease psychosis (6 million), plus schizophrenia (perhaps 5.1 million), plus Alzheimer's disease psychosis (8.9 to 17.8 million), the grand total is 20 to 28.9 million.
Jason Napodano of Zacks wrote on 9 August 2012:
The second thing we expect, if the -020 trial is successful, is for Acadia to quickly find a partner. We remind investors that Acadia was originally partnered with Biovail on pimavanserin development prior to the failure of the -012 study. Biovail paid Acadia $30 million upfront with the potential for $365 million and 15-20% royalties on sales back in May 2009. Acadia also had a co-promotion option. Much of the backend potential was based on expanding the label into Alzheimer s [sic] disease psychosis (ADP) and schizophrenia. We think Acadia will be looking for a similar deal in early 2013. Management believes that pimavanserin is a pipeline product, and ADP and schizophrenia are as important to the future potential of the drug as the current plans in PDP.
In the same report, Mr. Napodano also adds:
Between PDP, ADP, and schizophrenia, we estimate the target market for pimavanserin is over 5 million patients in the U.S. alone. A similar market opportunity exists in Europe and Asia. With similar pricing to branded antipsychotics, pimavanserin has peak sales over a billion dollars. As noted above, given the sizable market for the drug, the high unmet medical need, and the significant de-risking that will occur from one positive phase 3 trial completed, we believe Acadia should have no problem partnering pimavanserin (Ibid).
Investors can study the potential market for themselves, but as my research (all sources documented) reveals it is quite sizeable and Mr. Napodano must draw a similar conclusion if he states Pimavanserin's potential peak sales could go over a billion dollars.
Conclusion
In summary, this article has documented (in reverse order):
Pimavanserin's potential sales may exceed a billion dollars.
I argue that the -020 clinical trial design is excellent for what it is designed to prove or disprove.
I argue that Pimavanserin's safety profile is well above average and I think a good safety report from the -020 clinical trial is very probable though that is yet to be proved.
I argue that 40 mg. dose of Pimavanserin versus placebo in the -020 clinical trial is better than probable to return positive results. Meaning, it will meet the primary end-point.
However, be reminded that there is no guarantee that my reasoned case will turn out as I have predicted. Nevertheless, I hope this presentation will help investors think through the issues. Anyone is welcome to offer their own feedback and/or opinions in the 'Comment' section.
I reiterate my view that Acadia is a very strong buy. I would not be the least bit surprised if the current share price makes a break to an exponential upside as Pimavanserin's probability of success gains greater market attention. Savvy investors will get in early as I expect the weeks to come to be highly volatile.
Finally, for readers who follow my investment interest, this Monday morning I took a small position in Catalyst Pharmaceuticals (NASDAQ:CPRX), thus I have included it in my disclosure. I sold Astex (NASDAQ:ASTX) last week (at a loss), but I notice it has rebounded. I continue to maintain that Acadia is a VERY STRONG BUY.
Disclosure: I am long ACAD, CPRX. I wrote this article myself, and it expresses my own opinions. I am not receiving compensation for it (other than from Seeking Alpha). I have no business relationship with any company whose stock is mentioned in this article.
Additional disclosure: Investors buy and/or sell at their own risk. I declare that I may trade any stock at any time mentioned in this article. For me "long" is until I sell. I do not "short" stocks. This article is not intended to be used as investment advice. Please seek the advice of a market professional.