On Thursday, Goldcorp (NYSE: GG) announced that it is planning to buy Canadian junior, Gold Eagle Mines [TSX: GEA] for $1.5 billion.  Last week Kinross Gold Corp [TSX:K] made a friendly $1.2 billion all-stock offer for Aurelian Resources Inc. [TSX: AUR] .


In the last 24 months, many juniors have proved up their resources in a climate of soaring metal prices only to see their stock price chopped in half. Junior Resource Explorers are now so cheap that if the retail investors don't buy them, the majors will.
The centerpiece of the Kinross-Aurelian transaction is the Fruta del Norte deposit in Ecuador which contains an estimated 14 million ounces of gold and 22 million ounces of silver – about $13 billion worth of metal.
Based on the current Kinross share price, the value of the offer is $8 per share, a premium of about 60% (Kinross's offer was 60% higher than Aurelian's quoted market value).

It's an interesting move because Ecuador's left-leaning president, Rafael Correa, has currently suspended all mining in Ecuador as he re-writes the revenue sharing formula.  I suspect the Kinross brass have peeked at a draft of that document.
Goldcorp is honing in on Gold Eagle's Bruce Channel discovery which is close to Goldcorp's flagship Red Lake operation in Northwest Ontario.  Bruce Channel is believed to contain 7 million ounces of gold.  The acquisition makes sense logistically as long as the gold is there.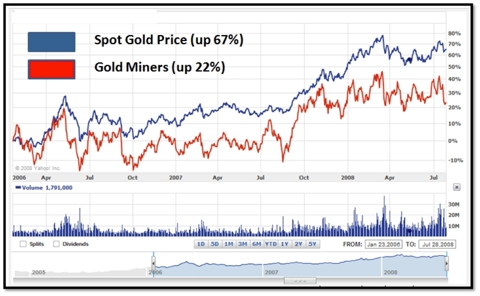 The junior resource landscape is cluttered with screaming bargains and if the prices stay this low we are about to see a flurry of acquisitions by majors.
Three years ago the mantra in the investing community was that you leverage rising metal prices by buying a piece of a company that is looking for that metal, or (lower risk) already mining it.
But even the producing gold miners failed – as a group – to keep pace with the price of spot metal. Hindsight, as they say, is 20-20.

The limp performance of the juniors can be traced the August 16, 2007 credit crunch when the TSX plummeted 585 points in a matter of hours.
Investors got spooked, and the equity started to dry up.

It costs between $20 and $150 million to "prove up" a resource, which involves drilling and hiring geologists to certify the assay results.   Resource juniors found themselves squeezed for cash.  The shareholders looked at the books and realised, "These guys aren't funded to complete their drilling program" - so they bailed out – and the stocks got crushed. Talk about a vicious cycle.

But none of this degrades the hard assets of the juniors.  The majors aren't dumb.   They have cash.  And they are going shopping.  I have identified the following 10 companies as likely take-over targets.
Hathor Exploration [TSX.V: HAT] owns a 773,465 acre land package in the uranium-rich Athabasca Basin, which accounts 25% of global uranium production. Hathor's recent discoveries include 11.9m of 5.29% U308 and 15m of 10.02% U308.   These are bonanza type numbers.  Hathor is fully funded and has approximately $28 million in the bank.  With oil prices trending upwards, nuclear energy is the white knight on the horizon.  Hathor has a market cap of $226 million.

Paramount Gold and Silver Corp [TSX: PZG] owns a 200,000 acres land package in the Sierra Madre gold-silver belt.  Accessible by vehicle and railway, and with a new 33,000 volt power line, The San Miguel project boasts a 43-101 compliant mineral resource estimate of 108.5 Million Ag-equivalent ounces. The resource estimate is growing radically with each new drill result.  The political stability of Mexico is a big plus.  Paramount has a market cap of $60 million.
 
Sherwood [TSX: CS] owns a high grade, open pit copper mine in Yukon, Canada which produced 12.8 million pounds of copper in Q2, 2008 at an estimated total cash cost of $0.96 per pound.  With copper selling for $4 a lb, that's about $30 million profit for 3 months work.  They are currently using diesel generators for power.  The profit margins are expected to increase this fall when they hooked up to a grid.  Sherwood has a market cap of $264 million.

Potash One [TSX: KCL] owns the 97,000 acre Legacy Potash Project in the Saskatchewan Potash Basin, complete with potash permits and 43-101 compliant resources. They have an indicated mineral resource of K2O (fertilizer) worth about $25 billion. The geology of their deposit allows solution mining which has a shorter time line to production than a conventional potash mine.  Management previously controlled a uranium company that was bought out for $1.8 billion.  Potash One has a market cap of $145 million.

Geovic Mining Corp [TSX: GMC] owns production rights to seven large cobalt-nickel-manganese deposits in Cameroon, Africa. The first of the seven deposits, Nkamouna is expected to be in production by late 2010. Cobalt is a critical ingredient in alloys, diamond tools, magnets catalysts , electroplating, enamels etc.  The price of cobalt has risen 186% in the last 32 years.  Geovic is poised to be feed the surging global cobalt market.  They have a market cap of $130 million.

Capstone Mining [TSX: CS] operates the Cozamin copper-silver-zinc-lead mine in Zacatecas State, Mexico.  In Q2, 2008 they had an operating profit of $19 million. They have $48 million in the bank with no debt.  A mine expansion - expected to be completed by Q4, 2008 - will increase production by 36%.  Capstone has a market cap of $296 million.
Luna Gold Corp [TSX: LGC] is aggressively acquiring, exploring, and developing gold properties in Brazil and Nevada.  They have an extremely well rounded development team that continues to add value to their properties.  They have about $500,000,000 "proven and probable" worth of gold at one of Brazilian location.  Luna has a market cap of $41 million.

CGA Mining [TSX: CGA] has projects Nigeria and the Philippines.  At the Segiliola Project in Nigeria they have completed 2,000 meters of drilling which has revealed gigantic gold deposits, ranging from 3 grams per tonne, to 31 grams per tonne. The Masbate Gold Project in the Philippines has about $3 billion of inferred resources. The Philippines government has offered them a 6 year income tax holiday.  CGA Mining has a market cap of $317 million.

Arian Silver [TSX-V: AGQ] owns a silver mine in Mexico (The San Jose Project) that was shut down in 2001 when the price of silver was $5 (silver is currently trading at $17).  Arian owns existing modern mining infrastructure.  They basically need to dust off the machinery and they'll be grinding up 400 tonnes of rock a day in the midst of a historically prolific silver-bearing district.  Arian expects to be in production by 2009.   They have a market cap of $18 million.

Andean Resources [TSX: AND] is an Australian company with a monster gold project in Patagonia, Argentina. The third drill season has increased their resource estimate by 119%, with a low cost discovery of $15 an oz of gold.  Andean is on track to begin mine construction in 2009.  They should be capable of producing 250,000 ounces of gold a year, at a cost of about $220 an ounce.   Andean has a market cap of $470 million.

Major mining companies like Kinross and Goldcorp are able to provide the juniors with the one thing they lack: equity.  Negative investor sentiment has created fantastic buying opportunities for deep-pocketed mining majors and savvy investors.  The $2.7 billion spent in the last 10 days is the beginning of a shopping trend.  Stocks move, rocks don't.  The rush of speculative investing is about to begin again.  As usual, the rich will get richer.