At EnergyPoint Research, we pay as much attention to the trends within our data as we do to the data points themselves. And it's nice when we come across a high-profile industry supplier meeting the needs of customers more effectively today than in the past.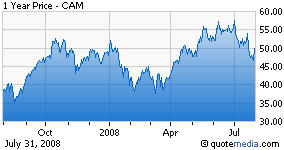 Such is the tale of Cameron International (NYSE:CAM), whose customer satisfaction ratings in our independent surveys have risen steadily since 2005. Our most recent update from 2Q 2008 suggests particular progress in the performance and reliability of CAM's equipment, along with the quality of its personnel. This is good news for both the company and customers, and no small feat given industry-wide trends. It also likely has something to do with CAM's ability to report better-than-expected 2Q 2008 earnings.
When we look at CAM's ratings in the specific categories on which it seems to be focusing most these days, our findings suggests its franchise is a relatively healthy one, both in terms of current ratings and momentum. The company enjoys especially strong scores in surface wellheads & trees, flow control equipment (actuators, values, etc.), and sub-sea blowout preventers (BOPs). Even more importantly given the direction of the industry, CAM's products appear to be duly up to the task when applied to high-pressure, high-temperature and other harsh operating conditions according to respondents. In fact, the company's products recently rated at or near the top in each of these special applications.
That being said, not everything is coming up fully roses for CAM these days. In certain areas, the company still trails resolute competitors Dril-Quip (NYSE:DRQ) and Wood Group [WG.L]. Furthermore, CAM's strengths are arguably somewhat relative in nature as the company stands out most when compared to longtime ratings laggards Aker Solutions [AKSO.OL] and VetcoGray (a unit of GE (NYSE:GE)).
Our data also suggest CAM could benefit from improved oversight and execution in the areas of product availability and delivery. As one respondent in 2Q 2008 wrote concerning CAM: "Good company. Great equipment. Needs to work on delivery time." Of course, in today's oilfield environment, worse things have been said about suppliers.
Disclosure: None