First, I will admit I don't know much about the world of open source software solutions for enterprises, but that doesn't stop me from being interested in the companies that do.
Recently I did some research that put the spotlight on two, not-so-well known players in this sector who are worth watching and who have a bright future.
Citrix Systems (NASDAQ:CTXS) designs, develops and markets application delivery infrastructure solutions worldwide. CTXS has been downgraded to hold recently by some analysts.
Since the same quarter one year prior, revenue rose by 17%. CTXS has no debt to speak of, resulting in a debt-to-equity ratio of zero, which we consider to be a relatively favorable sign.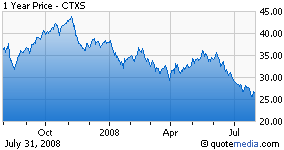 Along with the favorable debt-to-equity ratio, the company maintains an adequate quick ratio of 1.01, which illustrates the ability to avoid short-term cash problems.
CTXS earnings per share declined by 38% in the most-recent quarter compared with the same quarter a year ago. This company has reported somewhat volatile earnings recently.
The net income has significantly decreased by 35% when compared with the same quarter one year ago, falling from $53.4 million to $34.7 million.
The company's current return on equity has slightly decreased from the same quarter one year prior. This implies a minor weakness in the organization.
It's most recent quarter's balance sheet showed total cash of almost $389 million. Their operating cash flow (ttm) is an impressive $380 million and their Market Cap is over $5 billion.
Jim Cramer recently interviewed Jim Whitehurst, the president and CEO of Red Hat (NYSE:RHT), a company which Cramer said he's never fully understood or appreciated.
Whitehurst said Red Hat has a special business model that no other competitors have. The company's large developer community provides it with great software at little cost, allowing Red Hat to have higher than average margins.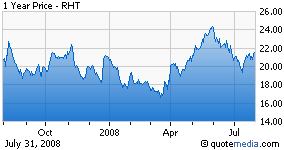 He further explained that Red Hat's Linux operating system runs in many large, mission critical applications where Microsoft (NASDAQ:MSFT) just can't compete. He cited the NYSE Euronext (NYSE:NYX) as one such large customer.
Whitehurst surprised Cramer and many of us when he said that Oracle (NYSE:ORCL) is a partner of Red Hat and not a competitor, saying that the company recently endorsed Red Hat as its operating system of choice.
Cramer called Red Hat an inexpensive stock when compared to its growth rate and recommended looking into the company as an investment. With total cash of around $896 million and operating cash flow (ttm) of $227 million, Cramer might be correct.
Two caveats on RHT: its return on assets (ttm) is a paltry 2.36% and it carries $570 million in debt.
Their Market Cap is also impressive at $4.1 billion.
Disclosure: None