I like stocks with high growth prospects and I like stocks that pay dividends. I especially like high-growth stocks that pay a dividend, that have solid proven business models, that are highly rated by analysts, and that are undervalued and oversold, sitting close to the 52-week low. That is the time to buy and hold!
I screened for undervalued high-growth dividend-paying stocks as defined by the following criteria:
Peg Ratio Less Than 1 - The peg ratio is price/earnings divided by annual earnings per share - the lower the peg ratio the more undervalued the stock is relative to its projected growth.
Dividend Payout - A portion of corporate profits paid out to shareholders.
RSI(14) - A momentum oscillator that measures the speed and change of price movements and is a popular indicator used to show stocks that are overbought and oversold.
Analyst Consensus Rating - Strong Buy
Average Daily Volume - Greater than 500,000 shares
Near 52 Week Low
Based on the above criteria I found three stocks that merit a closer look.
1) Nu Skin Enterprises Inc. (NYSE:NUS)
| | |
| --- | --- |
| Sector | Healthcare |
| Market Cap | $2.33B |
| Peg Ratio | .87 |
| RSI(14) (0 Oversold - 100 Overbought) | 32.95 |
| Average Analyst Rating (1 Strong Buy - 5 Strong Sell) | 1.3 |
| 52 Week High/Low | $37.04/$61.44 |
| Most Recent Close (9/21/2012) | $38.84 |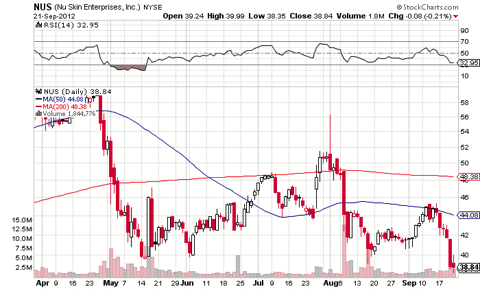 Business summary from Yahoo Finance:
Nu Skin Enterprises, Inc. develops and distributes anti-aging personal care products and nutritional supplements worldwide. The company sells its personal care products under the Nu Skin brand; and nutritional supplements under the Pharmanex brand. The company was founded in 1984 and is headquartered in Provo, Utah.
Shares of Nu Skin were hammered in August after Citron Research, a known short-seller, published a report alleging Nu Skin is operating an illegal multi-level marketing scheme in China. The company has stated many times that it is in compliance with Chinese regulations and in an August 16 investor presentation press release stated: Nu Skin has many years of experience operating within China's regulatory framework and has made substantial investments in its infrastructure, including four manufacturing plants, two R&D labs, 40 retail stores and 15 provincial and municipality licenses.
On September 21st Nu Skin also outlined its five-year plan for China which includes tripling the number of stores and sales support centers. China is now Nu Skin's largest revenue contributor. Nu Skin has grown earnings over 32% annually over the last five years and also has a dividend yield of 2.06%. Nu Skin has low debt and a levered free cash flow of $247M over the last twelve months. With a forward P/E of 10.58 and EPS expected to grow around 14% - 15% per year, Nu Skin is a buy.
2)Herbal Life Ltd. (NYSE:HLF)
| | |
| --- | --- |
| Sector | Healthcare |
| Market Cap | $5.29B |
| Peg Ratio | .82 |
| RSI(14) (0 Oversold - 100 Overbought) | 36.9 |
| Average Analyst Rating (1 Strong Buy - 5 Strong Sell) | 1.2 |
| 52 Week High/Low | $41.90/$72.11 |
| Most Recent Close (9/21/12) | $47.32 |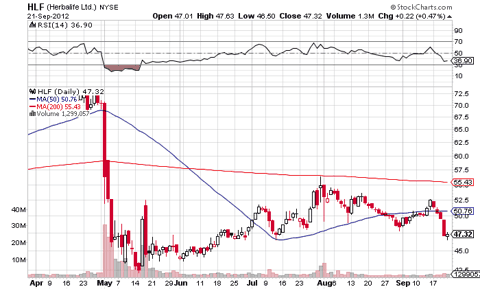 Business summary from Yahoo Finance:
Herbalife Ltd., a network marketing company, sells weight management, nutritional supplement, energy, sports and fitness, and personal care products worldwide. The company was founded in 1980 and is based in Grand Cayman, the Cayman Islands.
In May of 2012 Herbalife's stock took a nearly 45% tumble from $72 down to $42 after hedge-fund manager David Einhorn asked some questions at Herbalife's Q1 conference call regarding how much sales came from outside the network versus within the distributor base, the possible implication being Herbalife was running a pyramid scheme. Einhorn had openly shorted Green Mountain Coffee Roasters (GMCR) and Lehman Brothers with success, and the market feared he was at it again with Herbalife. Einhorn has not stated whether he has shorted Herbalife or not and he has been relatively silent on the matter since the conference call. Shares of Herbalife still have not recovered. The company concluded a $1B share repurchase in May of 2012 and announced on July 30th 2012 an authorization to purchase an additional $1B worth of shares. Herbalife insiders also purchased shares in May of this year after the huge drop. Herbalife grew earnings at 25% year over year with a forward P/E of 10.47 and raised guidance in the last quarterly conference call. It generated levered free cash flow of $349M over the last year and has a dividend yield of 2.54%. Herbalife's share price under $50 presents a compelling entry point.
3)Titan International Inc. (NYSE:TWI)
| | |
| --- | --- |
| Sector | Consumer Goods |
| Market Cap | $797.59M |
| Peg Ratio | .30 |
| RSI(14) (0 Oversold - 100 Overbought) | 35.64 |
| Average Analyst Rating (1 Strong Buy-5 Strong Sell) | 1.5 |
| 52 Week High/Low | $12.97/$29.95 |
| Most Recent Close (9/21/12) | $18.86 |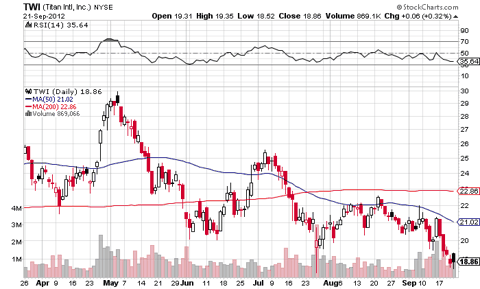 Business summary from Yahoo Finance:
Titan International, Inc. and its subsidiaries manufacture and sell wheels, tires, and assemblies for off-highway vehicles used in the agricultural, earthmoving/construction, and consumer markets in the United States. The company sells its products directly to original equipment manufacturers, as well as to the aftermarket through independent distributors, equipment dealers, and its own distribution centers. Titan International, Inc. was founded in 1890 and is based in Quincy, Illinois.
Titan shares dropped in July after the company reported earnings and missed on revenue and earnings per share. The company reported revenue of $459.2M verses estimates of $492.1M and EPS of $.56 verses estimates of $.64. Estimates aside, Titan's business has experienced high growth: one-year EPS growth - 80%, five-year EPS - 60%, and EPS projected for next year at almost 20%. It also has a forward P/E of 6.62. Titan's dividend yield is small at .11%. Titan also looks like a compelling buy here at the sub $20 level.
Graphs sourced from StockCharts.com and financial information sourced from FinViz and Yahoo Finance.
Disclosure: I have no positions in any stocks mentioned, but may initiate a long position in NUS over the next 72 hours. I wrote this article myself, and it expresses my own opinions. I am not receiving compensation for it (other than from Seeking Alpha). I have no business relationship with any company whose stock is mentioned in this article.
Additional disclosure: This article is informational and intended to spur thought and discussion. This article is NOT a substitute for your own extensive due diligence and does NOT qualify as investment advice. DO NOT BUY OR SELL STOCKS BASED ON THIS ARTICLE. I do not short stocks nor do I invest in options.