In my opinion, Chesapeake Granite Wash Trust (NYSE:CHKR) is overpriced based on the likely horizontal well production and cash flows the Royalty Trust Units can claim. If past horizontal well production is indicative of what Chesapeake Granite Wash Trust can experience then post Q2 2017 revenues will not likely be substantial enough for a total return of capital and there is an even lower probability of a return on capital.
Chesapeake Granite Wash Trust is overpriced at $20 a share
It appears Chesapeake Granite Wash Trust is over priced at $20 per share. The distributions have been closer to the subordinate threshold because its product is being sold at lower prices then original estimates. Prices are not likely to rebound in the near-term so the distribution level is not likely to be much higher then the bottom band. There are a record number of horizontal rigs drilling in the Texas Panhandle and western Oklahoma. Scott Sheffield, Pioneer Natural Resources, Co. (NYSE:PXD), said in an April 22nd Bloomberg article, "I'm pretty confident based on the current rig count, the oil rig count climbing, that there'll be plenty of gas coming out of the liquids-rich plays over the next five years." Drilling programs in other regions of the country are expected to grow keeping natural gas production high and prices low.
Chesapeake Granite Wash Trust's most recent distribution confirmed that future quarterly dividends could be closer to subordinate threshold then the incentive threshold.
Below is a table of the remaining subordination threshold levels. The common units are given the subordinated threshold amount through Q2 2017. Notice how the threshold drops towards the end of the payments when production is waning on the final development wells. The production life of a well will be address in the next section.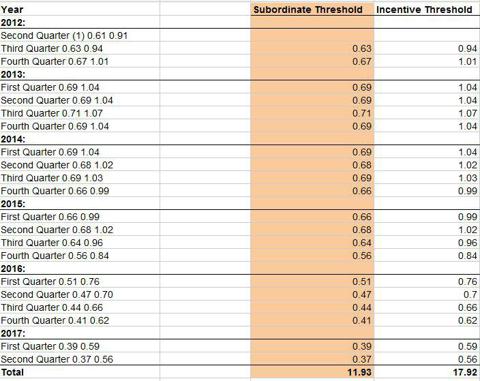 Lets assume the best scenario is for the distributions to be near the incentive threshold level. An investor needs production levels and commodity prices to be above the target stated in the S-1 in order to get approximately $18 in distributions by Q2 2017. Furthermore, distribution levels need to remain high through Q2 2018 to recoup the rest of the initial investment and begin to earn a return. This scenario is difficult to support when looking at the likely production levels.
Average Production Life of Horizontal Well in the Colony Granite Wash
According to a recent IHS CERA Decision Brief, a horizontal well production drops significantly from year one to year three (see graph below). Other experts estimate a horizontal well produces approximately 75% less in its second year of production when compared to its first year of production. This is a steep drop in revenue but the well could remain economical for years after the initial year of production. Horizontal drilling is a new technology and the data on production is not conclusive. During the last five years, the economic life has increased while the production yields have risen.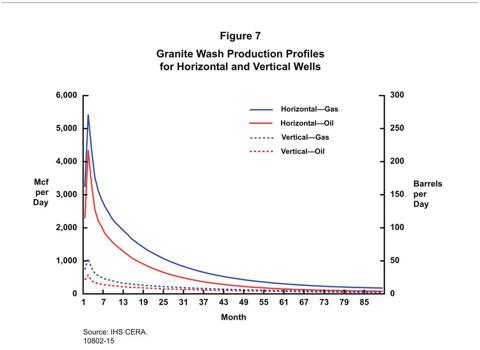 Conclusion
Hydraulic fracking technology needs to improve significantly in order to justify a $20 share price. The production yields need to more than double after Q2 2017 to produce enough product to generate $2 per common unit, if the distributions are at the incentive threshold level.
Remember, the subordinate threshold mechanism expires after Q2 2017 converting the subordinate units owned by Chesapeake Energy Corporation (NYSE:CHK) to common units. The conversion will increase the number of common units by over 11.6 million units or by approximately 33% of the common units outstanding.
Another significant point is the Development Wells, which the common units have 50% claim of revenues, will be the primary revenue producer by Q2 2017. These wells will likely be in the later stage of their production life and not generating a significant revenue stream.
I don't see technology nor commodity prices improving the production yields or cash flows to a level that justifies an investment in Chesapeake Granite Wash Trust.
Disclosure: I have no positions in any stocks mentioned, and no plans to initiate any positions within the next 72 hours. I wrote this article myself, and it expresses my own opinions. I am not receiving compensation for it (other than from Seeking Alpha). I have no business relationship with any company whose stock is mentioned in this article.