"The future is in the skies."
So said Mustafa Kemal Ataturk, the founder of the Republic of Turkey.
There had always been a massive interest in the aerospace industry since the First World War, when planes entered our lives. The budget assigned to this industry got larger with the invention of jet engine, especially after air transportation was provided for the civilian population. Today, aerospace has managed to become a fast-growing giant, as well as a catalyst for the economy. If the overall economy is doing well, so does the industry.
Just like any other sector, aerospace had also gotten its share in the 2009 crisis. The traffic in airlines fell by 3.1% that year, the biggest decline ever in aviation history. The airliners have also stopped ordering new planes, which led to a two-thirds decline in plane orders that year.
The airline manufacturers are trying to deal with thousands of aircraft orders today. With passengers preferring air transport rising, global air traffic soared by 6% since the year-ago quarter. As far as I see, the industry's tumble has come to an end. What's more, there might be heavy work for companies like Lockheed Martin (NYSE:LMT) and General Dynamics (NYSE:GD) as tensions over Middle East are escalating day by day, as well as some regions in North Africa. Therefore, I wanted to list the top large cap aerospace stocks that are priced with low P/E ratios, and offer considerable dividends. Moreover, they are estimated to report a positive EPS report in the next five years. I have examined these stocks in this article, and added my opinion along with O-Metrix grades. Here is a fundamental analysis of these three large cap aerospace stocks with substantial dividends.
Boeing Co. (NYSE:BA):
Boeing is one of the few companies that went nearly flat in a year-to date scale. The stock lost only 4% within the last nine months, when the markets experienced some serious losses. While bitter market movements still occur, the stock has managed to get itself in a line. Boeing rewarded its shareholders with a 14.8% yearly return, as well.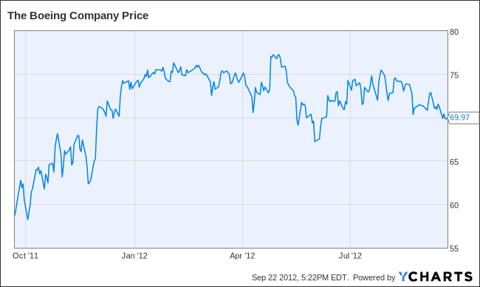 The aircraft builder has such a long backlog of orders that it hardly catches up, which makes the company a solid profit generator. Boeing looks to the Chinese market for a long-run business, as the management thinks China will need thousands of new commercial aircraft over the next two decades. This long business will be the backbone of Boeing's success in the next twenty years. The company has also come to an agreement with Avolon for a sales contract of 737s. What's terrific news is that the company has no debt issues, while demand for its products is rising. There's definitely interest from China and India in Boeing's new planes. Relative Strength Index is low, whereas Return on Equity is insanely high (82.98%). I believe Boeing will be worthy of our trust. Based on its indicators, Boeing has an O-Metrix score of 5.54.
Lockheed Martin Corp. (LMT):
Returning around 13% since the beginning of June, Lockheed Martin has once again proven itself to be a worthy investment. The stock has even passed above its 200-day Simple Moving Average with its appreciatively-watched performance. Lockheed Martin didn't take a severe hit even after The Pentagon raised more problems at F-35 reviewing program.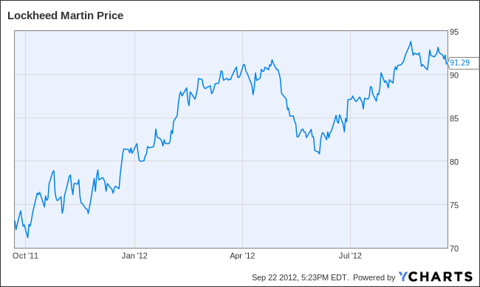 What's more, Lockheed Martin's IS&GS Defense product line has been awarded with the highest rating for its management and engineering processes. Dividends are promising, as well as revenue and cash flow. Return on Equity is 103.1%, crushing the industry average of 22.3%. While those are bullish signs for Lockheed Martin's solidity, you shouldn't seek for a fortune at this time. The stock is trading next to its 52-week high, while its Relative Strength Index is 52.94%. The company has considerable exposure to government agencies, so even a possibility of war in the Middle East can inflate its sails. I would recommend getting in to collect some pennies for the time. Lockheed Martin has a C Grade O-Metrix score of 5.56
General Dynamics Corp. (GD):
General Dynamics have recently acquired Open Kernel Labs known as "OK Labs" for an undisclosed value. The stock has doing quite well for some time. Most of the analysts have bullish estimates for General Dynamics, as they have set a mean target price of $73.71. The company has successfully rewarded its investors most of the time through its history, while also keeping its debt-to assets ratio at acceptable levels.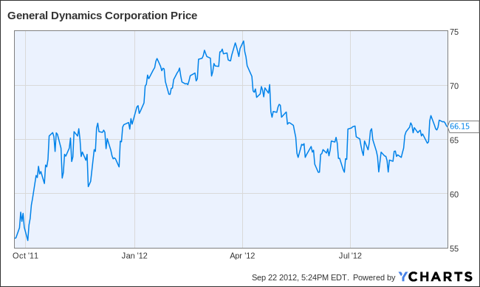 Pumping its dividend year by year, General Dynamics has proven itself to be a lifetime stock. The stock is fairly valued, as it sells only 10.7 times earnings, and 10 times forward earnings. What's more, the company is enlarging its social reputation by giving assistance to the Navy. Insider transactions for the last six months have increased by 21.81%, whereas the stock is also under heavy institutional interest (78.03%). I consider such stocks as either retirement-type of stocks, or an investment-for child type. It seems that General Dynamics has a resistance level near $62, so the stock is hardly off the ground now. Keep in mind that General Dynamics is one of the biggest suppliers of the United States and its allies in terms of various types of vehicles, as well as communications and information systems. Buy some if you want to collect profits in a short while. Based on its numbers, the aerospace and defense company has an average O-Metrix score of 6.54.
Disclosure: I have no positions in any stocks mentioned, and no plans to initiate any positions within the next 72 hours. I wrote this article myself, and it expresses my own opinions. I am not receiving compensation for it (other than from Seeking Alpha). I have no business relationship with any company whose stock is mentioned in this article.