Investors anxious to pour their life savings to high dividend yield stocks, Treasury bonds, and precious metals to take advantage of the multiple rounds of Quantitative Easing (QE) must solve three simple puzzles.
First, how could two slow-revenue growth companies Verizon and AT&T (NYSE:T) trade at a PE so close to a high growth company like Apple (NASDAQ:AAPL)? Last quarter Apple's revenues grew 22.70 percent, 6 times more than Verizon's (NYSE:VZ) and 70 times more than AT&T's. Is Apple undervalued, and Verizon and AT&T overvalued? Does QE3 that makes high-dividend pay stock more attractive than low-dividend stocks can explain this paradox?
| | | | |
| --- | --- | --- | --- |
| Company | Apple | Verizon | AT&T |
| Forward PE | 13.22 | 16.13 | 14.82 |
| Qrtly Revenue Growth | 22.60% | 3.70% | 0.30% |
| Qrtly Earnings Growth | 20.70% | 13.40% | 8.70% |
| Dividend Yield | 1.50% | 4.80 | 4.70% |
Source: Yahoo.Finance.com
Second, how could Treasuries and precious metals move in the same direction? In the last six months, iShares Barclays 20+ Year Treasury Bond (NYSEARCA:TLT), SPDR Gold Shares (NYSEARCA:GLD), and iShares Silver Trust (NYSEARCA:SLV) moved higher by close to 10 percent. Obviously, the prospect of inflation caused by QE drove precious metals higher. But why this prospect didn't drive bond prices lower?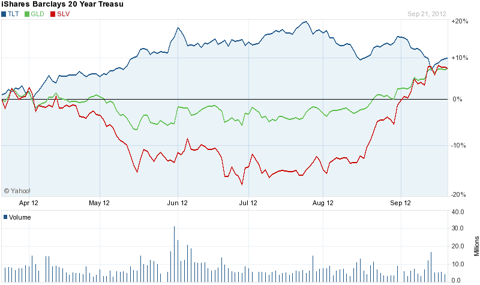 Third, how can collective currency devaluation help different countries export their way out of the crisis? Devaluing one currency usually helps one country export its way out of slow-growth. But trying to devalue several currencies at the same time doesn't help any country involved, and may even lead to a trade war. Why, then, global investors have been cheering the moves by US, China, and ECB to devalue their currencies through further monetary easing?
Obviously, there is something wrong with the recent global market rally. It has been built on irrational exuberance fueled by several rounds of QE2 rather than fundamentals. And those of us who have been around the market long enough know how irrational exuberance ends. Investors, for instance, lost piles of money chasing after dot.com and networking stocks in the early 2000, using low margin borrowing rates to buy stocks based on the corporate name of the underlying company rather its fundamentals.
The bottom line: Hype over QE3 or monetary easing by any other name shouldn't be a substitute for due diligence. Prudent investors may consider taking profits on high-dividend stocks like AT&T and Verizon; stay away from the three ETFs we mentioned (TLT, GLD, and SLV), until the anomaly in the performance of the three underlying assets is resolved; and trim their positions in US exporters like Caterpillar (NYSE:CAT), and Cliff Natural (NYSE:CLF).
Disclosure: I am long VZ. I wrote this article myself, and it expresses my own opinions. I am not receiving compensation for it (other than from Seeking Alpha). I have no business relationship with any company whose stock is mentioned in this article.
Additional disclosure: Short on SLV