Investors in Arena Pharmaceuticals (NASDAQ:ARNA) have been patient for quite some time. Early investors saw a potential in this equity because it had a promising anti obesity drug, Belviq, that would tap into a massive (no pun intended) market. Betting on Arena then, and at very inexpensive prices, was worth a shot.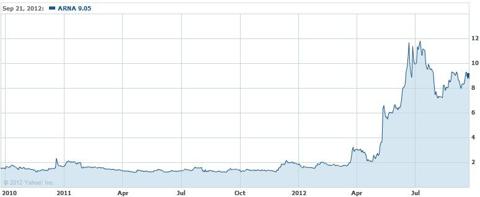 As the company progressed thorough studies and trials, the potential became more real. There was still a long road, but investors were willing to be patient. Essentially, the dream was beginning to take shape and become more real.
When Arena's Belviq garnered FDA approval it seemed that all of that patience was rewarded. The stock price soared and investors were dancing jigs. Arena's Belviq was going to be a hit. Still though, even with that positive news, patience was needed.
Unfortunately, FDA approval is just a step in the process (albeit a big one). Once FDA approval was acquired, the reality of Arena's potential began to take shape. However, more patience is needed. There is still a DEA write-up that needs to happen, approval in Europe, and Belviq still has to get to the market. Even then, we still can not determine with certainty how successful Belviq will be. Will it be accepted by consumers? Will it be marketed effectively? Alas, we are still betting on potential, and still need to be patient.
While this can be frustrating for investors that saw Arena above $11 only a few months ago, patience is what it will take to ultimately reap your rewards.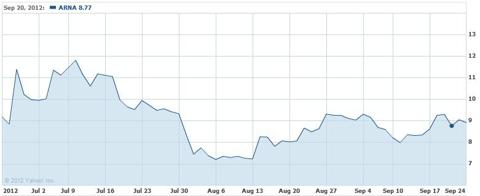 The next big news surrounding Arena will be the DEA write-up of Belviq. This will allow the company to get the product onto the market. Other news that can give investors insight is the fact that competitor Vivus (NASDAQ:VVUS) has already launched its anti-obesity drug Qsymia and should be able to offer some early U.S. numbers with its next conference call. Arena investors also saw a small positive when Vivus warned that it does not anticipate European approval of its weight loss drug, perhaps opening the door for Belviq to enter that market first if Arena can land approvals on its first try.
Still, patience rules the day. Meanwhile, trading of Arena is a roller coaster and will continue to be until more solid information is available to properly value potential on an overall basis. I oft get communications from readers about potential, Qsymia vs. Belviq, patent lawsuits, prescription methods, side effects, and why one company is "far superior" to the other. To me that is mostly noise. The anti obesity market is quite substantial, and there is room for two, or even three companies to be in that market and perform well. After all, studies indicate that an incredible 64% of the United States is considered overweight or obese. The numbers are quite compelling.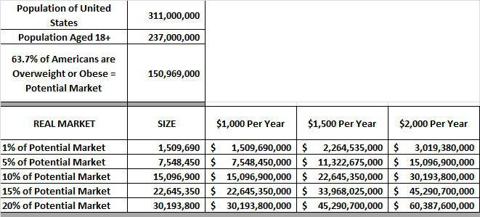 A third company is just now entering the game as well. Orexigen Therapeutics (NASDAQ:OREX) is an interesting company to watch because it could very well follow in the footsteps of Arena and Vivus. If you were able to be patient with Arena and Vivus, perhaps Orexigen presents a new opportunity for your consideration. Even if a third company enters the market, the numbers can still be quite staggering.
In my mind, while the efficacy of a drug is important and will impact how it is received on the market, it is whether or not my investment will pan out that rules the day. As callous as that sounds, it is the very simple reality we must all deal with and consider. Both Arena and Vivus have given us a reason to exercise some patience. Orexigen may as well. With all of the noise out of the picture we are left with a very substantial market waiting in the wings, and only a couple of companies with products ready to hit the market.
Patience is indeed a virtue when it comes to Arena. Just one look at the potential market tells me a reward is pending. In my opinion the $11 prices we saw not long ago are just the beginning.
Disclosure: I am long ARNA. I wrote this article myself, and it expresses my own opinions. I am not receiving compensation for it (other than from Seeking Alpha). I have no business relationship with any company whose stock is mentioned in this article.
Additional disclosure: I have no position in VVUS or OREX.