Lights were going off all across Texas in 2009 as the financial meltdown of the previous fall sent world economies and commodity prices tumbling. Having peaked the previous year at $147 a barrel, oil cratered to $32 by May of 2009. The U.S.'s largest oil basin - the Permian - once again went into a quagmire of unemployment and recession.
Now, some 3 years later, oil is back above $90/barrel and the rig count is over 500 - up 5 fold. The Permian is again booming. Indeed, thanks to the Permian and other Texan oil fields, the state's production may double in 5-7 years. As the saying goes, Texas is once again "running with the big dogs."
In an earlier article, I profiled how South Texas is prospering with Eagle Ford Shale oil. Here, we will see how the boom is playing out for large producers in the Permian.
A Rich Historical Legacy
First drilled in early 1920s, the Permian basin has played a pivotal role in U.S. history. The basin's oil helped power the U.S. to victory in WWII and then fueled the country's burgeoning post war auto fleet. Thanks to abundant Texan oil, no one much cared that the behemoth cars of the era got less than 10 miles per gallon. Showy fins and shiny chrome pre-empted frugality and fuel economy as Americans reveled in the new found freedom of the road.
You may also remember some of the legacy oil companies of the era. Companies such as Gulf, Texaco, Unocal, Skelly and Pure - they were all Permian producers. Most of these legacy brands are now been rolled up into Chevron.
Geology of Permian Basin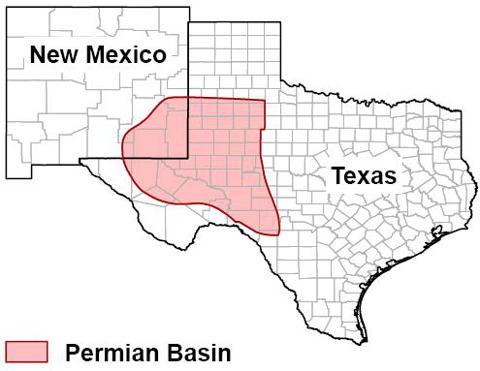 The Permian is actually two separate basins: the Midland to the east and Delaware to the west. Both have deeply stacked strata of tight sands, carbonates, and shale - often thousands of feet thick. Oil and gas occur at multiple levels in pay zones. Over the past 90 years, conventional drilling pulled large amounts of oil from "pools" trapped in the carbonate strata - more than 5 billion barrels total. Production peaked at over 700 million barrels annually in the early 1970s. By 2009, however, production was below 100 million barrels as the Permian became a mere ghost of its former self.
However, the early drilling left over 60% or more of the original oil in place, oil that at one time was thought to be unrecoverable. Now, the one-two punch of enhanced-secondary recovery methods and improved horizontal drilling/fracking technologies are once again pulling up prodigious amounts of oil. Bentex says Permian oil output will jump and additional 60% by 2016.
Newly prolific formations include the Wolfcamp Shale, the Cline Shale, and Spraberry Trend in the Midland basin and Avalon/Bond Springs and Wolfbone plays in the Delaware basin. Those looking for a more detailed overview of Permian production can find it on Apache's website.
Several large companies have a major presence in the Permian, so investors can invest with a good degree of safety. Below are 3 large internationals and two high dividend players to consider.
Occidental Petroleum (OXY) - Market Cap $71 Billion
Occidental is the largest Permian oil producer, acreage holder, and operator of rigs. The company has over 2,000 drilling locations on nearly 3 million net acres and the basin accounts for 55% of Oxy's production. A leader in secondary recovery, Oxy uses CO2 injection for approximately two-thirds of its Permian Basin production.
Oxy, of course, is a large international and has many assets outside the Permian. The company has a strong presence in California in addition, plus tracts across the U.S. Since Middle East and North African operations are 37% of The company's production; there is some geopolitical risk. Oxy is more than exploration and drilling. The company also has large chemical and midstream (processing, transporting, and storage) segments.
Oxy's revenue growth is 10%. There is a 2.5% dividend, Trailing and Forward P/E are both 11. Operating cash flow is $12.7 billion. The stock price is 18% off its 52 week high
Apache Corporation (APA) - Market Cap: $34.7 Billion
In 2010, Apache acquired BP's Permian assets - some say at fire sale prices - giving it a major presence in the basin. According to the company's web site, Apache is now the most active driller, the second largest (after Oxy) producer, rig operator, and acreage holder in the Permian.
Apache also has significant assets outside the Permian. It is in the Gulf of Mexico, Canada, Argentina, the North Sea and Egypt.
Apache's revenue growth and earnings are down year-over-year due to write-downs and low natural gas prices. The expectation is that the Permian drilling will reap rich rewards in future years. The dividend is .8%. Trailing P/E is 10.7 and Forward P/E is 8.3. Operating cash flow is $10 billion. Shares are 21% off its 52 week high.
Chevron (CVX) - Market Cap $231 Billion
As mentioned earlier, Chevron, the world's second largest oil company, has a long history in the Permian. Chevron has been there since the early 20s and still owns some 4 million acres. The company recently purchased additional Permian assets from Chesapeake Energy (NYSE:CHK) as Chesapeake desperately tries to raise cash.
In addition to the Permian, Chevron, has a major presence in California, the Gulf of Mexico, the Appalachian basin and elsewhere in the U.S. Overseas, Chevron is involved in heavy oil production in Venezuela and Canada and oil and gas production in Asia, Africa, South America, and the North Sea.
Chevron's revenue growth is down 10% year-over-year. There is a 3.1% dividend. Trailing P/E is 8.8 and Forward P/E is 9.4. Operating cash flow at nearly $40 billion is good. Debt is low and the company has over $21 billion in the till. The stock price is near its 52 week high.
Linn Energy, LLC (LINE) - Market Cap: $8.23 Billion
Line Energy started moving into the Permian in 2009 when prices were low and now has more than 100,000 net acres with more than 1,300 producing wells. The company has done well over the years and continues to rapidly increase oil and gas production. Profits have been depressed recently as the price of natural gas liquids (ethane, propane, butane, etc.) has fallen sharply.
Holding a diverse array of assets across the U.S. including Texas (Permian and Granite Wash), Kansas, California, Michigan, and elsewhere, Linn has many long life assets. The conservatively run company uses hedges for price protection so profits are usually fairly consistent.
This company pays a 7.2% dividend and has paid an annual distribution of $2.14 or more annually since 2007. Shares are near 52 week highs.
Pioneer Southwest Energy Partners L.P (PSE) - Market Cap: $935 Million
Pioneer Southwest Energy Partners is a subsidiary of Pioneer Natural Resources USA (NYSE:PXD) - the Permian's 4th largest oil producer. The company has interests in 1,116 producing wells located in the Midland Basin's Spraberry Trend. The parent company Pioneer Natural Resources is the operator of the wells.
This company pays a 8% dividend and has paid at least $2 annually since November 2008. The shares are 17% off the 52 week high.
Investing In the Permian With Safety
All the above mentioned companies are large and considered by most as relatively safe investments. All pay dividends. Barring a major oil price collapse, things should go well for both them and the Permian. Thanks to these companies and many others U.S, oil production has truly turned around - it is now steadily rising, reversing a decades long downtrend.
Income investors may be interested in Linn Energy or Pioneer Southwest Energy, as both pay high dividends. They are taxed as partnerships and send out annual K-1 statements instead of 1099s. K-1s are more complex than 1099s so if not familiar with them consult with a tax advisor.
Statistical data is sourced from Yahoo Finance
Disclaimer: This article is written for informational purposes only and isn't intended as investment advice.
Disclosure: I am long LINE, PSE. I wrote this article myself, and it expresses my own opinions. I am not receiving compensation for it (other than from Seeking Alpha). I have no business relationship with any company whose stock is mentioned in this article.