Shares of AT&T Inc. (NYSE:T) have steadily returned 37.34% over the past 12 months. At $38.25 per share, the stock is trading very close to its 52-week high of $38.58 hit recently. Given a decent 4.6% dividend yield and solid market share in the US telecom sector, AT&T has been one of the most popular stocks favored by yield-seeking investors. However, I am of the view that as the stock's valuation has become stretched, buying AT&T at the current price may not be a wise option. My opinion is based on the following six reasons:
1. AT&T is priced somewhat expensive to the firm's earnings potential (see table below). AT&T currently trades at 2.3x PEG, which is significantly higher than the 1.1x average level for a peer group consisting of AT&T's primary competitors such as Verizon Communications (NYSE:VZ) and Sprint (NYSE:S).
Click to enlarge

2. AT&T also appears somewhat expensive relative to the firm's overall financial fundamentals (see table above). In terms of growth prospects, analysts expect T's revenue, EBITDA, and EPS to rise by 2-year CAGRs of 5.9%, 12.7%, and 97.2% over the current and next fiscal years. Those rates are substantially higher than the peer averages of 5.1%, 6.6%, and 19.3%.
However, the company underperforms its peers on the profitability side as almost all (except for LTM gross margin) of T's margin and capital return measures are largely below the group averages. T assumes less leverage as reflected by the lower debt to capitalization and debt to EBITDA ratios. But the company's liquidity position is weaker in general.
AT&T's LTM free cash flow margin at 7.6% is lower than the average of 10.3%. Although interest coverage ratio is slightly higher, both the firm's current and quick ratios are below the par, reflecting a relatively less healthy balance sheet.
As such, the growth potential tends to be AT&T's brightest spot in terms of financial performance. Given T's growth advantage and its significant market position in the telecom sector, a stock valuation premium should be warranted. However, the current stock price of $38.25 actually implies a sizable average premium of 45% over the three peer-average trading multiples - i.e. EV/EBITDA, EV/FCF, and P/E, and assuming they are equally weighted in determining the stock value (see table above), suggesting that the stock is not just fully priced, but also has a stretched valuation.
3. According to the tables below, T's estimated revenue, EBITDA, and EPS have experienced multiple downward revisions over the past 12 months, and all of those estimated financials are currently staying below their levels in exactly 12 months ago, indicating a relatively weak market confidence. Nevertheless, both of T's NTM EV/EBITDA and NTM P/E multiples have reached their 52-week high, and the stock's NTM P/E ratio has largely surpassed the S&P 500 level since May (see charts below).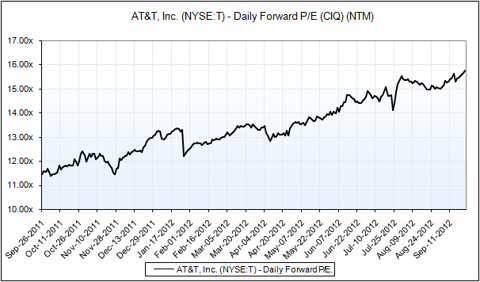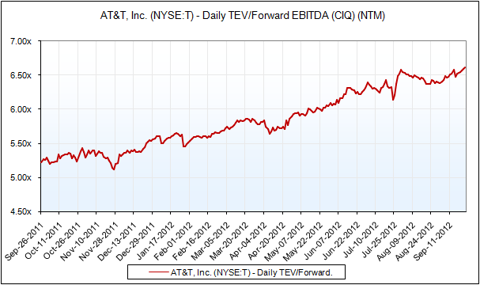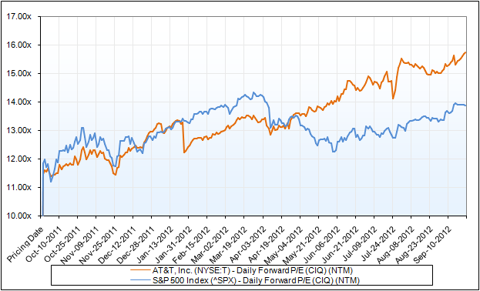 4. The recent release of iPhone 5 may create more uncertainties for the company as suggested by Jefferies' analyst Thomas Seitz in his recent research note:
"The carriers are at different stages of their LTE deployments, likely creating winners and losers when the LTE capable iPhone launches, in our view. As of the end of 2Q12, Verizon's LTE network covered 230 million POPs, more than all the other carriers in the US combined. We believe this network advantage could lead to a share shift towards Verizon, primarily at AT&T's expense - which we estimate could see its market share of iPhone sales decline modestly to 45% in 3Q12 from 47% in 2Q12."
5. Street Analysts are generally neutral on the stock. Of the total 39 ratings, there are 6 strong buys, 7 buys, 24 holds, and 2 underperforms. The mean target price is $36.07, approximately 6% below the current market price, implying that T has been likely fully priced.
6. The reason that T remains in my radar is primarily due to its 4.6% dividend yield, which appears to be safely backed by the firm's solid financial capacity. T has a quality dividend policy as annual dividend per share has been raised steadily by a 10-year CAGR of 5.4% from $1.03 in FY2001 to $1.73 in FY2011 (see chart below). Over the last decade, annual dividend paid in average represents about 3/4 of the annual free cash flow generated (see chart below), suggesting that there remains a room for further dividend increase and the current pace of dividend growth is likely to be maintained by the company's internally generated funds.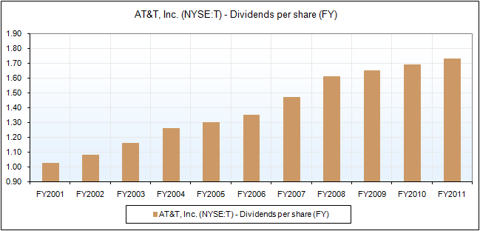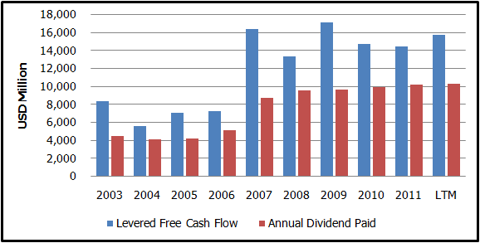 In conclusion, I like AT&T's dividend yield, but the stock's stretched valuation has caused me concern. As such, I recommend a hold rating for the stock and may establish a position on a potential pullback.
Comparable analysis table is created by author, all other charts are sourced from Capital IQ, and all financial data is sourced from Thomson One, Morningstar, and Capital IQ.
Disclosure: I am long VZ. I wrote this article myself, and it expresses my own opinions. I am not receiving compensation for it (other than from Seeking Alpha). I have no business relationship with any company whose stock is mentioned in this article.