Its no secret that McDonald's (NYSE:MCD) and Yum! Brands (NYSE:YUM) compete with each other for market share and also investor's dollars. So it is no irony that a couple of days after McDonald's dividend increase, Yum has come up with its own annual dividend increase.
This artice on Yum was written back in May, evaluating its dividend health. With the recent increase in mind, let us evaluate the numbers again in this piece.
New Dividend: The new dividend of about 33 cents per share will begin from the November 2012 payout and in all likelihood last till the July/August 2013 payout.
Current Yield: So, the $1.34 dividend per year gives Yum a current yield of close to 2% based on its recent share price of about $68. This yield is slightly higher than the 1.6% in the original article linked above, thanks mainly to the increase and a little pullback from the $70 level.
Dividend Growth Rate: The 5 year moving average dividend growth rate stays at 17.5%. 5 years is usually used as the "basic" minimum for a company to be considered in the dividend growth category, as indicated in this article by Dave Crosetti. So, it makes sense to update the dividend growth rate as well as new data becomes available.
Payout Ratio: The payout ratio has now edged up to 42% based on current earnings per share of $3.19. Yum plans to keep the payout ratio between 35% and 40%, so that should keep the investors at peace.
Since YUM is still in its early stages as a dividend payer and the earnings growth is expected to be about 14% per year over the next 5 years, the table below assumes a dividend growth rate of 10% per year for the first 5 years.
And as noted in the previous article on McDonald's, even the best of companies slow down their dividend increase percentage over time. So the last 5 years in the table assumes an 8% annual increase. Keep in mind, since the initial dividend payment in 2004, YUM has always managed a double digit dividend increase.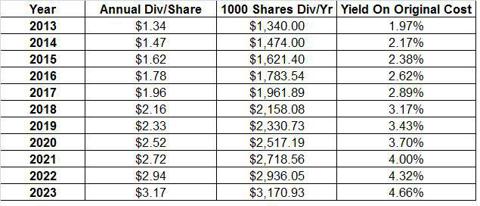 Cash on hand: As the chart shows below, Yum's cash on hand is edging towards the magical $1B mark. This, along with the expected double digit earnings growth and the low payout ratio puts the odds in favor of Yum for more dividend increases over the next few years.

(Source: Ycharts.com)
Conclusion: Yum trades at a slight premium compared to peers like McDonald's but one must remember this is still a growth stock. A growing 2% yield makes this stock an interesting combination of income, growth and dividend growth.
Disclosure: I am long MCD. I wrote this article myself, and it expresses my own opinions. I am not receiving compensation for it (other than from Seeking Alpha). I have no business relationship with any company whose stock is mentioned in this article.