Just when everything was going great for Apple (NASDAQ:AAPL) stock, one of the Chinese factories that produces parts for the glamorous new iPhone 5 closed due to a brawl between plant security and 2,000 employees on Monday. The large Foxconn plant, which employs 79,000 people, in the Northern Chinese city of Taiyuan is reportedly back open today.
WIC gadgets claims to have an undercover employee at the plant who said that all of the cell phones which were filming the incident were confiscated, and that an assembly line which produces the iPhone 5 was damaged. They have provided these pictures and more on their site: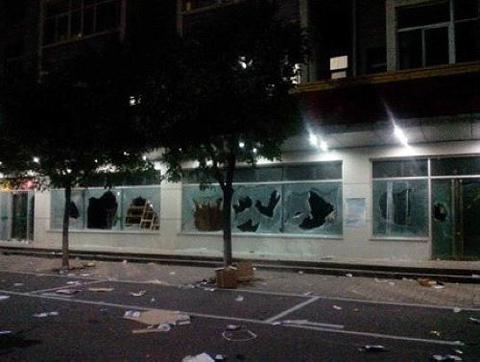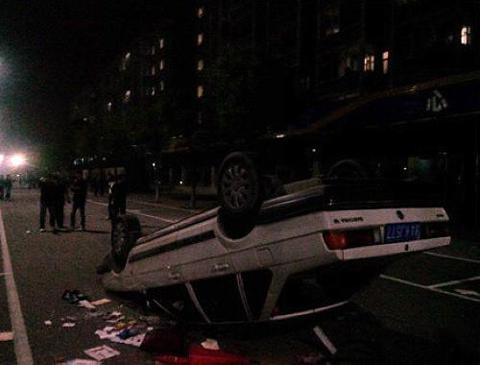 They also said that online images from the incident have been removed and censored in China. In another WIC article, one source (it was not clear if this was the same person) is reported to be an experienced journalist from the Shanghai Evening Post working undercover in the plant as an employee to see how the iPhone 5 is made, and has reported terrible working conditions along with a daily photo diary from the plant.
Although not confirmed, many stories say that the incident, which began Sunday night and lasted four hours, was caused by several guards who allegedly beat a Chinese worker. Other reports say that this caused workers to overpower the guards who then called for backup. One Foxconn source said the company is investigating the matter. Five thousand "paramilitary" police were called to the scene with shields and riot gear. It has also been widely reported that at least 40 people are injured and have been hospitalized.
Marketwatch says that the WSJ has confirmed an employee from Foxconn has been micro-blogging to them, and confirms that the windows along the factory's southern gate were smashed and motorcycles were torched before the paramilitary got there. Apple and Foxconn have not confirmed that the iPhone 5 or the iPad mini are being produced at the plant. However, Monday night, ABC News with Diane Sawyer reported that the plant produced the iPhone 5.
This could not come at a worse time for Apple. The Wall Street Journal is reporting that there were already pressures on the company to fill an overwhelming demand. The sales of the new iPhone 5 topped five million during the first three days that it was available in stores. Even though this was a new record, some analysts expected more, but were disappointed due to the limited supply available. Apple CEO Tim Cook assured investors that all of the pre-orders for the phone had already been shipped.
One can only assume that pressure is extreme at the factories to meet this sudden unexpected demand. And it is possible that workers and company security were pushed to their limits of exhaustion trying to produce the phones at a higher and faster rate. All of this may have led to the violence. The New York times is reporting that this plant is the same plant that was involved in the strike over a pay dispute last March.
Shares fell to a low of $683 Monday after a month long run from $650, in anticipation of the new iPhone. The shares hit a record breaking $705 on Friday:
Date
Open
High
Low
Close
Volume
Adj Close*
Sep 21
702.41
705.07
699.36
700.09
20,393,600
700.09
Sep 20
699.16
700.06
693.62
698.70
12,020,300
698.70
Sep 19
700.26
703.99
699.57
702.10
11,674,100
702.10
Sep 18
699.88
702.33
696.42
701.91
13,339,400
701.91
Sep 17
699.35
699.80
694.61
699.78
14,215,400
699.78
Sep 14
689.96
696.98
687.89
691.28
21,445,500
691.28
Sep 13
677.37
685.50
674.77
682.98
21,370,000
682.98
Sep 12
666.85
669.90
656.00
669.79
25,436,900
669.79
Sep 11
665.11
670.10
656.50
660.59
17,999,400
660.59
Sep 10
680.45
683.29
662.10
662.74
17,428,500
662.74
Sep 7
678.05
682.48
675.77
680.44
11,773,800
680.44
Sep 6
673.17
678.29
670.80
676.27
13,971,300
676.27
Sep 5
675.57
676.35
669.60
670.23
12,013,400
670.23
Sep 4
665.76
675.14
664.50
674.97
13,139,000
674.97
Aug 31
667.25
668.60
657.25
665.24
12,082,900
665.24
Aug 30
670.64
671.55
662.85
663.87
10,810,700
663.87
Aug 29
675.25
677.67
672.60
673.47
7,243,100
673.47
Aug 28
674.98
676.10
670.67
674.80
9,550,600
674.80
Aug 27
679.99
680.87
673.54
675.68
15,250,300
675.68
Aug 24
659.51
669.48
655.55
663.22
15,619,300
663.22
Aug 23
666.11
669.90
661.15
662.63
15,004,600
662.63
But these labor problems from the plants in China continue to be a thorn in its side. Back in April, I wrote an article about some of the reported conditions at the plants. Excessive overtime, low pay, and poor working conditions were brought out in hundreds of reports worldwide. Sometimes employees are required to work seven days a week, and live in crowded rooms at the factory. Some say they stand for hours on end until their legs swell, and they can hardly walk. One story was released about a female factory worker who said "We are Humans - not Machines."
Apple had promised to look into the workers' situation, and Tim Cook made a trip over to China to see what was going on first hand. The company promised to shorten hours and limit overtime. But this news did not sit well with all Chinese workers, because the shorter hours will make their pay go down, even though they received a very small pay increase in February. So the company agreed to significantly raise wages by July 2013 and to limit overtime to 36 hours per month. But right now, overtime is 80 hours a month according to a report earlier this year in the Wall Street Journal. Many of the reports Monday said that these working conditions were the direct cause of this incident. In my opinion, the company should not wait until 2013 to implement these changes for the workers, or there will be more incidents like this in the future.
As you can see from the chart below, shares took a dip from all the negative press last Spring. There is a strong possibility the same thing will happen now, especially considering this situation is much more volatile. Even though everything is under control right now, it took 5,000 police several hours to secure the plant.
One analyst thinks this represents a good time to buy the stock.
"We believe this shortfall is largely due to supply availability and the fact that most consumers are opting for the pre-order option," says Brian White of Topeka Capital Markets.

With an $1111 price target, White is one of the most bullish analysts covering Apple. "We remain aggressive buyers of Apple on any weakness in the stock price this morning as we believe Apple has another blockbuster on its hands with the iPhone 5 and expect the 'iPad Mini' to launch in the coming week."
For these Apple bulls, this is a golden opportunity to pick up some shares at a discount. But for conservative retail investors who cannot afford to take a lot of risk, this may be a good time to jump to the sidelines until the dust settles. Because it is hard to know right now how much that "discount" will be, and how long it will last.
Disclosure: I have no positions in any stocks mentioned, and no plans to initiate any positions within the next 72 hours. I wrote this article myself, and it expresses my own opinions. I am not receiving compensation for it (other than from Seeking Alpha). I have no business relationship with any company whose stock is mentioned in this article.