We still find ourselves amused that the name of the BlackBerry vendor is Research in Motion (RIMM). We think that somewhere around 2011, someone injected a large dose of curare in the company because a more appropriate name for the company would be "Research in Immobility", or "Research in Regression" or "Research Immobilized" considering RIMM's rapid revenue declines and swing from profitability to loss.
We are amazed at the tumble the company has taken and we can't believe that the company is seeing one piece of bad news after another. Even its highly touted network is showing its signs of infallibility. Last October, the company announced a four day network disruption and on Friday September 21st, the company announced another service disruption. The good news is that this disruption only lasted for a couple of hours and was limited to Europe, the Middle East and Africa. The bad news is that one of the few remaining selling points for the BlackBerry is its vaunted "network system for enterprise users" and Research in Motion is having a tough time keeping the network in motion. The worse news is that as the iPhone was going on sale in Apple's (NASDAQ:AAPL) store network and its carrier partners, the BlackBerry Network was going out of service.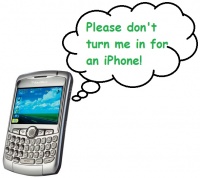 Source: StreetInsider
This really does not bode well for RIMM. Apple sold 5 million of its brand spanking new iPhone 5 devices while Research in Motion couldn't even keep its network in motion? Apple sells 5 million iPhone 5 devices during its first weekend available for sale and that was a disappointment to the street. In Apple's defense, the company had gone through significant supply constraints. Also, while Apple had released the iPhone to its top 10 largest markets on September 21st, it has yet to release the iPhone to 22 more countries until September 28th. We think that Research in Motion would dance a jig if it could sell 5 million of its BlackBerry devices in a weekend.
Considering the negative sales trend for the BlackBerry, we think that RIMM would be lucky to sell 5 million BlackBerry devices in a quarter. RIMM only sold 7.8M Blackberry smartphones in Q1 2013, and we think that RIMM would be lucky to meet that sales figure in Q2 2013. We think the likelihood of RIMM matching its Q1 smartphone sales for Q2 is pretty remote considering that the company does not have any new products to sell to its BlackBerry user base. We also believe it to be remote considering the fact that Nokia's smartphone sales volume declined in its most recent quarter versus its prior quarter even though it had the benefit of AT&T spending $150M on the Lumia 900.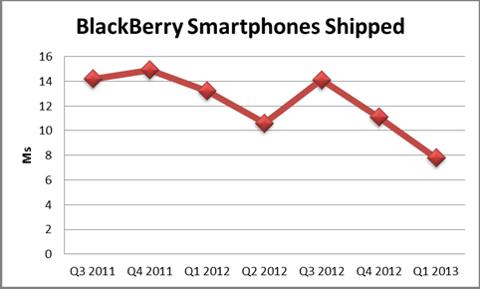 Sources: RIMM's last 7 earnings releases
Jim Suva of Citi Investment Research says that RIMM isn't looking to be acquired. We think that is an absolutely preposterous conclusion. We think that no firm is stupid enough to acquire RIMM unless it is part of a bankruptcy auction. We think Hewlett-Packard would have been dumb enough to do so if Carly Fiorina or Léo Apotheker was the CEO of HPQ. Unfortunately for RIMM, Meg Whitman is busy cleaning up the mess that Carly and Léo left over when they were running Bill and Dave's Garage into the ground and doesn't have the ability or interest in rescuing RIMM from itself. We speculate that in Meg Whitman's opinion, H-P is a fixer-upper and RIMM is a blower-upper. Jeffries analyst Peter Misek speculated that the outage was due to the transition to the BlackBerry 10 operating system.
Pacific Crest's James Faucette reiterated his underperform rating on RIMM earlier this month and we think that he's being generous with his rating. Faucette said that RIMM cannot compete on cost, user experience, device offerings, product development or content. We think that Faucette is being exceptionally generous with his rating on the company considering that the Blackberry is like the ENIAC, great for its time but now functionally obsolete. He found that carrier inventories of BlackBerry smartphones were 40%-50% of what was found 6 months ago but sell-through rates of Blackberry smartphones were not high enough to significantly reduce it further.
On September 27th, RIMM will be releasing its financial data. We are hesitant to refer to it as an earnings report because no one is expecting RIMM to release earnings. We're expecting RIMM to release losses. We are hesitant in referring to it as financial results because RIMM's performance shows that it is getting many things but it is most certainly not achieving any results. We find it amusing that one of BlackBerry's smartphone products is called the Torch. We think that it is quite obvious that the iPhone has taken a torch to RIMM's ability to compete in the smartphone device industry. Plus we find it interesting that with the exception of the iPhone 4S and 5 devices with 64GB of data, the 2 year contract price of the iPhone devices is comparable to the BlackBerry devices.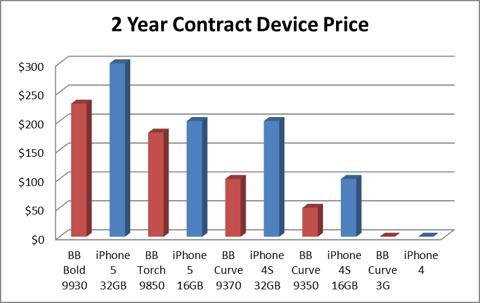 Sources: Verizon Wireless and Sprint
In conclusion, we think that Prem Watsa and Don Yacktman made a large mistake when they underestimated the disasterpiece that is Research Immobilized and its broken business model. We're surprised that the analysts have not lowered their estimates of RIMM's expected EPS for 2013 and 2014 in the last 2 months. Then again, estimating RIMM's EPS is kind of a limbo pole on the ground because you really can't go much lower with either scenario. We think that RIMM's bulls are hanging on a prayer with regards to BlackBerry 10. Plus it is obvious that RIMM's founders were too busy indulging their childish fantasies of owning their own hockey team. While owning a hockey team may be a fun toy for grown-up children, we also find that cutting edge smartphone devices can be almost as fun and more easily obtainable for those of us who are not technology billionaires. We don't think that this company is a potential turnaround company, we think that at best, it is a Grahamian smoldering cigarette butt and that investors in RIMM should be looking at entering into puts in order to salvage something out of their investment in this once-great technology titan.
Disclosure: I am long AAPL. I wrote this article myself, and it expresses my own opinions. I am not receiving compensation for it (other than from Seeking Alpha). I have no business relationship with any company whose stock is mentioned in this article.
Additional disclosure: This article was written by an analyst at Saibus Research. Saibus Research has not received compensation directly or indirectly for expressing the recommendation in this article. We have no business relationship with any company whose stock is mentioned in this article. Under no circumstances must this report be considered an offer to buy, sell, subscribe for or trade securities or other instruments.