Real Estate in China Presenting Real Opportunity
As the U.S. real estate market is in shambles, Chinese real estate may be building up, upgrading ETFs as they go.
The Chinese residential market has managed to maintain its strength, and the pace of construction is hard to keep up with. Tony Sagami for Money and Markets illustrates this with the fact that around 70% of all the world's construction cranes are on Chinese soil.
According to the National Development and Reform Commission, China's top economic planning agency, house prices in 70 large- and medium-sized Chinese cities rose 9.2% in the second quarter from a year before. Around 80% of all Chinese homes are bought with 100% cash, and the savings rate in the country is 25%. This is why China's housing market has been isolated from the U.S. breakdown.
There are a couple Chinese real estate stocks and ETFs listed on U.S. exchanges that could eventually reflect the buildup in Chinese real estate:
Claymore AlphaShares China Real Estate (NYSE:TAO), down 29.6% year-to-date
iShares FTSE/EPRA NAREIT Asia Index Fund (NASDAQ:IFAS), down 21.5% year-to-date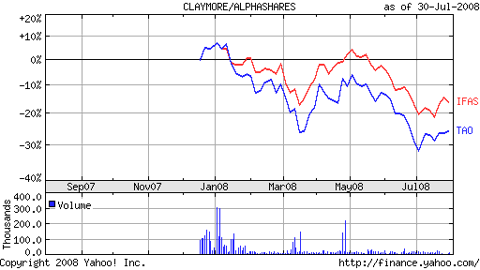 Water, Singapore Are ETFs To Watch
Although trading volume in some exchange traded funds (ETFs) has spiked rapidly recently, one fund manager is skeptical of some of the movements.
Anthony Welch, the Sarasota Capital Strategies manager, is not buying the recent rally within financials. Although the Financial Select Sector SPDR (NYSEARCA:XLF) has the second-highest trading volume, the ETF is still down 25% year-to-date, reports Murray Coleman for Index Universe.
Some other funds on the "watch list" include:
PowerShares Water Resource (NASDAQ:PHO), which is up 1.4% year-to-date, compared with the S&P 500's -13.7% for the year so far. The fundamentals that are driving PHO's performance include demand for water treatment systems and technology related to water consumption. All that makes PHO strong for both short and long term prospects.
iShares MSCI Singapore Fund (NYSEARCA:EWS): Down 9.9% year-to-date. Singapore is in the middle of an overall expansion going on in Asia right now. The banking system in Singapore is the most stable of the Asian countries, and the employment force is highly educated.
Disclosure: Tom Lydon's clients own shares of PHO.