In a recent Seeking Alpha article, The Conundrum of Triple Net Lease Valuation, I explained that Realty Income (NYSE:O) is considered "a low cost producer and that means higher profits and higher margins." As I wrote:
A higher multiple is what you strive for since the lower cost of capital is the mantra for success - the higher multiple equates to being the 'lowest cost' provider. So the highest valuation has the cheapest cost of capital, the best margins and the best strategically flexible operating platform.
So the case was made that Realty Income's, "conundrum is cheap is truly great…if it comes with a cost of capital that is competitive over the long term. Due to a cost-based advantage, Realty Income has been able to exploit all of the potential cost drivers that allow for greater efficiency in the company's overall value-add proposition."
By maintaining the lowest cost capital, a company can exploit its business strategies in a way that differentiates itself from its peer group. In the shopping center sector, just as the triple-net sector, the "secret sauce" for investing is understanding how a company's low cost of capital can provide competitive advantages, or "wide moats" that enable investors to benefit from the "fortress-like" brands.
In the shopping center sector there are 18 REITs with a combined market capitalization of $53.95 billion. Kimco Realty (NYSE:KIM), the largest in the sector, has a market cap of $8.379 billion and its fortress-like (smart in Latin) brand sits high above the peer group as its low cost of capital has a well-defined "wide moat" value proposition.
Kimco: A Fortress Brand Worth Considering
Kimco Realty is known for being one of the oldest public REITs and the nation's largest neighborhood and community shopping center owner, but it's been getting attention recently for the skilled way in which its executive team manages the company's low cost capital. The company's strategy has been written about recently in The New York Times and in the Wall Street Journal's CFO Blog, and Glenn Cohen, Kimco Realty's CFO, was just named CFO of the Year by Long Island Business News.
For Cohen and the senior leadership team, there is unanimous agreement that a strong balance sheet is absolutely critical for the company's success. And all agree on the capital priorities for the company:
According to Cohen,
Kimco operates with lots of liquidity, the lowest possible cost of capital and staggered debt maturities in order to maximize value in our portfolio and for our shareholders.
Cohen credits the company's success in accessing both the capital and asset markets to the excellent reputation the firm has built over 50 years, starting with a handshake between founders Milton Cooper and Marty Kimmel - a trust which is quantified today in Kimco's investment-grade credit rating.
Achieving ideal levels of debt and equity
A critical focus for Kimco management is maintaining an optimal balance of capital, which, in the current environment, is about 60 percent equity, and a mix of perpetual preferred stock and debt - with well-staggered maturity dates to reduce risk. Achieving these proportions helps the company reach a fixed-charge coverage ratio of 2.5 times and a net debt to recurring EBITDA of six times.
Shoring up low-cost liquidity by expanding the strategic lending network
The Kimco executive team has worked hard to expand its lending relationships. With a BBB+/Baa1 credit rating maintained throughout the credit crisis, Kimco was able to refinance its $1.75 billion revolving credit line in 2011 at the attractive rate of LIBOR plus 105 basis points, and added five new banks to its syndicate of 29 lenders. In fact, lenders were eager to give the company an additional $1 billion in commitments.
Furthermore, Kimco has strong relationship with mortgage companies and portfolio lenders, and has been able to refinance with better terms debt on its investment management properties. In 2012, Cohen and team locked up about $500 million in non-recourse debt at rates of 3.75 percent or lower.
In addition, the company was able to secure $550 million in term loans this year at very attractive rates, and will use the proceeds to refinance existing debt that has significantly higher coupons.
Refinancing debt by capitalizing on investors' thirst for yield
Perpetual preferred stock is also a critical tool for the company. Kimco was able to go to market twice, in March and July, to raise $625 million at a blended rate of 5.82 percent. The much-publicized July issuance of $225 million at 5.5 percent remains one of the lowest coupons ever, and was the lowest for a REIT issuance at the time. These proceeds will permit the company to refinance existing preferred obligations, saving about $11 million in interest payments each year and lowering the average coupon by 1.6 percent.
Building a portfolio of the highest-quality assets
The last piece of the capital plan for company leadership is to put money to work building a top-notch portfolio. To that end, the company has been laser-focused on its "asset recycling program." In the last 18 months, Kimco purchased 42 high-quality assets for $850 million, partially funding these acquisitions with proceeds from the sale of 63 non-strategic assets sold for $375 million, and $400 million in non-retail assets. The company is embracing its roots and, with the exception of strategic investments in Canada and Latin America, is focusing its portfolio on shopping centers located in the Top 30 metropolitan areas in the United States and Puerto Rico.
For many of its recent acquisitions, Kimco was able to utilize its vast real estate and financing network. Because the company has a reputation as someone who can close the deal (i.e. has the funding) and who sticks to its word (read: won't try to retrade the deal), Kimco was able to acquire quality properties at good values through off-market transactions. Because these were private-party sales, the acquisitions moved more efficiently and with lower transaction costs than would open-market deals with many bidders.
Kimco: Durability Means Predictability
While the intricacies of corporate finance and balance sheet management don't often garner headlines in the media, Kimco has managed to make the concepts of capital ratios, liquidity, and lower cost of funds a little bit glamorous. In doing so, Kimco has been able to maintain and grow its defensive capital strategies while also strengthening the company's wide moat investment profile.
Firms that can figure out ways to provide a good or service at a relatively low cost have an advantage because they can undercut their rivals on price. As the Oracle of Omaha said,
The key to investing is not assessing how much an industry is going to affect society, or how much it will grow, but rather determining the competitive advantage of any given company and, above all, the durability of that advantage. The products or services that have wide, sustainable moats around them are the ones that deliver rewards to investors.
Kimco closed at $20.59 per share and its dividend yield is 3.69 percent. The company has achieved a year-over-year total return of 41.38 percent and the company is up 12.78 percent over the last ninety days.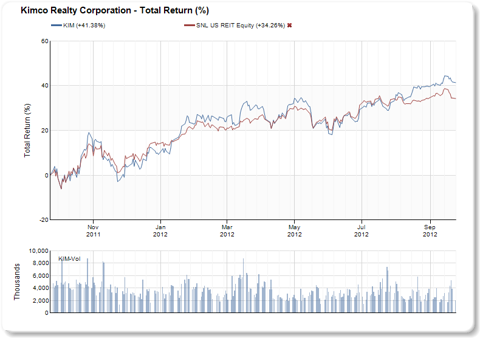 Disclosure: I have no positions in any stocks mentioned, and no plans to initiate any positions within the next 72 hours. I wrote this article myself, and it expresses my own opinions. I am not receiving compensation for it (other than from Seeking Alpha). I have no business relationship with any company whose stock is mentioned in this article.