Incorporated in 2004, Zillow (NASDAQ:Z) is a real estate "information marketplace," which operates a website and corresponding mobile applications. It operates "the most popular suite of mobile real estate applications across all major platforms" -- which is to say that it is more popular than Trulia (TRLA), a company that IPO'd last Thursday (I have previously written about Trulia here). During 2011, 100 million homes were viewed through Zillow.

Following its IPO in July 2011, its shares have held their high price and increased. Zillow looks as if it is least 9 months ahead on the unique visitor curve when compared to its rival Trulia. By other quantitative metrics, Zillow is mostly ahead of Trulia -- by a decent margin. By that I mean (1) it is making a profit with free-cash-flow [1], (2) it has higher revenues, (3) more unique visitors and (4) more services in general. See Zillow's operating statistics (you will need to click to expand):

As of last quarter, Zillow has reached 33.5 million average monthly unique users, as compared to 22 million for Trulia.
Revenue
Previously, Zillow made most of its money through click-based advertising. Now, Zillow has followed Trulia (it seems) with the subscription based model. You can see the changeover within segment revenue below:

(Source: Zillow 2011 10-K, p. 39)
And, one can see the same progression more clearly if you include 2009:

(Source: Zillow 2011 10-K, p. 76)
And, while you get the picture, here is the swap in importance when seen as a percent of revenue:

(Source: Zillow 2011 10-K, p. 40)
This changeover was also helped along by beginning to charge lenders for participating in the Mortgage Market Place (more on that below).
Branding And Marketing And Fuzzy Feelings
CEO Spencer Rascoff noted that the S-1 is a document which has to at once be a legal document, an accounting document, and a marketing document. With that in mind, when one reads about Zillow's business and compares it with Trulia, one gets the impression that Zillow is far more consumer and product focused than Trulia. And remember, the saying "customer is #1" isn't just for marketing -- it frequently dictates whom the customer chooses. In this world where the consumer is sovereign, Zillow's focus appears better managed.
In addition, Zillow seem to have a better grasp on the importance of its brand. For instance, Zillow has made a point to become the "go-to" source for information about the housing industry. A quick Bloomberg news search shows that half the mentions of the company Zillow don't have to do with the company itself, but with the company's outlook of the housing market -- that is, it has unique insights into the market and it wants to bring them forward as part of a larger marketing strategy of the company. Smart play, if you ask me. Trulia, I should note, has a similar strategy. For instance, Trulia recently released a home price index which it claims is months ahead of traditional means of measuring home prices.
Zillow Mortgage Market Place
Zillow, besides maintaining a perpetually updated database -- updated by private data feeds and user generated content -- also maintains a mortgage marketplace where consumers can submit their loan requests (anonymously) and receive a quote from a consumer-rated lender. In 2011, more than 5.5 million loan requests were submitted. The number of consummated loans was undisclosed. And as I noted above, its market place revenues were helped along by beginning to charge lenders for participation within the mortgage market place.
The mortgage marketplace also further differentiates Zillow from Trulia. Zillow, it appears, has three sources of income: subscription (at three tiers), click-based advertising, and mortgage market place participation fees. Trulia only has the first two.
Business Trends
For those not in the know, a "common sized income statement" is where revenues for that year are equal to 100% and all the other expenses and line items in the income statement are a percentage of the revenues for that year. Basically, it allows one to see the trend of operating expenses -- as a percent of revenue -- over time. Below is Zillow's common sized income statement: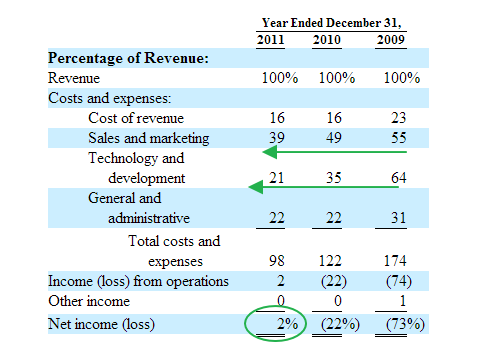 As one can see, Sales and Marketing expense as a percent of revenue has declined. So, too, has technology and development (which is a capitalized cost anyways -- that is, the cash flow associated with it is amortized as an expense over time rather than at initial payment). Also note that pretty little 2% net profit margin, which is up to about 6% for the six month period ending June 30th, 2012. That is something other companies riding on the mobile/social-valuation-bubble do not have. (E.g., Yelp (NYSE:YELP), Pandora (NYSE:P), Trulia.)
The company is also still paying its employees with stock based compensation to a great extent. For the period ending June 30th, 2011 23.604M shares were used in calculating the diluted income per share figure. For the same period in 2012, the number was 31.163M -- a huge dilution for current shareholders.
Competition - The Online Real Estate Space Is (Very) Crowded
Competition is hazardous for all investments, so let us list the players within the "online data aggregation of real estate information" business:
I'll stop at 15, but trust me there are more.
To borrow from its rival Trulia's S-1, this competition exists within a larger industry context:
"Borrell Associates...estimated in an August 2012 industry paper that $23.7 billion would be spent in 2012 on real estate-related marketing in the United States. According to...[the] National Association of Realtors, 88% of home buyers used the Internet to research homes. However, according to the Borrell Associates report, only 55% of the real estate marketing dollars in the United States were projected to be spent online in 2012." (Trulia S-1, p. 3)
Perhaps these companies do have some room to grow. Yet, even while I say this, the wise words of Warren Buffett echo in my ear:
"I've given talks in the past where I carry with me a 70 page, tight printed, list and it shows 2000 auto companies. Now at the start of the 20th century, if you had seen what the auto was going to do to this country, the impact it would have on your children and grandchildren and so on -- it transformed the American landscape. But of those 2000 companies, 3 basically survive -- and they have not done that well. So how do you pick out 3 winners of 2000?" (Warren Buffett Speaks to UGA Students, video)
How do you pick 1 winner out of 15?
Valuation
Of all the recent mobile/social companies to have IPO'd, I have liked Zillow the most -- not in terms of price and value, but as a company. But when we value Zillow, we still need to be prudent. We need to ask ourselves, how much money can I get back tomorrow for investing today? We need to make sure that we are not asking ourselves, can I get someone else to pay me more for these shares tomorrow, than today? We want to ask the first question -- that is the only way in which we can be (most) certain of the preserving our capital.
After a demonstration it should be clear that Zillow's price is too high and will likely fall -- hopefully to such a point as to make the shares attractive.
Let us assume the following:
Zillow's growth rate continues indefinitely (82% sales growth)
Zillow's profit margins reach 10% next year
Zillow's share count and share price do not change (indefinitely)
Then let us ask, how soon can it grow into its valuation? Or, how long will it take it to become "fair valued" [2]. Bold years are projected.
| | | | | | |
| --- | --- | --- | --- | --- | --- |
| | Revenues | Profit Margin | Profit | Market Cap | P/E |
| 2010 | $30,467 | -22% | ($6,703) | | |
| 2011 | $66,053 | 2% | $1,321 | | |
| 2012 | $101,196 | 6% | $6,072 | $1,330,000 | 219.05 |
| 2013 | $184,429 | 10% | $18,443 | $1,330,000 | 72.11 |
| 2014 | $336,122 | 10% | $33,612 | $1,330,000 | 39.57 |
| 2015 | $612,581 | 10% | $61,258 | $1,330,000 | 21.71 |
| 2016 | $1,116,428 | 10% | $111,643 | $1,330,000 | 11.91 |
If Zillow can continue growing revenues at a rate of 82% year-over-year, it would still take until about half way to 2016 for their valuation to get near fair value. That also assumes an improvement with their profit margin. For me, now that the company is making a profit, sometime between now and four years out there will likely be a better buying opportunity to buy the shares -- hopefully institutional analysts overshoot and Zillow misses "estimates," thereby giving long-term thinkers the opportunity to buy. If, of course, Zillow's current trajectory continues.
Conclusion
Zillow is a company to watch. It is entirely conceivable that a single hiccup, like missing a growth target, could disproportionately cause a sell off in the shares. Watch for the sell off -- and buy at a reasonable valuation to protect yourself on the downside.
Free-Cash-Flow = FCF = Operating Cash Flow - Capital Expenditures
Fair valued is defined as the average FCF yield of the DJIA (excluding financial companies) which currently stands at about 7%. In this instance, let us say profit is a proxy of FCF.
Disclosure: I have no positions in any stocks mentioned, and no plans to initiate any positions within the next 72 hours. I wrote this article myself, and it expresses my own opinions. I am not receiving compensation for it (other than from Seeking Alpha). I have no business relationship with any company whose stock is mentioned in this article.