Shares of 'pay as you go' telecom carrier, MetroPCS Communications (PCS), have had a dream run since our last report on the company, and have gained over 80%. Despite the stock trading close to its 52-week high of $12.5, we reiterate our previous stance on the stock. We are bullish on the company based on its consistent revenue growth, which has reflected positively in its earnings growth, a consistent increase in ARPU, as well as improving churn, despite the absence of contract requirements.
As mentioned previously, the company has been posting good financials, despite losing customers along the way largely due to its weaker presence in the next generation network buildout. It has lost customers to carriers like AT&T (NYSE:T) and Verizon (NYSE:VZ) due to the customer expectations for high speed 4G services, and the much higher market coverage (almost 400 markets for Verizon) is hurting the 'pay as you go' carrier. However, the recent statement given by the company's chief executive, Roger Linquist, at an investor conference, was taken on rather positively by the market. He had mentioned that customer cancellations were on the decline in the third quarter, and more and more customers were using the company's services for their data needs. A similar sort of announcement was made when the company announced its second quarter results, claiming that subscribers are "flocking" to its faster 4G services. The company also said that almost 8% of its subscribers were on 4G LTE services by the end of the second quarter. Interesting to see will be how far up that number has gone now that we approach the end of the third quarter. The price wars among telecom carriers have become fierce, and MetroPCS has done well to keep up in terms of its various service plans. Recently, it announced its $55 unlimited 4G plan, which is by far the cheapest among other carriers, and it comes with other facilities like no contracts required and no activation fees. And of course, PCS and Sprint (NYSE:S) share the crown for offering unlimited data to their customers. The plan, even though promotional and available for a limited time only, will definitely help boost its customer numbers, as well as customer retention.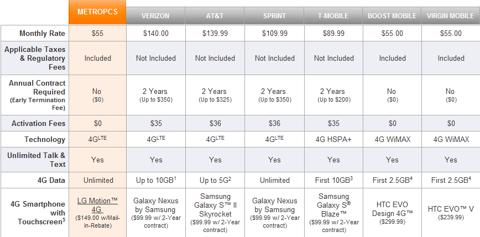 The reason cited for the 186,000 customer losses was that the company had focused more on generating EBITDA, as opposed to customer growth, which is exactly what happened, with the company generating an EBITDA growth of almost 35% in the quarter recently ended. However, in the third quarter, we expect the customer numbers to improve as well, with its cheaper plans and 4G rollout nearing completion. Average revenues per user have been consistently rising, with the company reporting a quarter ARPU of $40.62, versus 2Q2011's ARPU of $40.4. Even though the company has a higher churn than other telecom carriers due to the absence of long term contract requirements, it posted a healthy 50 basis point drop in churn in the second quarter.
Roger Linquist's comments on declining customer cancellations may be well founded, and we will soon know for sure when the company announces its quarterly results in the coming days. We believe the company's unlimited data offerings at cheaper rates will benefit PCS going forward, considering that other carriers are phasing out such offers. The stock is trading at cheap valuations as reflected in its low P/E multiple of 13x, as compared to its five-year median forward P/E of 15x. The stock is also undervalued based on its P/S multiple of 0.85x as compared to the industry's 1.3x and Verizon's 1.15x.
Disclosure: I have no positions in any stocks mentioned, and no plans to initiate any positions within the next 72 hours.
Business relationship disclosure: The article has been written by Qineqt's Telecom Analyst. Qineqt is not receiving compensation for it (other than from Seeking Alpha). Qineqt has no business relationship with any company whose stock is mentioned in this article.