Some of the best investments and trades in the market often follow in the footsteps of successful, well-known bigger money investors. More often times then not, their investment ideas can give retail investors good ideas to follow. There is no guarantee that what many well-known investors buy will be successful, but longer term trends seem to indicate many of their investments are.
Isaac Blech is well known biotech investor from the 80s and 90s who took years off to focus on his family and things in life that mattered most to him, and has just recently returned to capital investing.
As a biotech industry pioneer, he helped fund seven companies, all of which were subsequently brought public. These companies are responsible for major advances in a number of diseases including the diagnosis and/or treatment of cancer, chlamydia, sexual dysfunction, cystic fibrosis and AIDS. Their combined value is in excess of $30 billion.
Genetic Systems Corporation, which he helped found with his father and his brother David Blech, was built around promising scientists, including the high profile microbiologist Robert Nowinski. It developed the first inexpensive and accurate test to diagnosis sexually transmitted diseases using monoclonal antibodies, allowing tens of thousands of babies to be born to women who otherwise would have become sterile from pelvic inflammatory disease.
In 1985, Bristol-Myers Squibb (NYSE:BMY) bought Genetic Systems for $294 million in stock two weeks after Eli Lilly (NYSE:LLY), its rival, had bought Hybritech, another monoclonal-antibody company, for $350 million.
Mr. Blech's other achievements include:
Celgene Corporation (NASDAQ:CELG) - Blech was a founding shareholder of Celgene, which has introduced two major cancer drugs and has a stock market valuation of approximately $27+ billion.
ICOS Corporation - ICOS discovered the drug Cialis and was later acquired by Eli Lilly for over $2 billion. Blech was a founding shareholder.
Nova Pharmaceutical Corporation - Nova developed a treatment for brain cancer and subsequently merged with Scios Corporation which was later purchased for $2 billion by Johnson and Johnson (JNJ). Blech was a founding shareholder in Nova Pharma and a member of its Board of Directors.
Pathogeneses Corporation - Pathogeneses created TOBI for the treatment of cystic fibrosis and was later acquired by Chiron Corp for $660 million -- Blech was a founding shareholder.
Blech has also paired up a couple of times with Dr. Sol Barer, who was the driver behind convincing scientists at Celgene to put faith in thalidomide, banned long ago for causing severe birth defects, in a bet that certain aspects of the drug could be used to fight disease.
In this write up, I will focus on the 2 companies Blech has made a substantial investment in:
Medgenics (MDGN) pps: $11.28 Market cap: $131.11M
Medgenics is a protein-therapeutics medical technology company engaging in the research and development of products in the field of biotechnology. Founded in San Francisco, the company develops the Biopump Platform technology to provide sustained protein therapy for the treatment of various chronic diseases and conditions, including anemia, hepatitis, hemophilia, multiple sclerosis, arthritis, pediatric growth hormone deficiency, obesity, diabetes, and other chronic diseases or conditions. Its Biopump Platform technology converts a sliver of the patient's own dermal skin tissue into a protein-producing Biopump to produce and deliver therapeutic proteins.
In addition to treatments for anemia, hepatitis and hemophilia, Medgenics plans to develop and/or out-license a pipeline of future Biopump products targeting the large and rapidly growing global protein therapy market, which is forecast to reach $132 billion in 2013. Other potential applications for Biopumps include multiple sclerosis, arthritis, pediatric growth hormone deficiency, obesity and diabetes.
Medgenics believes that its technology can offer effective protein therapy at a substantially lower cost than repeated injections and will therefore appeal to and offer benefits to doctors, patients, and third-party payers. They can do this by increasing efficacy. The Biopump is designed to maintain blood protein levels within the intended dose range by sustained protein production over a period of several months.
I first featured Medgenics in June of this year when the company was selling for $7 a share. After my article and substantial company news, the stock hit a high of around $16 in less than 3 weeks, before retracing back down to where it trades today, around $11 a share, of which Isaac owns a substantial block.
Let's look at the most advanced portions of the pipeline for Medgenics and the types of diseases they treat.
Epodure:
This drug that uses the Biopump technology was created for the treatment of anemia in dialysis patients. It produces and delivers erythropoietin which is a hormone produced in the kidney that has improper levels in patients with anemia. From a single administration, Epodure has demonstrated elevation and stabilization of hemoglobin levels in anemic patients for six to more than 36 months in a Phase I/II dose-ranging trial, and has received approval of a Phase IIa trial in dialysis patients due to launch in Q2 2012 in Israel. An Investigational New Drug application has been cleared by the FDA to initiate a Phase IIb study to evaluate the safety and efficacy of Epodure in the treatment of anemia in dialysis patients in the U.S. Epodure looks to eliminate frequent, costly and inconvenient injections of erythropoietin (EPO).
Andrew L. Pearlman, Ph.D., President and Chief Executive Officer of Medgenics, seems very encouraged based on his comment about what Epodure brings to the table.
Filing for the anemia indication of our platform technology is a key step not only for Epodure, but helps pave the way for multiple future indications that address multi billion-dollar markets.
Infradure:
The company filed for Orphan Drug designation on April 23rd this year, and on June 20th, the company announced it received approval from the FDA for the orphan drug designation for Infradure to treat Hepatitis D, a serious liver disease caused by the hepatitis D RNA virus.
Some key points to consider about Medgenics:
Innovative med-tech company developing sustained protein therapies for chronic diseases utilizing proprietary "Biopump" technology.
"Biopump" provides for continuous protein production and delivery from patient's own skin.
Designed to be better, safer and cheaper, replacing scores of injections, in $130b protein market.
Potentially offering major advantages in treating a wide range of chronic diseases starting with anemia, hepatitis and hemophilia.
Proof of concept shown in patients: 6 months to 3 years sustained treatment.
3 lead products address markets >$16B/yr in anemia, hepatitis and hemophilia.
Epodure Anemia/EPO - Completing Phase I/II in Israel, cleared for Phase IIa trial in dialysis patients in Israel commencing in Q2; IND cleared for Phase IIb in USA.
Infradure: Hepatitis/Interferon alpha - awaiting clearance of Phase I/II trials in Israel to treat hepatitis-C in Q2; filed for Orphan Drug Designation in hepatitis D.
Hemodure: Hemophilia/FVIII - being developed as a sustained Factor VIII therapy for the prophylactic treatment of hemophilia.
Reimbursement: aiming at replacement value of current therapy.
Clinically demonstrated: one treatment can relieve anemia for 6-36 months.
US FDA Clearance for Phase IIb Trial in dialysis patients with anemia.
IP protection: 30+ issued and 70+ pending patents.
The Biopump method is certainly a novel approach, which differs from the following 2 HCV companies and their treatments:
Gilead Sciences (GILD). Gilead's GS-7977 plus ribavirin HCV genotype 1 Phase 2 to date has shown no detectable virus after 12 weeks of treatment, but at the end of treatment the majority of patients relapsed. GS-7977 plus BMS-790052 showed high hepatitis C cure rates: >90% for genotype 2/3 and 100% for genotype 1. This is a step in the right direction here for Gilead. However, some oral tablet treatments in clinical testing for HCV have seen some setbacks.
Idenix Pharmaceuticals (IDIX) treatment IDX184 is Idenix's lead product candidate for the treatment of HCV. It is a once-daily, oral HCV nucleotide polymerase inhibitor based on Idenix's proprietary liver-targeting technology. This technology enables the formation of high levels of nucleoside triphosphate, the active form of the drug, in the liver to potentially maximize drug efficacy and limit systemic side effects with low, once-daily dosing.
On August 16th of this year, Idenix had a perceived set back on news that the U.S. Food and Drug Administration had partially halted a Phase II clinical trial for its drug IDX184 over safety concerns.
Pipeline for the Biopump Platform: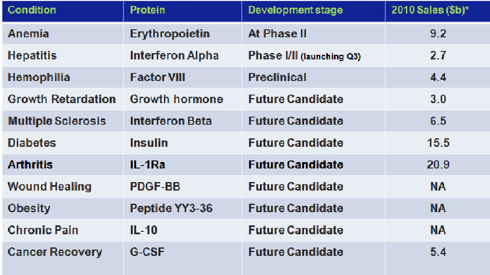 Mr. Blech has been involved with selling some of his former companies to larger pharmas at a nice premium, so a buyout 3 years or so down the line here looks like a possibility. The Bio-Pump is cutting edge technology. I think the only real possible downside to it would be in terms of patient compliance (besides the standard clinical trial risks) -- but with oral treatments in clinical trials for HCV having some issues lately, the Bio-Pump might end up being the best solution -- time will tell.
BillMyParents' (BMPI.OB) pps: $0.704. Market cap: $69.31M.
Blech is the leading shareholder at BMPI with beneficial ownership of more than 38 million shares, and has invested millions into the company in the form of equity injections and/or convertible notes.
BMPI's management team is backed by a highly experienced early-stage investment team lead by Blech, who is on the company's Board of Directors. He has put his single largest upfront investment into BillMyParents, Inc. Investing in BMPI marks a change for Blech, as he has always invested in strictly biotech companies.
Blech was responsible in part for bringing in a new CEO, Michael McCoy, who joined the firm after leaving his position as President of Wells Fargo & Company's (WFC) credit card division. At the time of his departure from Wells Fargo, McCoy was responsible for $17 billion in receivables and approximately 4,000 employees.
BillMyParents, Inc. provides payments solutions to teens, young adults, and their parents. It offers Spend Smart card, which provides a way for teens and their parents to learn how to spend smart. The company was formerly known as Socialwise, Inc. and changed its name to BillMyParents, Inc. in June 2011 to reflect its business and lead product.
BMPI allows parents to set up recurring allowances on their teen's SpendSmart Card. This allows parents to instantly cancel money on the quasi debit card in case "Junior" does not do his chores -- as one example how the card works. This type of idea is something America needs at this time -- teaching teens to spend responsibly, while allowing parents to monitor their children's spending. Many parents these days are so busy working 2 jobs or more just to get ahead -- leaving them less time to watch what their children are involved with. BMPI can help with time effectiveness and much easier for parents to better watch what their children are doing -- at least money wise.
The card is also good for birthdays, special occasions, or for parents with teens living in different households. The card is not a pre-paid debit card, but a totally monitored and parent controlled spending solution for their children -- parents can instantly add and remove money on the card via a web interface.
With the tremendous track record of the major stakeholders, this company could see exponential growth in my opinion. The reason is that any company involved with a unique way to use credit/debit cards has several potential revenue streams. The main way credit cards make money is the fee they are charging the companies accepting its card. Some people don't realize that every time you use a debit or credit card, a percentage that purchase amount goes to the bank who issued the card and/or the issuer network i.e. Visa. So, Bill My Parents would be making money in an automated way on each transaction, meaning there isn't a lot of overhead. High profitability in this market space is why Visa has a market cap of around $90 Billion dollars.
Another way this company in particular can make a lot of money is that they will charge $3.95 per month for all of the additional benefits of using their product. If you consider the risk of a young person losing cash or having it stolen, this fee can easily pay for itself in my opinion. The easiest scenario I can think of related to this is if the young person goes on some sort of trip which may include the necessity for having quite a bit of money accessible. I remember feeling a lot of nervousness carrying around $50, $100, or more in a situation like this knowing that losing it or having someone steal it would mean that my fun trip was now ruined. In addition, I'm pretty sure many parents would like the peace of mind knowing there is no way their child is spending whatever money you've given to them on behavior such as gambling, drinking, or drug use. Avoiding these possibilities by tracking what they buy with your money can lead to much more responsible behavior, and far less "headaches" for parents to deal with.
Features of the SpendSmart card:
Strict Spending Limits and Easy Monitoring.
Teens can't spend more than their prepaid balance. Parents can monitor spending in real-time with email and text alerts and never worry about over spending -- no overdrafts.
No Credit Checks and No Credit Risks.
Because the card is prepaid and does not employ the use of credit. There are never any credit checks performed. Additionally, since there are no overdrafts, use of the card cannot affect the parents or teen's credit history.
Parents can Instantly Lock and Unlock the Card.
If parents see something they have questions about or a purchase that looks questionable, they can lock and unlock the card immediately.
Safer Than Cash with Lost Card Protection.
Teens tend to lose things -- if the card is lost or stolen, the money on their card is not lost. The card can be replaced with the click of a button.
On August 6 of this year, Acceleron Equity initiated coverage on shares of the company and issued a buy rating on the stock and set a $3.30 price target. If BMPI can manage to sign a big time teenage celebrity, I strongly feel this price target can be reached
On August 30th, 2012, the company announced the appointment of entrepreneur Jesse Itzler to the company's Board of Directors.
Mr. Itzler is the co-founder and former Vice Chairman of Marquis Jet Partners, the world's largest private jet card company which sold to Net Jets/Berkshire Hathaway in 2010. He recently created the brand incubator and marketing firm The 100 Mile Group, which he serves as the managing member. The 100 Mile Group's notable ventures include, among other projects, ZICO Coconut Water, Voli Light Vodkas and Sheets Energy Strips, which was co-founded with LeBron James.
Mr. Itzler certainly has years of successful experience helping to grow company brand names with effective promotion, so his appointment to BMPI'S board is definitely a very good step in the right direction as the company moves forward.
The trading volume for BMPI has been picking up a lot lately, which might indicate relevant news could be on the way.
It's my opinion that it is paramount BMPI finds a way to reach young teens and their parents via proper promotion. BMPI is not selling a product like an iphone, but rather offering a payment solution that could offer great benefits to both parents and teens. I strongly feel the best way for BMPI to reach its intended market would be for the company to sign a well-known celebrity that would cater to the "MTV generation." It would also be beneficial for the company to sign a well-known "parent figure" celebrity that parents can easily relate to as well. Branding is going to be the key driver for BMPI here -- if the company can successfully brand its SpendSmart card, then a longer term higher valuation would be attainable -- if not, then the stock is going nowhere.
Blech seems to think both companies are worth making large investments in. He has proven himself in the past as a successful capital investor, and while I will reiterate that this fact offers no guarantees his current investments will see the same success, it's a good bet in my opinion based on his prior success, they will.
Disclosure: I have no positions in any stocks mentioned, and no plans to initiate any positions within the next 72 hours. I wrote this article myself, and it expresses my own opinions. I am not receiving compensation for it (other than from Seeking Alpha). I have no business relationship with any company whose stock is mentioned in this article.
Additional disclosure: Family member is long BMPI.OB Disclaimer: This article is intended for informational and entertainment use only, and should not be construed as professional investment advice. They are my opinions only. Trading stocks is risky -- always be sure to know and understand your risk tolerance. You can incur substantial financial losses in any trade or investment. Always do your own due diligence before buying and selling any stock, and/or consult with a licensed financial adviser.