Facebook (NASDAQ:FB) is an online community where people can get in touch with their friends, families, discover what is going on in the world around them, and share with others what matters to them. I often call it a "gossip" place as I have observed that my friends could sit hours browsing Facebook for friends' updates. It is definitely a powerful social networking site.
As of June 2012, Facebook had $13.3 billion in shareholders' equity, $8 billion in marketable securities, and $2 billion in cash. Facebook generated TTM revenue of $4.3 billion and TTM net income of $577 million. In its business operation, it often uses Monthly Active Users (MAUs) to define growth in the business. A MAU is a registered Facebook user who logs and visits Facebook through its website or a mobile device. Facebook had around 955 million MAUs in June 2012.
Currently, Facebook is trading at $20.79/share; the total market capitalization is $44.54 billion. With 955 million MAUs in June 2012, the market thinks that each MAU would be worth around $46.6. It doesn't seem to be pricey. However, how to monetize those users to translate into the bottom line in a meaningful way is still a challenge for Facebook. At the current price, Facebook is valued at 133x P/E, 3.3x book and 29.3x cash flow. In addition, it is important to figure out whether Facebook will be "sticky" enough to keep its users and grow its MAUs. Historically, it has shown that it has attracted a growing base of users: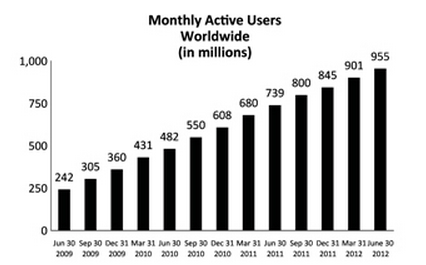 The trend might continue in the future, or might not. We just do not know for sure. Charlie Munger, vice chairman of Berkshire Hathaway, once mentioned on CNN that he would not invest in Facebook: "I don't invest in what I don't understand. And I don't want to understand Facebook … I don't want people putting all this personal stuff into a permanent record when they are 15 years of age. I think it's counterproductive." And Warren Buffett, the most successful investor ever, commented: "Anytime you get a truly extraordinary business - and it's obvious it's an extraordinary business - they're the hardest ones to value because the question is, is whether five or 10 years from now that they will be as extraordinary as they are now."
Yesterday, Goldman Sachs has lowered the price target for Facebook, from $42 to $37 per share. Goldman Sachs mentioned in its report that it was adjusting P/FCF multiple down, from 80x to 65x and EV/EBITDA from 25x to 20x. It was due to the movement in comp group share prices in the last few months. At the price of $23, Facebook is trading at 13x CY13 EV/EBITDA forecast, much lower than Goldman Sachs' comp group mean of 25x. Goldman Sachs believed that with the next lockup ending soon, it would expect the shares to remain volatile over the next few months.
Facebook closed the day at $20.79, the reduction of more than 9% from the previous day. Within yesterday, Facebook shares fell more than 10% at the day's lows, triggering a short-sale circuit breaker. The short-sale restriction will remain valid until the end of today. This would help the share price after 17% of Facebook's float was shorted by 31st August.
In short, Facebook can be a good stock for traders, as its share has been quite volatile with no clear value tag on the business. The short-sale restriction might bring the share price higher today, and Facebook share price will be likely to move higher in the next several months. However, as a value investor, I couldn't figure out the intrinsic value for the business over the long run. Personally, I would not buy Facebook for my portfolio.
Disclosure: I have no positions in any stocks mentioned, and no plans to initiate any positions within the next 72 hours. I wrote this article myself, and it expresses my own opinions. I am not receiving compensation for it (other than from Seeking Alpha). I have no business relationship with any company whose stock is mentioned in this article.