This week's Barron's had an interesting feature article about Chicago Bridge & Iron (NYSE:CBI).
One of the points made in the article that seemed to be in the vein of a recommendation was a 55% non-US revenue base. The company's 10-K provides some detail on that which is presented in the table below: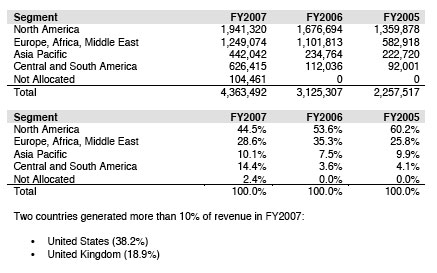 The company changed from 60% US revenue in 2005 to 45% US revenue in 2007, mostly due to a build-up of revenue in its Central and South America segment.
We note that the company's revenue is rather "chunky" because of the large size of the projects it builds.
If it was to receive some large US projects, the revenue mix could swing in the other direction and be more than 60% US.
We find a global mix of business attractive in a company. However, we wouldn't place too much emphasis on any particular US to non-US revenue split for CBI, because the geographic split could be quite different from year-to-year. The more important geographic aspect of CBI is the company's ability to compete globally for major projects in their mostly energy related business segments.
Their $7 billion backlog, which is more than 18 months work (based on 2007 revenue), is a good thing.
The Barron's article points out that the company has been financially injured by cost overruns in the UK. You can assume that sort of thing away for the future, but we did not find any assurances that it won't happen again.
It clearly identifies cost overruns as a continuing business risk in the Risk Disclosure section of the 10-K.
The matter of exposure to fixed bids and possible cost overruns deserves careful attention by anyone considering an investment in CBI.
Certainly, those companies like CBI that are involved in energy infrastructure have a strong tail wind in terms of global needs and probable capital expenditure.
READ THE 10-K's AND 10-Q's:
When we look at a company, we tend to extract descriptive information from the 10-K for our own use as conceptual background to keep in mind when we think though fundamental valuation issues.  It's mostly information that is in the 10-K, but we boil it down and organize each company's information in the same format for easy retrieval.
It's tempting to rely exclusively on predigested information from reporting services, such as S&P or others, but it's hard to beat reading the SEC filings yourself. You should read the analysis and summaries from various services, but read the source documents too.
One of our clients asked a few questions about the company after reading the Barron's article.  We weren't familiar enough with the company to answer responsibly so we put together a simple qualitative summary description of CBI from their 10-K . If any of our readers care to have it, just send a email request and we'll send it along.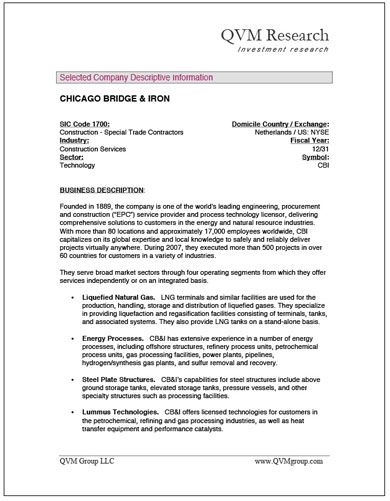 The report is five pages and covers:
Classification,
Business Description,
Key Customers,
Competitors,
Geographic Revenue Segments,
Environmental Statement,
Business Risk Disclosure,
Company Contact Information.
The report is purely descriptive; does not deal with financial statements, earnings or valuation; and does not make an investment recommendation. However, it does give a fuller business profile of the company than the Barron's article or any of the free online sources, such as Barron's, Reuters, Yahoo Finance and others.  It is not as useful as reading the 10-K yourself.