Nu Skin Enterprises (NYSE:NUS) has fallen by over 25% in the last two months because of reports issued by short seller Citron Research. NUS has been up over 130% in the last five years and is expected to be a strong performer in the future. The company sells skin creams and vitamins and is similar to Avon (NYSE:AVP), Herbalife (NYSE:HLF), or Amway in that it uses individual agents that earn commissions to sell its products directly to consumers.
Debunking the Fiasco[s]
Citron claims that NUS is operating illegally in China regarding multi-level marketing. In multi-level marketing, a higher level distributor develops/recruits lower level sales agents under them. Both the higher and lower level agent get a commission on sales. The multi-level aspect of this arrangement is illegal in China. NUS complies with the law there by agents that have a salary, benefits, and work directly for the company. NUS even has retail locations there, unlike in most other markets where it operates.
Chinese direct selling laws came about in 2005 and NUS has been operating there without any problems. Ever since its first license in Shanghai in that year, NUS has been allowed licenses in over 50 cities across 15 provinces. Avon, Herbalife, and Amway also operate without any problems. NUS outlines its Chinese operation here.
As if this claim was not enough, Citron followed up last week with a letter to the US FDA stating that NUS's labeling on its aging products is illegal in the US, totally unrelated to its China claim. This was a cheap opportunity after the FDA recently sent an enforcement letter to L'Oreal, the biggest cosmetic company in the world, regarding its own anti-aging products. The FDA broke precedent with L'Oreal in an industry notorious for over embellishing product claims. My guess is that L'Oreal adds some equivocating language to its packaging such as, "looks as if aging lines improve," or, "encourages anti-aging," and calls it a day.
Meanwhile, the fundamental managers that drive the market are considering whether they want to put their money into NUS for the long term. If you are running a portfolio that holds NUS, you don't want to face your boss in a year with even the most remote of chances that Citron's claims hold. So they dump the stock and move on to something else. There is just a stigma that they would rather avoid. Thank you, Citron Research.
So there may be a good buying opportunity here worthy of a further look.
Valuation
NUS is a growth story. The skin care segment is expanding globally, especially in emerging markets. There is an income elasticity effect as more consumers enter the middle class and demand more cosmetic type products. See the graph below. As you can see, the world skin care market has been growing at about 7.5%+ for the past five years even despite the global financial crisis. NUS competes against Avon, Mary Kay, and Amway as direct sellers.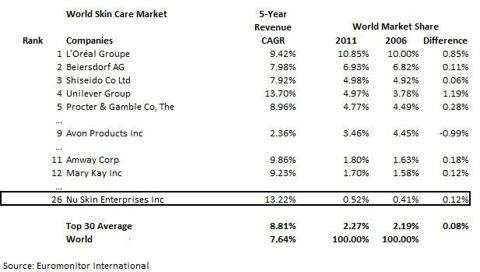 The chart also tells a story of struggling Avon, which has lost about a full point of market share in the global market. Avon has hired a new CEO recently after poor leadership from previous management. If ever there was a time to make inroads against a major rival, this was it.
There are a few global behemoths that dominate the skin care segment with the biggest having a market share of 10.0%. NUS represents a smaller share of the market and can support higher sales growth rates. In fact, NUS has one of the highest CAGRs among the top 30 in the market over the previous five years. With a high industry growth rate and the leader in the direct selling category, Avon, stagnating, there appears to be running room for NUS to expand sales.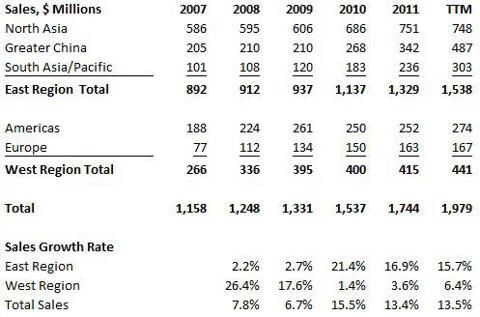 Per above, I break down NUS's worldwide sales between the East Region and West Region. For the West, I estimate a sales growth rate of 4.5%. This region is currently growing sales at 6.4%; I suspect that they can grow at 4.5% given inflation, expected new product innovations, and continued market share improvement. For the East, I estimate a sales growth rate of 9.0%. NUS plans to continue investing heavily in China and incomes are growing quickly there, propelling many people into the middle class. The East's current sales growth rate is 15.7% and I project it to be 9.0% on average in the next ten years. This results in total sales averaging an 8.1% growth rate for ten years for the whole company. This is not far from the industry growth rate as it is now.
China will be important for sales growth and NUS is focusing its attention there. A recent McKinsey study said that Chinese consumers will grow spending on personal products by 13.9% per year until 2020.
An additional favorable fact about NUS is that its subscription revenue has risen over time. This revenue is recurring and habitual. Subscriptions currently account for 56% of sales; ten years ago, it was 13%. This gives me more confidence that these growth rates will manifest themselves as new sales are built upon recurring sales.
For the discount rate, I use 15%. The business risk counterweights the fact that the company has little debt. If I put my money away for 10 years in a growth situation, I want to be compensated for it.
NUS has taken advantage of operating leverage as its sales have increased. Over the past few years, sales have grown faster than costs; the result is that overhead has been absorbed more efficiently, resulting in greater profitability. There is little incremental capital needed for growth and NUS's increasing scale is leading to efficiencies. The result is an improving net profit margin and improving ROIC per below.
| | | | | | |
| --- | --- | --- | --- | --- | --- |
| | 2008 | 2009 | 2010 | 2011 | TTM |
| Sales Growth Rate | 7.8% | 6.7% | 15.5% | 13.5% | 13.5% |
| Net Profit Margin | 5.2% | 6.8% | 8.9% | 8.8% | 10.4% |
| ROIC | 13.3% | 17.3% | 23.4% | 22.8% | 28.4% |
I model a profit margin that continues to improve from 10% to 13% at the end of ten years. I expect the capex rate to be higher than the depreciation rate over ten years by 1.5 times, which I deduct from the profit margin in calculating free cash flow. It appears that the company has ample working capital now and incremental investments in this category were modeled in later years.
The result of these assumptions is a value estimate of $2.54 billion or about $44 per share; that is about 17% greater than the current market price.
Now that discount might not be spectacular, but the reward profile of this stock is far wider on the high side. My sales projections, margin assumptions, and discount rate could have been more ambitious. Better than expected sales growth and margins are a real possibility given an already high industry growth rate, NUS's increasing ability to absorb overhead, more Avon defections, and an improving global market share. In fact, eight analysts listed on Yahoo have an average target price of $62 as compared to the current $38 market price. My estimate was less than theirs but both estimates would indicate a buying opportunity.
An added kicker here is that management is very friendly towards share repurchases. The board in May expanded the share repurchase program by another $250 million and the company repurchased $113 million last quarter. The remaining amount still authorized is 5.9% of the current market cap. In the future, because the company has such an ability to generate cash and management's demonstrated willingness to repurchase shares, I expect it to further improve its EPS as a sizeable amount of shares are taken out of the market.
If management continues to repurchase shares at this rate each year and it achieves its sales growth and higher margins, then investors in this stock should reap above-average returns at the current market price. NUS has been beaten down by short seller Citron Research in recent months, but that has only presented a good buying opportunity for the long term investor.
Disclosure: I have no positions in any stocks mentioned, and no plans to initiate any positions within the next 72 hours. I wrote this article myself, and it expresses my own opinions. I am not receiving compensation for it (other than from Seeking Alpha). I have no business relationship with any company whose stock is mentioned in this article.