We were discussing OCZ Technology (NASDAQ:OCZ) today in the office. The ultimate consensus? What an utter mess.
OCZ went from the rosy guidance of a company increasing its gross margins and revenues to its current calamity of:
1. A rumored buyout that was botched (the CFO resigning shortly afterwards)
2. A NAND flash shortage
3. The CEO of OCZ being fired via the Board of Directors.
What everyone is scratching their heads about: Can the company survive? Do they need to sell the company? Will they do a secondary offering? Just how ugly will next quarter be?
Company Strategy -- The Race for Revenue
OCZ has had a string of losses with only one quarter of profitability in the last few years. Why would any diligent CEO / CFO team try to increase market share at the expense of profits in the SSD market?
The single idea to consider would be if OCZ had to increase revenues quickly to grab the attention of the NAND flash manufacturers. Perhaps the line of thought was that increasing revenues to a massive scale might lead to a NAND deal which would give OCZ a dedicated supply of precious NAND. The NAND supplier would get a dedicated customer that would need a lot of its flash. The question remains: at what point do the NAND manufacturers take notice of OCZ's revenues (with the corresponding potential volume) and seal a deal?
Former CEO Ryan Peterson mentioned this in the September 5, 2012 conference call: "Working on a NAND flash supply agreement. Most important thing we can do as a company".
Also, during the September 13th dbAccess 2012 conference, Mr. Peterson stated (at 05:21 into the call) "Long term, as a company, we really do need a strategic arrangement with a NAND flash Manufacturer. Without that we can't play in the broader market. We end up becoming a specialized enterprise-only player."
There you have it, straight from the horse's -- er -- former CEO's mouth. Either they form a deal and continue down the consumer/enterprise road or they throw in the towel on consumer and instead focus on enterprise much like Fusion-IO. (NYSE:FIO)
Selling The Company
Fudzilla.com broadcast a rumor that Seagate was looking to acquire OCZ which was ultimately confirmed by BSN. Somewhere along the discussions "the deal" imploded. Could it have been the founding CEO getting in the way and demanding too much? A possibility. However, for better or worse, Mr. Peterson is gone. If he was responsible for hindering a deal, that obstacle is defunct.
Not Raising Capital
Mr. Peterson stated at 23:00 during the Sept 15 Analyst day call: "We don't need money in a (NAND) shortage. What am I going to buy?" and at 23:39: "We are not going to raise capital -- certainly not raising capital at a low price."
Enlightenment will come with the October 10th earnings, when OCZ shows its cards and we know just how nasty things are.
How Grinchly Will It Be?
Eleven analysts are estimating between -$0.03 on the low end and -$0.25 loss per share on the high end, with an average estimated loss of -$0.15 per share. OCZ has 67.65 million shares in existence; this comes out to a range of:
Estimated -$2.02 Million loss on the low end (-$0.03)
Estimated -$10.14 Million loss on average (-$0.15)
Estimated -$16.91 Million loss on the high end. (-$0.25)

In the Sept 5th call OCZ stated:
"Gross margins, if you do not neg out the use of enterprise flash usage in building Vertex 4 then margins would be down. Accounting treatment is the accounting treatment, we will treat it appropriately. We will cull out those numbers. Net of that, I think the margins are generally non affected by the issue. The only effect of the shortage would be us using enterprise grade flash for Vertex 4 series. Any other effect of a shortage would really be positive to gross margins."

...

"At least on a GAP basis the gross margins will be down sequentially."
Gross margins will be down this quarter big time, but once the supply issue is solved via OCZs in-house controller, Barefoot 3, those margins should leap up past last quarter's 25.2% to the low-to-mid 30's.
Cash on hand last quarter was 43.23 Million.
New Interim CEO
Of course we do not know if the Interim CEO, Mr. Alex Mei, will institute radical change during his reign. Hopefully, OCZ will find a CEO with both proven leadership in the technology sector and one that Wall Street adores.
(Mr. Alex Mei, acting CEO)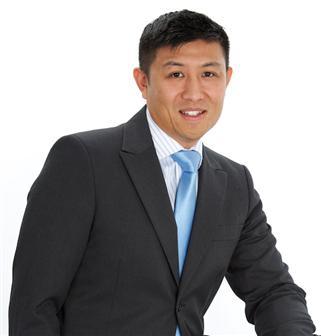 The Positive Spin
A lot of the negative news is priced into the stock. OCZ is currently trading at $3.95, a mere five cents from its 52-week low. This places OCZs market below that of even STEC (NASDAQ:STEC).
Short Interest (as of Aug 31st) is 40.8%. That is a lot of potential buying pressure from the shorts as they cover positions. The lower OCZ goes, the more likely short sellers are to cover, and that will help prop the stock up. Plus, the wild card of a short squeeze exists due to unexpected good news like a NAND deal or a buyout.
Do not think the rumored buyout by Seagate (NASDAQ:STX) or Western Digital (NYSE:WDC) (covered here) is 100% off the table, my friend. Riddle me this... if it were, why have insiders not bought or sold a single share since the company entered into a quiet period last April? If I were an insider and I thought the stock were cheap, I would be buying. A potential buyout all depends on if the board can salvage any potential deals. Of course, any acquiring company would get a great deal; as mentioned above, the stock is right above its 52 week low.
Barefoot 3
OCZs in-house controller chip Barefoot 3 is almost out and should raise margins for OCZ. Barefoot 3 can also be licensed out to 3rd parties, much like Sandforce, to capture additional revenue and very high gross margins. Mr. Peterson stated that if competitors come to OCZ looking for a controller chip he will "gladly support them."
(Barefoot 3)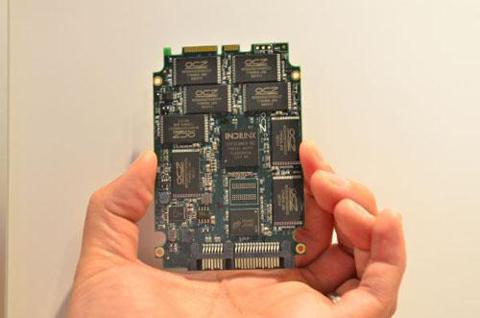 The company has also listed one of its problems: Too Much Demand (covered here).
OCZ turned over its entire consumer inventory during the ongoing shortage. This will provide cash to the company.
"We essentially ran our inventory, the flash, for our big volume products, this is agility and vertex, completely dry." -Mr. Peterson.
Conclusion
In our opinion, OCZ can take a hit this quarter and ride the tide. Sailing forward, they are going to have to steady the ship and tourniquet the bleeding of cash reserves or adjust the course and embrace the enterprise-only waters. Hopefully in a few quarters, this will just be a short summer storm.
Disclosure: I am long OCZ, STX. I wrote this article myself, and it expresses my own opinions. I am not receiving compensation for it (other than from Seeking Alpha). I have no business relationship with any company whose stock is mentioned in this article.