Jaguar Mining Inc. (NYSE:JAG) revised downward expected production at the Paciência mine in Brazii due to a four-week start-up delay to repair a tailings liner that was improperly installed. Jaguar said it now expects production of 25,000 to 30,000 ounces at Paciência down from previous guidance of 49,000 ounces.
Shares in Jaguar were down almost 6% in early Friday morning trading.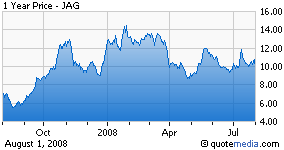 Jaguar's overall production guidance for 2008 was also lowered from 160,000 ounces to 118,000 - 130,000 ounces. Cash costs for the year are expected to average C$435 to C$450 per ounce, up from the company's prior estimate of C$353 to C$359 per ounce.
Blackmont analyst Richard Gray lowered his price target from C$18.25 to C$17 on the lower production guidance, but maintained his "buy" rating. 
He added:
On a brighter note, the feasibility study at the Caeté expansion was approved and construction of this ultimate 140,000 oz/yr operation, which will be Jaguar's third start-up in three years once it is operational in 2009, has commenced.