As oil prices seesawed through the past week, fresh uncertainty about the outlook for the beleaguered financial sector triggered another wave of volatility in financial markets.
With the exception of Friday, crude prices closed each day with a gain or loss of more than 1%, with US stocks doing likewise as sentiment waxed and waned on the back of a barrage of economic and corporate earnings reports. Economic data were mixed, whereas earnings were mostly better than feared. After all the action, the S&P 500 Index closed the week virtually unchanged, posting a small gain of 0.2%.
David Fuller (Fullermoney) re-emphasizes that the oil price is currently by far the most important factor in terms of global GDP growth. Consequently it is also a huge influence on the direction of various stock market indices, and big moves up or down have a psychological leash effect on currencies and other commodities.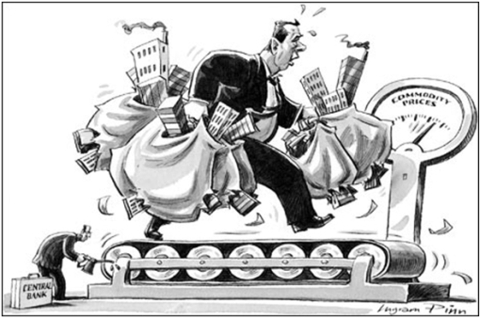 Also central to the roller-coaster ride was Merrill Lynch (MER), plunging 11.6% on Monday, prior to announcing drastic steps to right its capital position on Tuesday. Its stock fell by 9.5% to a 10-year low on the news, but then rebounded to finish the day 7.9% higher.
Traders speculated that the latest capital raise was a sign that the worst was over for financials, but Meredith Whitney, analyst of Oppenheimer & Co and "godmother" of financials, had no illusions and said in an interview that 25 institutions would have to bolster their balance sheets within the next two months.
Offering some reprieve to the financial sector, the Fed, together with the European Central Bank and the Swiss National bank, announced that "emergency" lending facilities to bolster the money markets would stay in force until January 30. The facilities were implemented to improve liquidity arising from the credit market turmoil.
Formalizing the housing bill, President Bush signed into law legislation to support homeowners facing foreclosure and to offer a lifeline to Fannie Mae (FNM) and Freddie Mac (FNM). 
Separately, the SEC is extending its temporary restriction on naked short selling on 19 financial institutions until August 12.  
Next, a tag cloud of the text of all the articles I have read during the past week. This is a way of visualizing word frequencies at a glance. It is quite obvious that the key areas last week were "banks", "prices", "inflation" and "growth", with "housing" and "financial" also prominent. As the saying goes: A picture paints a thousand words ...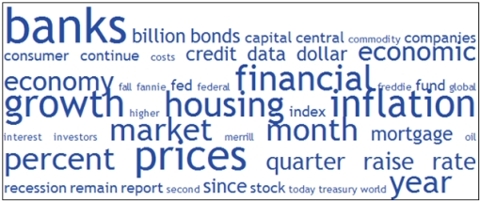 Volatility of the S&P Financials Index is as high as it has been since 1987. Gavekal states: "Spikes in volatility have often signaled a turning point." I maintain that what is good for the banks is good for the overall stock market and vice versa, and one should pay particular attention to this group. 
Stock Trader's Almanac alerts us that August typically ranks among the worst months of the year and anchors the middle of the worst four months of the year, namely July to October.
According to editor Jeffrey Hirsch:
 The month is generally weak in the first half, then stronger in the middle.
This is an exceptionally difficult market to read. In my opinion, we are still in a primary bear market, but this does not preclude powerful rallies. From a short-term perspective, a decline below the July 28 lows will cause a serious headwind for any recovery rally, whereas a drop below the mid-July lows will significantly increase the risk of another general sell-off. On a multi-year horizon, we are probably in for an extended convalescence period of relatively low returns. In short, not a dartboard market, but also not necessarily bad from a canny stock-picking perspective.
Economy
According to the Survey of Business Confidence of the World conducted by Moody's Economy.com:
 The global economy continues to skirt recession. While the U.S., European and Japanese are contracting moderately, the Asian economy continues to experience growth that is near its potential and South American growth is just below potential.

 
Economic reports released in the U.S. during the past week included the following key data: 
Real GDP increased by 1.9% in the second quarter at an annualized rate, below the consensus expectation of 2.4% growth. Over the past year, real GDP has increased by 1.8%. Growth was 0.9% in the first quarter, revised downward from 1% last month. Relative to the first quarter, trade and consumer spending were positives for growth; there was also a smaller decline in homebuilding. A large drop in inventories offset these positives to some extent.

The economy lost fewer jobs than expected in July, but it is certainly not out of the woods yet. Payrolls fell by 51,000, while losses for the previous two months were revised downward. However, the unemployment rate increased by 20 basis points to 5.7% – the highest level in more than four years.

The Institute for Supply Management's Manufacturing Index inched slightly lower to 50 for July compared with June's 50.2. The modest dip is about on par with expectations and the ISM Index is consistent with a sluggish economy that has avoided a severe downturn.

The Conference Board Index of Consumer Confidence rebounded slightly in July, rising to 51.9 from June's 51.0 (revised from 50.4).
In a research report summarizing the economic situation, Drew Matus, economist of Merrill Lynch, said:
 Recent data releases and reports suggest that the consumer will continue to be pressured on all fronts: income (or cash flow), wealth and credit. Consumers can spend using any of these buckets. However, with the labor market continuing to weaken, housing continuing to deteriorate and credit harder to come by, the outlook for spending remains bleak despite recent declines in gasoline prices.

 
In an interview with Bloomberg, Harvard University's Martin Feldstein who headed the National Bureau of Economic Research until June and serves on the group's recession-dating panel, said:
 The U.S. may now be in a 'very long' recession that will drive the unemployment rate higher, with little that the Federal Reserve can do to help. I don't see recovery on the horizon.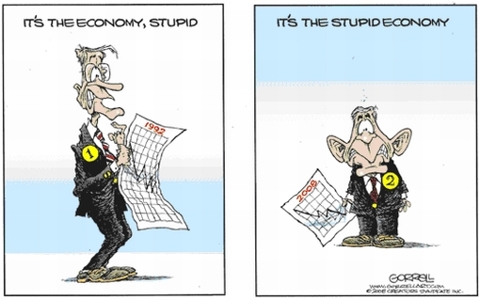 Hat tip: Barry Ritholtz's The Big Picture, July 31, 2008.
As far as the Fed's upcoming interest rate decision on Tuesday is concerned, Asha Bangalore (Northern Trust) said:
 It is nearly certain the Fed will leave the Federal funds rate unchanged at the August 5 meeting. The market expects a higher Federal funds rate at the end of the year. We do not. The details of the GDP report point to significant weakness in the economy. Against this backdrop and financial market fragility, the Fed would only exacerbate the economic situation by raising the Federal funds rate in haste. Fighting inflation will have to remain on the back burner until financial and economic conditions improve. By that time, inflation is likely to be moderating as it is a lagging economic process.

 
Asha's colleague Paul Kasriel (Northern Trust) added:
 If it walks like a recession and talks like a recession, it must be a recession. Is the Fed going to raise its funds rate target over the remainder of 2008? Not bloody likely!

 
In the Eurozone, inflation accelerated to the fastest pace in more than 16 years, with the 15-nation number rising to 4.1% in July. Furthermore, economic sentiment declined to its lowest level in five years and the manufacturing PMI dropped to 47.4 in July from 49.2 in June. (A value below 50 means contracting activity.) Germany, the largest economy of the region, seems destined to record negative GDP growth in the second quarter.
Also, the data from Britain remain grim, with the Nationwide Housing Price Index falling for the ninth consecutive month in July (down 8.1% since a year ago), consumer confidence plunging to its lowest level since the survey began in 1974, and the manufacturing PMI dropping from 45.9 in June to 44.3 last month – the lowest reading since December 1998. 
Moving to Asia, industrial production in Japan contracted 2% month to month in June, making it three down-months out of the past four. Inflation accelerated to 1.9% in June, the fastest pace in more than a decade. 
China's manufacturing PMI dropped below 50 for the first time since 2005, suggesting a contraction in manufacturing that is hurt by both slower exports and higher input costs.  
In summary, a more pronounced slowdown in global economic activity is rapidly manifesting itself.
WEEK'S ECONOMIC REPORTS
| | | | | | | | |
| --- | --- | --- | --- | --- | --- | --- | --- |
| Date | Time (NYSE:ET) | Statistic | For | Actual | Briefing Forecast | Market Expects | Prior |
| Jul 29 | 10:00 AM | | Jul | 51.9 | 50.0 | 50.0 | 51.0 |
| Jul 30 | 8:15 AM | ADP Employment | Jul | 9K | - | -60K | -77K |
| Jul 30 | 10:35 AM | Crude Inventories | 07/26 | -81K | NA | NA | -1558K |
| Jul 31 | 8:30 AM | Chain Deflator-Adv. | Q2 | 1.1% | 2.7% | 2.4% | 2.6% |
| Jul 31 | 8:30 AM | Employment Cost Index | Q2 | 0.7% | 0.7% | 0.7% | 0.7% |
| Jul 31 | 8:30 AM | GDP-Adv. | Q2 | 1.9% | 2.8% | 2.3% | 0.9% |
| Jul 31 | 8:30 AM | | 07/26 | 448K | 380K | 395K | 404K |
| Jul 31 | 8:30 AM | Chain Deflator-Adv. | Q2 | 1.1% | 2.7% | 2.4% | 2.6% |
| Jul 31 | 8:30 AM | Employment Cost Index | Q2 | 0.7% | 0.7% | 0.7% | 0.7% |
| Jul 31 | 8:30 AM | Initial Claims | 07/26 | 448K | 380K | 395K | 404K |
| Jul 31 | 9:45 AM | | Jul | 50.8 | 50.1 | 49.0 | 49.6 |
| Aug 1 | 12:00 AM | | Jul | - | 5.0M | NA | 4.9M |
| Aug 1 | 12:00 AM | | Jul | - | 5.0M | NA | 5.0M |
| Aug 1 | 8:30 AM | | Jul | 33.6 | 33.8 | 33.7 | 33.7 |
| Aug 1 | 8:30 AM | | Jul | 0.3% | 0.3% | 0.3% | 0.3% |
| Aug 1 | 8:30 AM | | Jul | -51K | -40K | -75K | -51K |
| Aug 1 | 8:30 AM | | Jul | 5.7% | 5.5% | 5.6% | 5.5% |
| Aug 1 | 8:30 AM | | Jul | 0.3% | 0.3% | 0.3% | 0.3% |
| Aug 1 | 8:30 AM | | Jul | 33.6 | 33.8 | 33.7 | 33.7 |
| Aug 1 | 10:00 AM | | Jun | -0.4% | -0.1% | -0.3% | 0.0% |
| Aug 1 | 10:00 AM | ISM Index | Jul | 50.0 | 50.5 | 49.2 | 50.2 |
In addition to the Federal Open Market Committee interest rate announcement (Tuesday, August 5) and Bank of England and European Central Bank rate decisions (Thursday, August 7), next week's economic highlights, courtesy of Northern Trust, include the following:
Personal Income and Spending (August 4): The earnings and payroll numbers for June indicate moderate growth in income (+0.2%). Auto sales fell to an annual rate of 13.6 million from 14.3 million in May. Non-auto retail sales were lackluster, excluding price-related hikes in gas and food sales. All of the available information points to a steady reading of consumer spending in July. Consensus: Personal Income -0.2%, Consumer Spending 0.5%.

Other reports:Factory orders (August 4), Pending Home Sales (August 7), Productivity and Costs (August 8).

Click here  for a summary of Merrill Lynch's economic and interest rate forecasts. 
Markets
The performance chart obtained from the Wall Street Journal Online shows how different global markets performed during the past week.

 Source: Wall Street Journal Online, August 3, 2008. 
Equities
Global stock markets, in general, ended the volatile past week in the red, with the Dow Jones World Index registering a loss of 0.6%.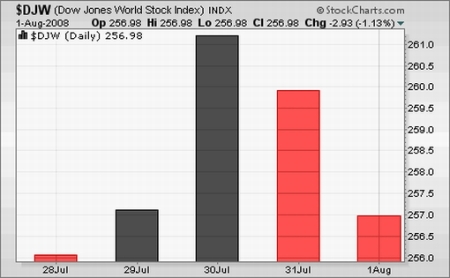 The Japanese Nikkei 225 Average was the worst performer among developed markets, declining by 1.8%. 
The emerging markets category included a mixed bunch, varying from Turkey (+14.4%), the Philippines (+2.9%) and India (+2.7%) that performed strongly, to the less fortunate markets such as Pakistan (-7.8%), Taiwan (-3.2%) and China (-2.2%).
The MSCI World Index has been outperforming the MSCI Emerging Markets Index over the past month (-2.5% versus -4.2%), the past three months (-9.4% versus -12.6%) and the year to date (-14.0% versus -16.4%). (Click here for a comprehensive global stock market performance round-up.)  
The US stock markets were mixed, with mid-cap and small-cap stocks outperforming their larger counterparts. The major index movements were: Dow Jones Industrial Index -0.4% (YTD -14.6%), S&P 500 Index +0.2% (YTD -14.2%), Nasdaq Composite Index 0% (YTD -12.9%) and Russell 2000 Index +0.8% (YTD -6.5%).
Click here or on the thumbnail right for a market map, courtesy of Finviz.com, providing a quick overview of the performance of the various segments of the S&P 500 Index over the week.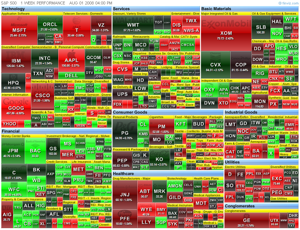 The paper products group was the best performer for the week, rising by 18%. Both members of the group, International Paper (NYSE:IP) and MeadWestvaco (MWV), rose after posting better-than-expected earnings reports. The personal products group was the second-best-performing group, up by 14%, led by Avon Products (NYSE:AVP), which reported earnings in excess of the analyst consensus estimate.
The real estate management and development group was the worst performer, down by 26%, led down by its single member, CB Richard Ellis Group (NYSE:CBG), which reported earnings substantially below expectations. The specialized finance group (-7%) was also among the underperformers. Stock exchange operator NYSE Euronext (NYSE:NYX) reported earnings that were slightly below the consensus estimate.
As far as corporate news was concerned, Exxon Mobil (NYSE:XOM) – the world's largest company by market capitalization – posted a 14% increase in net income to $11.68 billion, marking the largest quarterly profit in U.S. history. 
General Motors (NYSE:GM) declined by 14%, swinging to a massive $15.5 billion second-quarter net loss as consumer preferences shifted away from large trucks and SUVs in the face of record gasoline prices.
Fixed-interest instruments
Government bonds gained ground as the global economic outlook worsened and the prospects faded of interest rate increases any time soon.
The two-year U.S. Treasury Note dropped by 21 basis points during the week to close at 2.51%. Similarly, the U.K. two-year Gilt yield declined by 19 basis points to 4.86%, the German two-year Schatz yield by 17 basis points to 4.27% and the Japanese two-year bond yield by 3 basis points to 0.75%.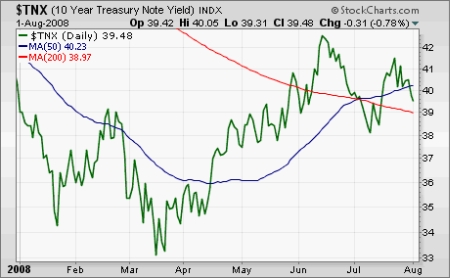 U.S. mortgage rates also declined, with the 15-year fixed rate dropping by 7 basis points to 5.97% and the 5-year ARM 9 basis points higher at 5.95%.
Credit markets eased somewhat as shown by the slightly narrower spreads of both the CDX (North American, investment grade) Index and the Markit iTraxx Europe Crossover Index. 
Currencies
Currency traders' benign view of the U.S. economic situation caused the U.S. Dollar Index to rise by 0.9%.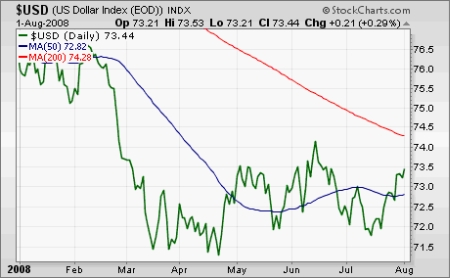 Individually, the greenback gained ground against the euro (-0.9%), the British pound (-0.8%) and the Swiss franc (-1.3%), but lost marginally against the Japanese yen (+0.2%).
The Australian dollar declined sharply on indications that the Reserve Bank of Australia would seriously consider cutting interest rates at its policy meeting next week. With the Chinese manufacturing PMI falling below 50, concerns were also raised that Chinese demand for Australian commodities might have peaked.
Commodities
Crude oil prices seesawed during the past week, with West Texas Intermediate hitting a high of $128.60 and a low of $120.80, settling the week with a 1.5% gain as a result of an unexpected drop in gasoline inventories. Oil lost 11.5% during July – the biggest monthly decline in absolute terms in 25 years and in percentage terms since 2004 – on concern that global consumption is falling amid slowing economic growth.
Platinum (-5.5%) and palladium (-4.2%) came under heavy selling pressure as poor results from the vehicle manufacturers stoked fears of much weaker demand. Gold bullion (-2.1%) experienced further weakness, but silver (+0.8%) bucked the trend.
The chart below shows the past week's performance of the various commodities.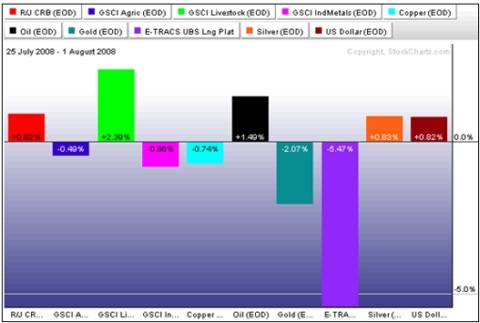 In conclusion, remember the old Boy Scout motto: "Be prepared" for all eventualities.
That's the way it looks from Cape Town.