Colgate Palmolive Company (NYSE:CL) has recently registered a strong financial performance. The company's top line, on average, increased by 6.46% in the last five years, and its emerging market exposure is also increasing. We are bullish on Colgate's business model, but the stock seems to be expensive based on its forward P/E, P/S and PEG. It also has the lowest dividend yield amongst its competitors as well as high debt levels. Therefore, we recommend selling the stock at this time, and waiting for the right entry point.
CL is a $17 billion consumer products company that serves people around the world. It has well diversified operations, with ~75% of sales coming from international operations; approximately half of its revenues are earned from developing countries. The company operates in different divisions, namely Oral, Personal and Homecare, and Pet Nutrition. The oral, and personal and homecare segments contribute more than 87% to total revenues. Colgate has earned global leadership in several of its products. Latin America contributed nearly 29% of total revenues; its operating profit margin was 28.9%.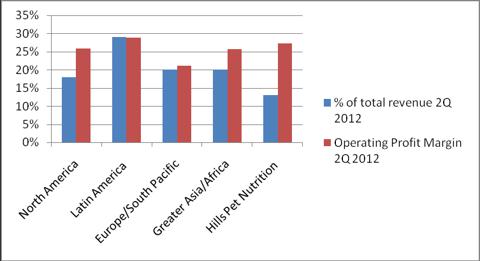 Source: Investor.Colgate.com
For the second quarter of 2012, Colgate registered sales of $4.26 billion, showing an 8% YoY organic growth, which was slightly above analyst expectations. The growth in overall sales came as a result of a 3.5% increase in prices and a 4.5% increase in volume. The company enjoyed 13% organic sales growth in emerging markets, and 2.5% in developed markets. Latin America experienced organic sales growth of over 15%; sales are expected to continue growing in the region. It has an 83% share in the toothpaste market in Mexico. Greater Asia/Africa sales growth has been strong. In India, its YTD toothpaste market share is up to 52.8%. In China, its toothpaste share increased to 33.7%, up by 1.5% YTD. Sales for the Hill's Nutrition division were up by 2%, as compared to 2Q2011. Reported EPS for 2Q2012 were $1.33, in line with expectations, up ~1% YoY. In the recent second quarter, the company increased its advertising spending by 4% as compared to the second quarter of 2011. Higher advertising spending is expected to continue in the remaining year as well, as the company is expected to launch some of its new products. Sales for fiscal year 2012 are expected to grow by 6%-7%. And it is expected to earn $5.36 per share, representing a YoY growth of ~7%. Colgate has managed to maintain an attractive gross profit margin, despite volatility in prices.
| | | | | | |
| --- | --- | --- | --- | --- | --- |
| | 2007 | 2008 | 2009 | 2010 | 2011 |
| Gross Profit Margin | 57.3% | 56.7% | 58.8% | 59.1% | 57.6% |
Source: investor.colgate.com
Emerging markets have been the growth engine for the company in recent years; by now they comprise more than half of the company s global market revenue. These emerging markets provide Colgate with a great opportunity to expand its presence because of their high GDP growth, large population base, and growing middle class. The company is committed to increasing its product availability to all customers. Small stores are predominant in emerging markets; hence the company is building upon its relationship with these small stores. In contrast to emerging markets, growth in developed markets has been slow. To grow in these developed markets, Colgate has been working with dental professionals to increase its number of recommendations, and aiming at selective acquisitions to improve upon margins and grow. Last year, Colgate acquired Sanex Personal Care in Europe. The company is also depending upon innovation to achieve growth; earlier this month, the company's CEO announced that it was entering the rechargeable toothbrush market. The company has been working to improve upon its operational efficiency and cost savings. Cost-saving projects include 'funding the growth' measure, which has previously generated $300-$700 million of pretax savings and managed to reduce structural overheads. Over the years, the company has been able to increase its top and bottom line. Sales have grown by 21% in the last five years. EPS increased from $3.38 in 2007 to $5.03 in 2011. The company has been sharing its success with its shareholders. Colgate offers a decent dividend yield of 2.3%, which makes it an attractive stock in a low yield environment. Dividends have increased from $0.36 per quarter in 2007 to $0.62 per quarter in 2012. It has a payout ratio of 47%. Its operating free cash flow yield of 5.88% and free cash flow yield of 4.8% reflects that dividends will be maintained by the company without any cash shortages. In 2011, it announced a share repurchase program to buy back up to 50 million common shares in the next two-to-three years.
| | | | | | |
| --- | --- | --- | --- | --- | --- |
| | CL | Procter & Gamble Co. (NYSE:PG) | Kimberly-Clark Corporation (NYSE:KMB) | The Clorox Company (NYSE:CLX) | Average |
| Forward P/E | 18.2 x | 16.4 x | 15.3 x | 15.4 x | 15.7 x |
| PEG | 2.4 | 2.1 | 1.9 | 2 | 2 |
| Price to Sales | 3 x | 2.3 x | 1.6 x | 1.7 x | 1.9 x |
| Debt to Equity | 213 % | 46 % | 120 % | - | 83 % |
| Dividend Yield | 2.3 % | 3.2 % | 3.5 % | 3.6 % | 3.45 % |
Source: Yahoo finance
Colgate is expected to grow at an impressive 8.3% per annum for the next five years. Despite higher growth, it has a higher PEG. The stock is trading at a premium based on its forward P/E and P/S multiples of 18.2x and 3x, respectively, as compared to its competitors' average multiples. Beside the higher valuations for Colgate, it also has higher debt as compared to its competitors.
Disclosure: I have no positions in any stocks mentioned, and no plans to initiate any positions within the next 72 hours.
Business relationship disclosure: The article has been written by Qineqt's Staples Analyst. Qineqt is not receiving compensation for it (other than from Seeking Alpha). Qineqt has no business relationship with any company whose stock is mentioned in this article.