Small-cap Northwestern Corp (NYSE:NWE) is a pure regulated natural gas and electric utility serving about 665,000 customers in Montana, Nebraska and South Dakota. Rising from the ashes of a 2003 bankruptcy and an unsuccessful takeover by investment bank Nomura Babcock & Brown (NYSE:NMR) in 2007, NWE offers investors both growth prospects and a slightly above-average current yield for the utility sector.
Montana represents about 80% of NWE's combined utility rate base that includes 684 MW of mainly base load coal-powered electric generation. Its service location in the wind-rich northern plains makes it ripe for expansion into higher ROE, FERC-regulated transmission projects. NWE has filed the necessary documents for approval of a 500Kv transmission line from just north of Butte, MT to Twin Falls, ID, also known as the Mountain States Transmission Inter-tie. In addition, NWE is looking to build alternative energy high voltage transmission hookups, also FERC regulated.
Over the past five years, NEW has experienced about a 1.3% annual customer growth rate and the upper plains service territory has offered a bit more stable economy during the ongoing "recession".
Below is a map of NWE's service area: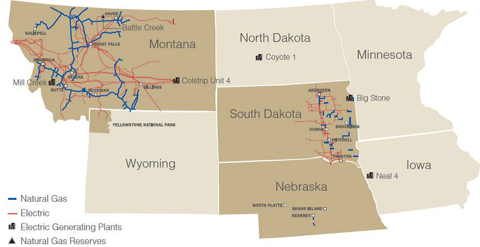 Capital expenditures are expected to expand from an annual maintenance cap-ex of about $150 million per year to a growth initiative adding $200 to $250 million in cap-ex. By 2018, management expects this expansion should increase rate based assets from a current $1.8 billion to around $3.2 billion and every $100 - $120 million in rate based asset growth could add about $0.14 per share to earnings, with no added dilution.
Listed below are anticipated cap ex growth projects: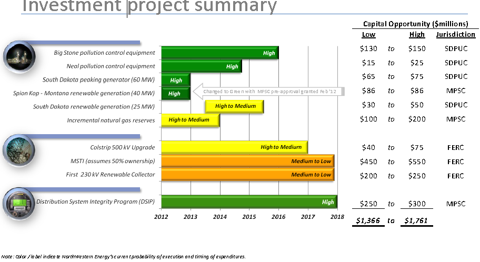 However, about half of expansion cap ex includes projects which may or may not materialize over the next six years, with the necessity for additional renewable energy potentially in question. The final approval for the construction of the Inter-tie rests with the Bonneville Power Authority, and its positive nod is not guaranteed.
NWE is looking to expand its natural gas business through the acquisition of proven reserves that can be included in rate-based assets. By buying proven reserves, the exploration risk is greatly diminished and seems to be the preferred acquisition vehicle of the Montana utility commission. With low natural gas prices, these proven assets can be added at a historically low cost and management is looking to deliver about 50% of its annual consumption over the next five years from an in-house reserves position. This plan, if approved by the commission, would create total company reserves in the 10Bcf range.
For the first six months of 2012, electric revenue was 73% of total revenue while gas operations provided about 23% of total revenue. Of particular interest is its legacy Net Operating Loss carry forward of about $450 million. This NOL means income taxes are greatly reduced through 2015, increasing operating cash flow available for capital expenditures. According to Reuters.com, earnings per share have grown by 5.1% annually from 2005 to this year, driving dividend growth of 5.8% over the same timeframe.
After a recent secondary offering of 687,000 shares, there are 37.1 million shares outstanding, creating a market capitalization of $1.4 billion. Long-term debt stands at around $900 million and Return on Invested Capital for the trailing twelve months ending June 2012 was 5.2%, up smartly from the five-year average 4.4%. The current payout ratio of 57% is a bit below management's goal of 60% to 70%, allowing for further dividend increases.
NWE has outperformed the broad based S&P Utility Index, (NYSEARCA:XLU) and the S&P Small Cap Utility ETF (NASDAQ:PSCU). The following is a four-year chart of NWE, XLU, and PSCU: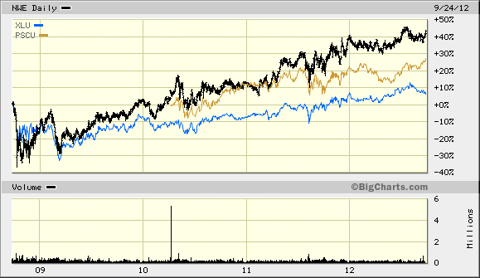 For more information, review the latest investor presentation from June and the 2nd quarter earnings release.
With 4% to 6 % earnings growth added to a 4.0% current yield, investors could reasonably expect a consistent 8% to 10% total return. Northwestern could be a complementary selection to augment typical large-cap utility exposure.
See important disclaimer in Mr. Parepoynt's profile.
Disclosure: I have no positions in any stocks mentioned, and no plans to initiate any positions within the next 72 hours. I wrote this article myself, and it expresses my own opinions. I am not receiving compensation for it (other than from Seeking Alpha). I have no business relationship with any company whose stock is mentioned in this article.