Commodity Chart Of The Day
Weekly British Pound
(click image to enlarge)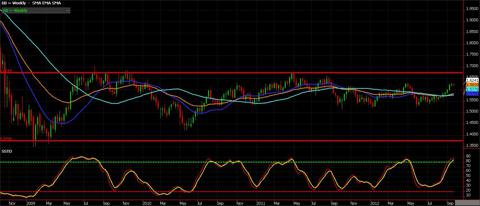 This weekly chart of the British pound dates back nearly three years, so this is not for a day trade or scalp, but rather a longer term view for a swing trade. When identifying a trade opportunity in any product, I like to define what the risk to reward dynamic looks like. If you look at the two red trend lines in the above chart, you will see that prices are roughly 5 cents from resistance and 25 cents from support. The whole idea is to sell high and buy back lower.
Drilling down a bit deeper and looking at the performance in recent weeks, the cable has appreciated 5% in the last two months, lifting prices to overbought levels. Moving forward, I think prices can retrace and I'm suggesting bearish exposure into 2013, as I sense prices can make their way back near $1.5300.
My favored play is short futures with some sort of options protection. This is not necessarily a trade I would fall asleep at the wheel on. Because currency markets are active and at times volatile, there will be times to exit and reposition over the coming months, so manage your trade. In fact, times when you're on the sidelines will be the best trade. That being said, I will be looking for bearish trades in the pound for the foreseeable future.
Risk Disclaimer: The opinions contained herein are for general information only and not tailored to any specific investor's needs or investment goals. Any opinions expressed in this article are as of the date indicated. Trading futures, options, and Forex involves substantial risk of loss and is not suitable for all investors. Past performance is not necessarily indicative of future results.
Disclosure: I have no positions in any stocks mentioned, and no plans to initiate any positions within the next 72 hours. I wrote this article myself, and it expresses my own opinions. I am not receiving compensation for it. I have no business relationship with any company whose stock is mentioned in this article.