I have never written an article or invested in TiVo (NASDAQ:TIVO). The company always seems to be in the news but never seems to capitalize on its potential. The stock has mostly meandered between $8 and $12 a share over the past five years. However, recent settlements and analyst upgrades make the shares a very interesting play at $10 a share. I could easily see a significant breakout if the momentum continues for the company.
Recent catalysts for TiVo:
 

"TiVo Inc. provides technology and services for television solutions, including digital video recorders and connected televisions in the United States and internationally." (Business description from Yahoo Finance)
4 additional reasons to buy TIVO at $10 a share:
 
The mean analysts' price target of the 12 analysts that cover the stock is just $15 a share, implying more than 45% upside.
Even before latest settlement, the company had approximately $375mm in net cash on the books (around 30% of market capitalization). All the settlements are with huge players in the industry, so no credit risk to keep receiving quarterly payments. These settlement have additional incentive payouts as well.
The stock has one of the tiniest five year projected PEGs (.19) I have seen recently. It is also selling at the bottom of its five year valuation range based on P/CF.
The stock recently bounced off a long term technical support range and just crossed its 200 day moving average (See Chart)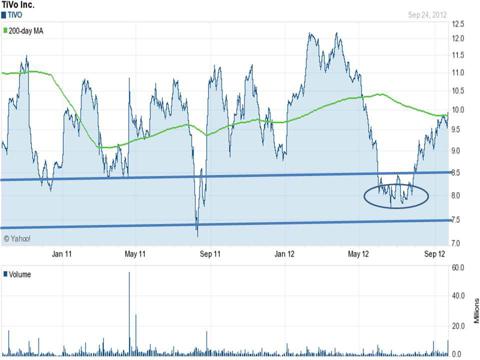 Disclosure: I am long DISH, TIVO. I wrote this article myself, and it expresses my own opinions. I am not receiving compensation for it (other than from Seeking Alpha). I have no business relationship with any company whose stock is mentioned in this article.