As the end of summer approaches and July turns to August, many families are overcome by grief and relief: the former from students, that the first homeroom is near, and the latter from parents, for the same reason. With every advertisement baiting families with the "best" Back-to-School sales of the season, three major office supply retailers prepare to battle for the buck in the online channel.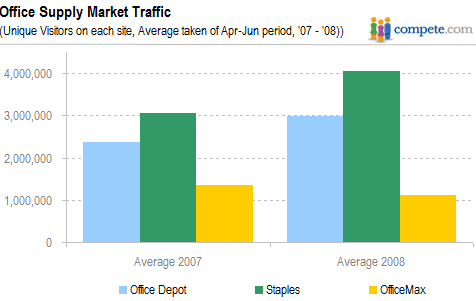 A baseline check ranks Staples (NASDAQ:SPLS) as the clear front runner, both by improving 32% on average in monthly visitors last year and by maintaining a strong lead overall across sessions and time. In the same period, Office Depot (NYSE:ODP) stays competitive while OfficeMax (NYSE:OMX) declines. Quality often outweighs quantity, however, and Office Depot culls a valuable shopper set by measure of time spent. Using length of visit as a proxy for user interest, Office Depot more than doubles its lead over the market average from last year in time spent per visit, lasting a full two minutes longer than Staples' average.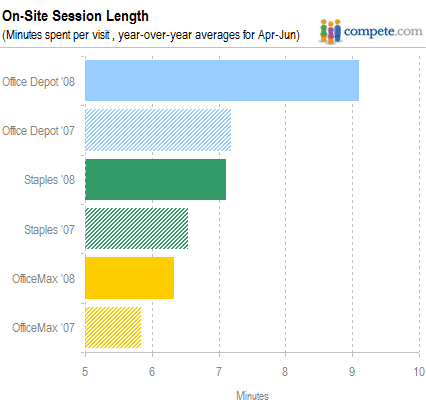 Conversely, over last year Office Depot scaled down its bounce population against Staples (users who jump onto a site and quickly "bounce" off within 20 seconds; websites aim to minimize this traffic). Though OfficeMax consistently scored the lowest bounce share, Office Depot's combined low bounce rate and high visit length imply its strength in effectively engaging users online.
The catch here is that time isn't always money. While Office Depot grooms its audience well, Staples still carries a higher percentage of consumers through to purchase. Last month, Office Depot converted 4% of its visitors, but Staples enjoyed twice that conversion rate; OfficeMax, half as much. It would be a quick judgment to conclude that some site inefficiency (e.g. complicated navigation to product or purchase leading to longer sessions) pushes the market from Office Depot toward Staples' shorter visits, resulting in more conversions. If this were true, we would see a shrink in visitors to Office Depot year-over-year, which is not the case. More likely, it is a question of price.
And to parents, price is the great driver of purchase. Heading into the new school year rush, all three of these retailers stand ready to compete for the greatest share of wallet. With an expanded internet shopper base this year, expect more and more of these purchases to be online at home rather than on line at the checkout counter.