Barron's Tech Trader Eric Savitz says recent Q2 earnings results give him every reason to believe telcos are being owned (or pwned) by the cable industry.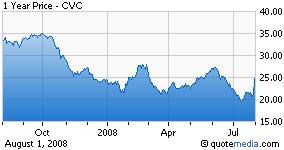 Verizon (NYSE:VZ) lost 1.7M access lines last quarter, and 171K DSL lines - the first time ever a U.S. telco has lost net DSL customers. It did add 176K FiOS video subs and 187K FiOS broadband lines, but Bernstein's Craig Moffett is startled by the fact that growth in both slowed from Q1 - and that the 6% gain in FiOS broadband customers was despite a 33% increase in coverage. AT&T (NYSE:T) lost almost 1M residential primary access lines, and added 170K U-verse video customers.
Contrast that with Comcast (NASDAQ:CMCSA) and Cablevision (NYSE:CVC). CMCSA added 0.5M new phone customers, 278K broadband accounts, and 320K digital cable lines, while losing 138K basic cable subs. CVC added 120K digital video subs, 52K broadband lines and 81K voice lines.
Last week CVC president James Dolan told analysts during the company's earnings call he "has a strong desire to close the value gap" between its deflated stock price and its true worth - adding it is "considering and actively exploring alternatives that may close this gap" - sending shares up 15%. Possibilities include initiating a regular dividend, a large one-time cash payout, or a share buyback. And never discount the possibility of the Dolans making another pass at taking the company private. Moffett thinks shares could almost double to $45.
:::::::::::::::::::::::::::::::::::::::::::::::::
In an earlier post, Savitz looks at the possibility of a renewed Dolan courtship in more detail.
Larry Dignan says everyone's a loser in the telco/cable war.
Why will all of these companies lose in the broadband wars? Telecom giants are a thorn in Comcast's side, but aren't taking a bunch of customers. Meanwhile, all parties are spending heavily on marketing.