Staples (NASDAQ:SPLS) is restructuring as the winds change, not afterward.
The company's position in the market was established with Ron Sargent, CEO since 2002, at the helm. The same leadership team which drove Staples to dominate the office supply store space is choosing to combine the healthy U.S. Delivery segment with the U.S. Retail segment and to restructure other parts of the business. The team has been successful at leading this company in the past, and it looks as if they are taking a proactive step to protect the business in the future.
As stated in Staples' press release:
"Staples will integrate its retail and online offering, increase investment in its online businesses, reorganize its operations, implement leadership changes, initiate a multi-year cost savings plan, and restructure its International Operations."
The downsizing announcement was forewarned in the last conference call, in which management said that it would be the renewal-of-lease schedule which would dictate the size and scope of the downsizing. For instance, management said that in 2012, it had some 186 store leases coming up for renewal -- and a total of around 500, about 1/3 of all its stores, coming up for renewal over the next 3 years. Staples will, "at the minimum," get rent reductions and will further attempt to reduce square-foot count where necessary.
International
The plan to restructure international operations has been in place for some time and is needed. For instance, in for the six month period ending July 28, 2012, International operations made up approximately 20% of sales but suffered a loss over the same period. As Staples noted on the Q2 2012 conference call, restructuring the International Operations will be slow given the timing of the expiration of its operating leases:
"...[International] leases are expiring at a much different rate [than U.S. Leases]. So our ability to affect a significant amount of the store base quickly is lower. Demos told you roughly 40% of our U.S. stores come up over the next 3 years. That's only 10% of our store base, for instance, in the U.K. The other thing is the business case for a relocation investment is not as good because our stores internationally aren't as profitable. So as those leases come due, it's probably a stronger case for closure than for the kind of downsizing that we would do in the U.S. just because we don't have the same kind of profit performance for the international stores. But it's a challenging thing to deal with as through lease renewal just because of the longer lease lives that we have overseas."
Staples also announced in the press release a round of restructuring charges and impairment charges to hit the forthcoming P&Ls:
"As a result of these actions, Staples expects to record pre-tax cash charges in the range of $145 million to $195 million by the end of fiscal year 2012. Additionally, Staples expects to record a pre-tax non-cash charge in the range of $790 million to $850 million for the impairment of goodwill and other assets within its European retail and catalog businesses during the third quarter of 2012."
Such charges will bring GAAP income to zero or near zero for fiscal year 2012. Since the biggest portion of that is a non-cash charge, the adjusted GAAP figures will, of course, be more informative.
U.S. Retail and Delivery
Staples plans to reduce the overall square foot count of the U.S. Retail operation by some 15%. This follows similar plans by its competitors, like Office Depot (NYSE:ODP) and OfficeMax (NYSE:OMX), and by other retailers. The "big-box" -- besides the biggest box of all, Wal-Mart (NYSE:WMT) and the wholesalers -- looks like it is losing its popularity. Staples expects to downsize 30 stores and close, on net, 30 more.
Returning Cash To Share Holders
Under a section with the same title as this one, Staples says:
"Staples remains fully committed to returning excess cash to stakeholders and is focused on maintaining its current investment grade credit rating. Staples plans to continue to repurchase its common stock through open-market purchases, which are expected to total approximately $450 million during fiscal year 2012, and also plans to repay its outstanding $325 million Senior Notes due October 2012 with cash on hand. As a result of these activities, as well as its ongoing cash dividend program, Staples plans to return more than $1 billion of cash to stakeholders during fiscal year 2012."
Given that Staples purchased $271 million of its own shares in the first six months of the year, the continued purchase of an additional $179 million ought to reduce shares outstanding by some 5 percent across this fiscal year. This is a continuation of their share's outstanding reductions: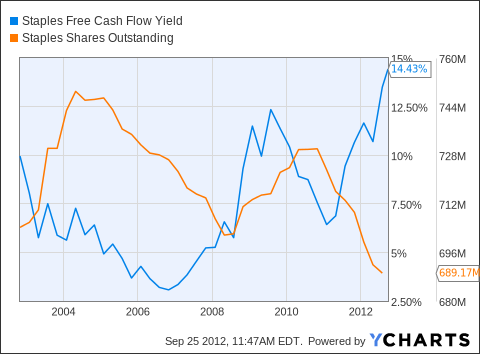 SPLS Free Cash Flow Yield data by YCharts
One can see that I've also included Free-Cash-Flow [1] yield, which is at its cheapest level over the ten year period. That means that the price we pay for each dollar of free-cash-flow is at its cheapest point in ten years.
Conclusion
Considering Staples' kingly position and profitability, it is a sign of good leadership that they are taking proactive steps to protect the position of their business. Hopefully increased market pessimism allows for better opportunities to purchase the shares, which are still near their 52-week lows. This announcement leaves me more optimistic about the company -- mainly because it is clear that management is doing what it needs to do to take care of the business. With a TTM free-cash-flow yield of 14.5%, a market leading position, a reasonable level of debt, and with private equity watching, Staples continues to look good as a long-term holding.
Disclosure: I have no positions in any stocks mentioned, and no plans to initiate any positions within the next 72 hours. I wrote this article myself, and it expresses my own opinions. I am not receiving compensation for it (other than from Seeking Alpha). I have no business relationship with any company whose stock is mentioned in this article.